Mobile Marketing Strategies for the B2B Audience
According to a report published by Google in partnership with The Boston Consulting Group (BCG), mobile usage per business-to-business (B2B) worker is expected to increase from 2 hours a day to 3, in 2020.
This trend is driven by millennials and Gen Z workers in the world of B2B, as well as the rising use of smartphones by workers generally. In this post, we'll review some of the mobile usage trends among B2B audiences and list some marketing strategies for B2B companies that leverage mobile to reach B2B buyers.


B2B mobile usage trends



Many B2B marketers have been slow to adopt mobile marketing strategies specifically for B2B buyers. A key reason for this is that conversion rates tend to be lower on mobile devices (specifically, smartphones) versus computers. Since the nature of B2B selling is often complex, focusing on mobile-only strategies tends to take a backseat and a more omnichannel, multi-faceted approach is preferred when it comes to reaching B2B buyers via direct channels such as events, standard digital ads, corporate websites, and sales teams.
But as mobile usage continues to grow among all consumers, B2B marketers need to start thinking about how to leverage mobile as both a channel and a tactic when creating their acquisition strategies.
Using the Google/BCG data, Smart Insights, a digital marketing platform aimed at educating marketers via guides and tools, debunked some common B2B mobile marketing myths. Here are a few of them:
Myth #1: Mobile usage in the workplace is stagnant.
Reality: 60% of survey respondents expect to increase their mobile usage over the next several years.


Myth #2: Mobile isn't a big player when it comes to complex B2B purchases.
Reality: Over half of survey respondents reported that mobile contributed to recent purchases of over $500K and 60% of buyers in multi-person teams use mobile in purchases with sales cycles of up to 3 years.


Myth #3: Mobile is not used in an office setting.
Reality: 55% of respondents indicated they were on their mobile device 20% of the time while at work.


Myth #4: B2B purchases are made offline and this is the way it's always going to be.
Reality: 55% of B2B buyers expect to make a purchase on their mobile device in the future.

Image Source: Think With Google
The BCG/Google survey found that B2B buyers have been taught to expect top-notch mobile experiences thanks to the buying experiences they've had with B2C retailers like Amazon.
3 ways to incorporate mobile into your B2B marketing strategy




When planning a mobile strategy to reach B2B buyers, it can be helpful to understand what today's B2B buying journey looks like. A 2018 Demand Gen report shed some fascinating light on B2B buying behavior, including the fact that the average B2B buying cycle is about 1 to 3 months long (often longer) and involves between 1 and 6 people who form B2B buying teams.
In another survey involving B2B buyers, Gartner got similar results. The survey revealed that the typical buying group for complex B2B solutions involves between 6 to 10decision-makers, all armed with about 4 or 5 pieces of information.
But what does this look like in terms of the buying funnel? According to Gartner, the funnel no longer exists. Rather, the B2B buying process looks a bit like a maze.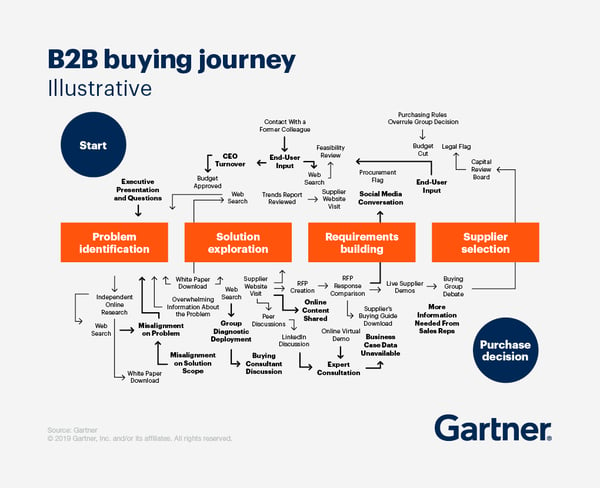 Image Source: Gartner
Understanding how B2B buyers research and gather information about a new solution—and where mobile fits into this journey—can help you plan specific mobile outreach tactics.
Mobile search
The BCG/Google survey found that 50% of B2B search queries were made on smartphones. The survey was conducted in 2017 and that number was expected to grow to 70% by 2020. If you look at your own analytics trends, you will likely see a huge increase in traffic from mobile devices over computers even if your focus is B2B.
Creating a mobile-optimized campaign on Google is easy. You can set this campaign up just as you would any Google Ads campaign, but with mobile users in mind. As most text ads are eligible to run on mobile devices, a main consideration is the ad text itself since mobile screens are much smaller. If you plan to link to a landing page, make sure the page is mobile-friendly (quick-loading, easy to navigate, and relevant to the search query). Also, keep in mind that mobile-only ads don't require a landing page. You can include a business phone number in the ad which is clickable (e.g., click-to-call ads) or have the ability to send SMS text messages to a sales rep.
Voice search
There are nearly 120 million smart speakers in the U.S., a growth of nearly 80% from 2018 to 2019. This does not include smartphones with voice assistants such as Alexa, Siri, and Google Assistant. A recent survey found that over 40% of respondents use voice search at work when alone and more than 20% use voice search in the office with coworkers present. Voice search queries tend to be conversational and phrased as questions (e.g., what is the best CRM tool available for financial technology (fintech)?).
Capitalizing on the growing use of smart speakers and voice assistants on smartphones is largely a factor of setting up the appropriate SEO schema which leverages zero-click search features on Google such as "featured snippets" and "people also ask" – both of these features aim to answer a user's query on the actual search results pages, rather than having a searcher click through to a website (which is impossible if you're conducting the search via a voice assistant).
Crafting content that answers specific questions can help your website get ranked in the featured snippet box, so understanding what phrases people use to discover and educate themselves about your product or service is an important consideration when leveraging voice search.
Mobile-friendly web design
When top B2B companies prioritize mobile, the approach they take is customer-centric and incredibly focused on mobile-friendly design. The Google/BCG survey found that great mobile-first experiences incorporate minimal text, vertical creative formats, and leverage smartphone capabilities such as location data and click-to-call links. You can check out Google's developer website for more detailed information on what makes a website mobile-friendly.
Mobile is part of the larger marketing ecosystem
It's important for B2B marketers to understand mobile's role in the larger marketing ecosystem. As Gartner's buying cycle graphic illustrates, B2B buyers leverage multiple resources and channels when exploring solutions and suppliers. Your job as a B2B marketer is to ensure that the buying process is an easy one and that your business is discoverable, especially via mobile.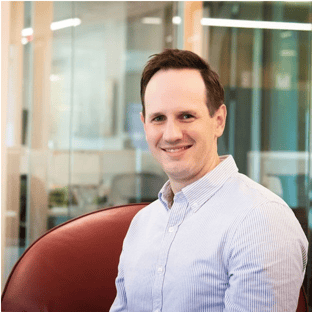 Ryan Gould
Vice President of Strategy and Marketing Services
Elevation Marketing

From legacy Fortune 100 institutions to inventive start-ups, Ryan brings extensive experience with a wide range of B2B clients. He skillfully architects and manages the delivery of integrated marketing programs, and believes strongly in strategy, not just tactics, that effectively aligns sales and marketing teams within organizations.

LinkedIn: https://www.linkedin.com/in/rygould/