Be like Mark Zuckerberg: Building a Lasting Relationship with your App Users
5 min read
May 15, 2018
At this year's F8, Facebook's annual developer conference, which took place at the beginning of this month (May 1st -2nd) in San Jose, California, CEO Mark Zuckerberg opened his keynote speech talking about relationships...


"Our relationships are what matter most to us… It still surprises me how little of the technology that our industry produces is designed to put people first."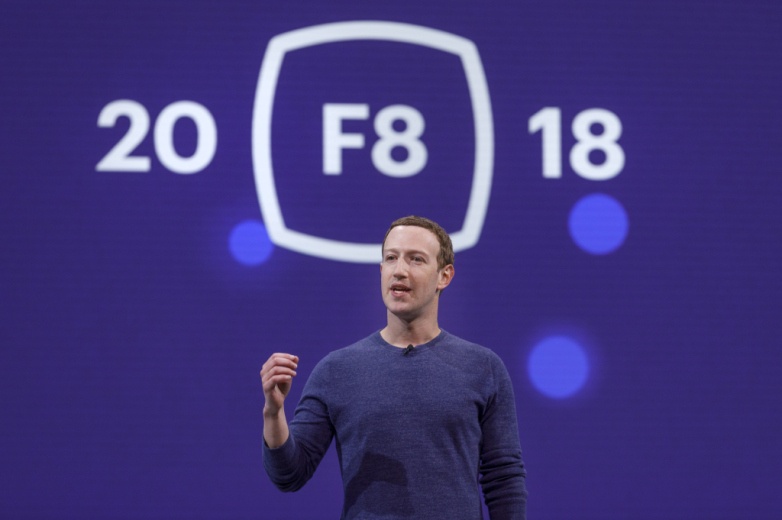 Image credit: Facebook
A huge factor for successful marketing is relationships and trust. Rather than simply focusing on encouraging a one-time sale, relationship marketing is all about forming long-term relationships and stronger connections with customers, by providing them with information directly suited to their needs and interests.
This couldn't be more important for app marketers as getting users is not just a one-off transaction. What you want is to gain loyal users who will come back to your app time and time again. Plus, it costs five times as much to get a new customer than it does to keep an existing one.
However, recent studies found that, across all industries, 71% of all app users will stop using an app after just 3 months. There are many different reasons that result in users dropping off, for example, a poor user experience, annoying ads and pop-ups, mis-sold by a misleading app description… I could go on.
But often, the number one reason why users churn is down to the fact that the app has failed to build a relationship with its users. Without a relationship there is simply no app loyalty and the user feels no real reason to keep coming back.

So what do you need to do to build that lasting relationship with your app users?


1. Listen and respond to your users
Being able to listen is a key trait for any good relationship. Whether it's good or bad feedback, it's important to listen to, and respond back to each message. Having your users sing your praises is great and easy to respond to, but how you react to negative comments can also say a lot about your brand. If someone has pointed out that something isn't working, don't be stubborn and bite back. Instead, admit your mistakes, explain you are working on it right away and that you'll update your users ASAP.
This is exactly what Mark Zuckerberg did when the recent Facebook-Cambridge Analytica scandal broke out. With a full page ad in the Washington Post, the New York Times, the Wall Street Journal and six UK papers, Zuckerberg admitted his mistakes, apologised to his users and explained that they are taking steps to ensure such an issue will never occur again. He finished the ad with "I promise to do better for you."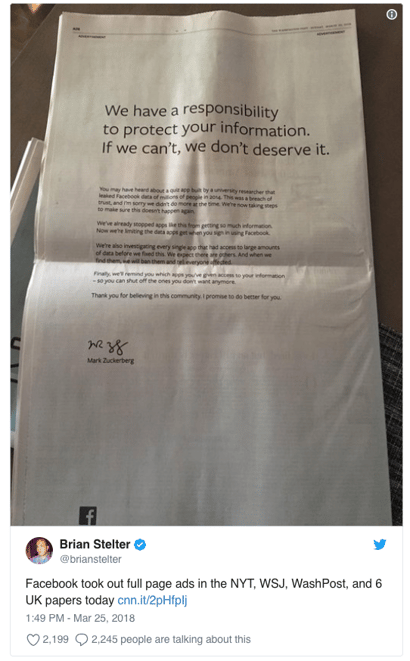 Your users will be much more understanding and empathetic if you show them you truly care about their experience with your app, and this will help strengthen the relationship.
Make sure it is easy for your users to get it touch with you via an email form or an in-app feedback system. App store reviews are great, but you shouldn't rely solely on this channel for communication as it doesn't really allow for a continual conversation. Plus, you want to avoid as much negative feedback here as you can, as this will only give any potential new users a bad impression. Therefore, having a different channel to allow them to express their issues will hopefully avoid a public bashing on the app-store.



2. Keep making improvements
There is no such thing as an app that you can release on the app store and forget about. Making improvements and updates is a must in order to keep up with the current trends, technological advances and the latest operating systems.
Plus, listening to feedback is basically pointless unless you plan to take any action. Use the negative reviews and feedback to learn what exactly it is your users are wanting to get out of using your app and try your best to give this to them. Solving their issues and improving the overall user experience with additional features will keep them coming back to your app and help build loyalty.

3. Provide timely, relevant, valuable communication
Communication is another key factor in any relationship and is a vital element to user engagement and retention. However, this needs to be the right kinds of communication. Plaguing your users with emails, push notifications, in-app messages, SMS or anything else you can think off, numerous times in the one day, is not going to go in your favour. In fact, all you are likely to achieve from this is an increase in your uninstall rate, which is something I am sure you would want to avoid at all costs.
Take into consideration the different time-zones and figure out what the acceptable frequency of messaging is for your users. The correct use of push notifications can increase your user retention by as much as 180%, so the potential for building on your user relationships is huge.
Relationships are all about learning more about each other. With the right tools you can learn so many different things about your users which then enables you to tailor the messaging just for them, making it more relevant, personal and valuable.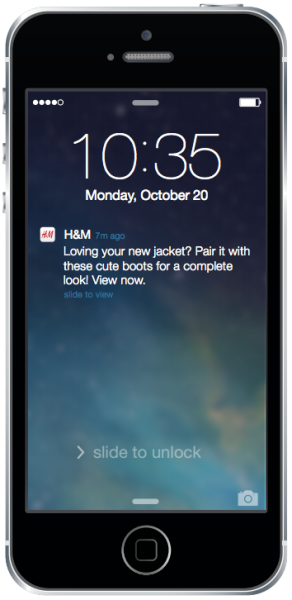 A personalised push notification from H&M [Image credit: Yalantis]

4. Reward schemes

Having a reward scheme in place is an excellent way to show gratitude and appreciation towards your most loyal users and will do wonders for the relationship. The potential to receive something in return for their usage of your app will keep them coming back, driving both engagement and retention.
For example, Dunkin' Donuts offers their users a free beverage for simply downloading the app. This is their way of saying thank you and also as a great incentive for that initial download. After this they work on a points system and reward users with free food and drink after every 200 points. They go one step further and make the experience more personal by offering a free beverage on their birthday, as well as additional rewards and surprise each month for just being a member. Ultimately, Dunkin' Donuts have mastered the ability to make it very difficult to not want to keep coming back.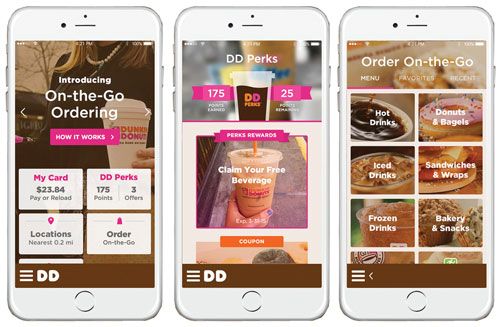 5. Only ask for necessary permissions
In order to work to their full potential many apps require permission to access various things from the user. This includes the likes of location, photos, camera, contacts and the permission to send push notifications. However, be careful how much data you request from your users at the beginning. This is only the beginning of your relationship with your user so you need to go about this the right way. Stick with what is only absolutely necessary at the beginning and show them the value it will add to their user experience if they choose to opt-in. Your users will appreciate you letting them take control of what personal data you can access and this will help build a level of trust.


Conclusion
Building that loyalty and trust with your app users takes time, but once you establish it, you have a group of users who will stick by you through most of the highs and lows of your apps journey. Think quality over quantity.