A Marketer's Guide to Creating App User Engagement
12 min read
Mar 8, 2018
Introduction
Creating and developing an app has never been easier, but it's also never been more difficult to retain a committed and engaged app user base. With so many different apps out there doing similar things, it can be difficult to rise above the noise and make your app stand out from the crowd.


Did you know…
The typical mobile phone user touches his or her phone 2,617 times a day. The same study found that 'extreme mobile phone users', which is made up of the top 10%, touch their phone more than 5,400 times a day!
This study by Dscout tracked 94 Android users finding that they spend on average around 145 minutes on their phone, engaging in 76 phone sessions per day. When it comes to iPhone users, Apple recently released data confirming that its device users unlock their phones 80 times each day, which equates to as much as 6 - 7 times an hour.
These figures back up the assumption that the majority of the population never go very far without their mobile phones. Therefore your mobile app represents the fastest, easiest, and most accessible way for you to engage your app users and should not be neglected.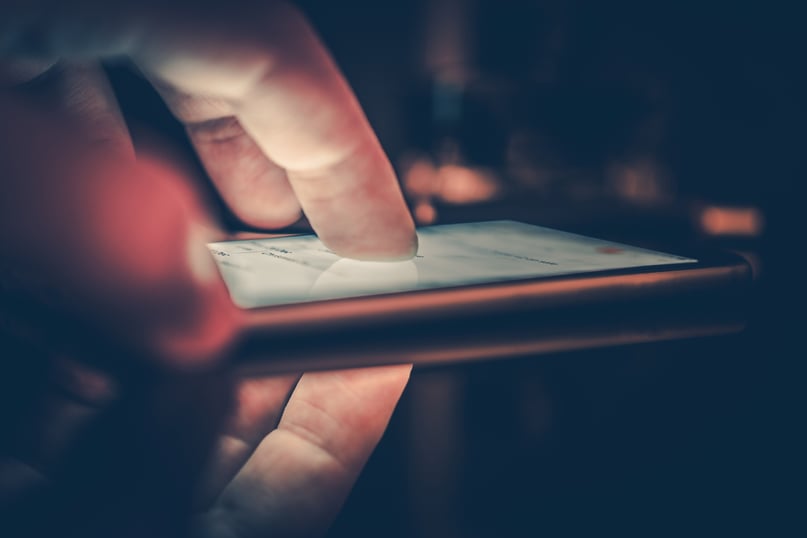 Why is App Engagement Important?
Just because your app gained a bit of hype to begin with, which resulted in plenty of downloads, this does not mean that you've gained loyal app users for life. The same goes for when you notice an increase in downloads thanks to that free trial you offered. Don't be surprised if those users disappear once their free trial ends. Unfortunately, downloads do not equal life-long customers.
In fact 20% of app users who sign up will use a product only once. And 60% of users who don't return after seven days, never will.


9 Ways to Engage Your App Users

1. Start off Strong 💪🏼
First impressions mean everything. You've put your heart and soul into creating the perfect app but then the first thing a user sees when they open your app is an error… Yikes! It doesn't matter how small this error may be, you've more than likely gone and damaged the user's perception of your app. A first impression is not an easy one to change so you need to ensure you start off on the right foot! A user unimpressed by their first experience with your app is likely to exit and never return.
The best way to ensure this is to consistently monitor your app performance. This allows you to immediately address, prioritise and solve any app issues and gives your user a positive, error-free first time experience.
Successful apps like WhatsApp, Uber and Tinder all have one important element in common - new users can sign up in about 10 seconds with about 3 taps. The ability of users to start using an app within seconds of downloading them plays a massive part in the apps success as discovered by UserTesting. Putting your users through a painstaking and frustrating sign-up process is the kind of experience that is likely to cause them to give up before they even begin...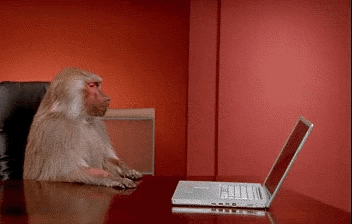 Ask yourself what sort of information is vital at this moment in time for sign-up and leave out everything else. Give the user the opportunity to provide more detail at a later time once they become more engaged. Or even better, give your users the option to signup via an existing social media account e.g. Facebook, Twitter or Google+. Not only does this speed up the signup process enormously, it gives developers the opportunity to connect with users across their social graph.
Key points 🗝

Ensure first time app experience is error-free

Monitor app performance

Hassle free sign-up



2. S

egment your Users 👩🏼‍🏫 👷🏾‍♂️ 👩🏼‍🍳 👮🏼‍♂️
The days of mass marketing the same content to everyone is over. Apps that expect great results from sending identical messages to every user will be very disappointed. By segmenting your user database you can send your users much more personalised messaging in an attempt to keep them engaged or re-engage them.
According to an Oracle study, 49% of people expect to see some degree of personalisation in the notifications pushed out to them. personalisation takes into account things like people's preferences, buying behaviour, location, gender, date of birth and many more. By segmenting your users you are enhancing your analytics and gaining a better understanding of your app users.
App user segmentation is the foundation for creating greater app engagement as it allows for more targeted messaging. By personalising a campaign message based on a users demographics or app behaviour, the chances that they will immediately engage with that campaign is much higher. When an offer or message is relevant to them it is much more likely to catch their attention.
The image below demonstrates how Amazon and Best Buy both pushed out messages in relation to their 'Deal of the Day'. Amazon, however, is much more likely to receive a better response as they have successfully personalised their messaging based on previous searches within the app, whereas Best Buy's message is much more broad and non targeted.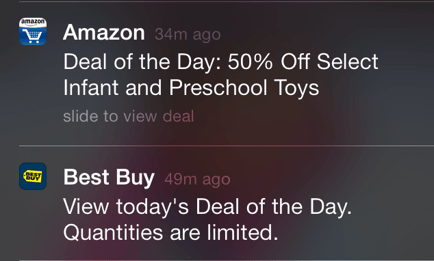 The user's lifecycle stage also needs to be considered during segmentation. A user who has just downloaded the app is likely to require different messaging compared to someone who has had the app for several months, or even a dormant user who hasn't used the app in a few months. Consider carefully what sort of content your user requires, and when they require it. If your app is a shopping app then give them a welcome discount to use within a particular timeframe to get them started.
A good push strategy takes into account data about who you are, where you are, what you're doing and what relevance the app has to you at that point in time.
Key points 🗝

App user segmentation allows for more targeted messaging

Targeted messaging is much more likely to catch your user's attention

Consider the user's stage in the lifecycle



3. Ask for Push Notification Permissions

🗣
A best practice before bombarding your app users with push notifications is to ask them whether or not they even want to receive them in the first place. Presenting your users with the option to opt-in or opt-out establishes an immediate sense of trust and verifies the credibility of your app. When your users know that their personal preferences take higher priority than your marketing capabilities, they are more willing to fully interact with your app. Even if they choose to opt-out initially, once they become more familiar with your app and recognise the value of your push notifications they can choose to opt-in at a later stage, so make it simple to do so.
Recommended reading: iOS Push Notification Permissions Best Practices
Key points 🗝

Giving your user the option to opt-in or opt-out establishes a level of trust

Make it simple to opt back in at a later date



4. Connect with Other Channels

💻
Whilst the push notification is one of the most powerful weapons the mobile app marketer possesses, there are other channels that can be used alongside the push notification in order to create greater app engagement. Using other messaging options is a clever way of engaging those users who chose to opt-out of push notifications, and may persuade them to opt-in at a later date. Plus, brands with a multi-channel marketing strategy see an 89% retention rate.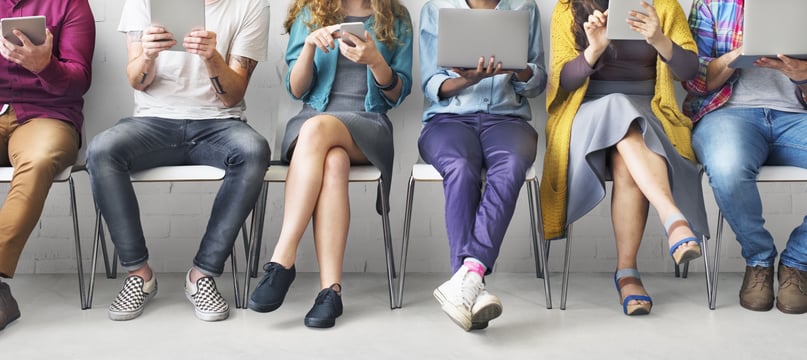 Here are four popular channels you can use to reach your users and keep them engaged:


> In-App Messages
These are messages that slide up from the bottom of your app and alert you of something interesting or important. They are quite similar to push notifications except they only occur when the user is actually in the app. Users do find them less invasive due to the fact that they disappear after a few seconds and don't interrupt the users as they go about their daily business. In-app messages can be used by marketers to send reminders, updates, rewards, personalised messages, permission requests and app tips and tricks.
> Email
Latest figures by Litmus highlighted that 56% of emails are actually opened on mobile, whilst desktop opens are only on 19%. The power of email in the mobile world should not be underestimated. Mobile phones have made emails almost as instant as push notifications. Therefore, for apps that collect email addresses, email is an effective way to drive app re-engagement. In addition, whilst a push notification disappears as soon as a user swipes or taps it, an email can be kept permanently and accessed at any time making it perfect for content the user might wish to keep longer such as newsletters, welcome emails that include account information, promotions or e-receipts from in-app purchases.
> SMS
SMS allows for instant communication and like email, is great for sending a message the user may want to refer back too. Unlike emails, however, SMS boasts a much higher average open rate of 95% in comparison to the small average open rate of 27.2% for email.
> Social Messaging
Social media plays an important part in app marketing and keeping your users engaged. Using social networks like Twitter and Facebook provides app marketers with a platform for 1 to 1 engagement with their potential customers, on which they can answer any questions and deal with any complaints. It also works as an additional promotional method for your app where you can create and upload interesting content, such as video, to demonstrate why your app has the edge over similar apps on the market.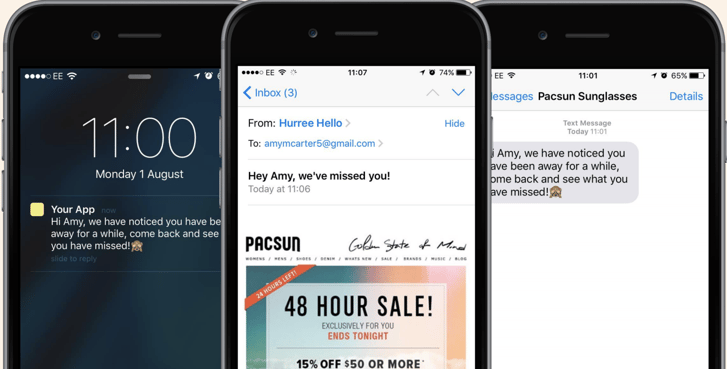 Key points 🗝

In-app messages are less invasive

Emails & SMS are perfect to send content the user may wish to keep

Use social media for

1-1 engagement with your users
5. The Importance of Value Exchange 🤝
According to research by Oracle, about 50% of people download apps to receive special offers and discounts. Users expect to receive something of value to them for engaging with your app. They expect 'mobile exclusivity'.
There are two types of rewards you can give to your user: Real and Virtual. Real rewards usually involve tangible products such as a free sample, buy one get one free or discounts off of a particular product. Virtual rewards are in-app currency backed by a brand, like Sour Patch Kids offering users free coins to redeem in a game.
Rewards are an excellent way of engaging users to download your app in the first place, and also to re-engage the segment of users who haven't used the app in a long time through push notifications. You can also create a purchasing program or points system that provides better rewards to the most loyal users, which will ultimately encourage your user to engage with the app more often in order to receive these great offers.
Key points 🗝

50% of people download apps to receive discount

Two types of rewards: Real & Virtual



6. Timing

⏰
Timing is a crucial element when it comes to creating app user engagement. Sending a push notification in the middle of the night when your user is fast asleep is only going to get ignored, likely to annoy your user and push them towards opting out of your notifications if anything.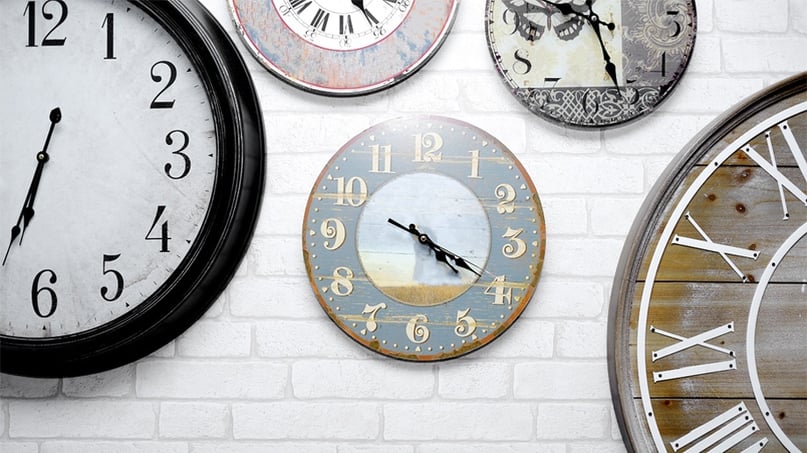 Of course the time of day when best to push out notifications varies from app to app, dependant on the needs of the app user. For example, a restaurant may push out messaging and deals late in the afternoon when people are on the look out for somewhere to eat that night. Whereas a news or weather app would benefit more from pushing out messages in the morning when people want to catch up on the news of the day or check out the weather before they leave the house without a much needed umbrella.
According to WARC, in shopping behaviour, the trend is to browse during the day and purchase at night. So to drive sales, brands like eBay and Expedia focus on targeting specific push notifications to drive purchase consideration on mobile during the peak commute times. If the consumer engaged in anyway on the commute, they would be re-targeted at night with a different creative offering such as a special offer based on their previous interactions.


Key points 🗝

Timing varies from app to app

Bad timing could result in your user opting out



7. Location

🌎



Geo-targeting ability on mobile is great way for apps that have a bricks and mortar store to connect mobile consumer at point of sale or while shopping. The technology is getting sharper by the day and consumers are willing to interact with mobile ads that offer them a reward for engaging. Pushing out a notification offering a discount through your app to users who are within a close proximity of your store is certain to drive app engagement and footfall to the store.
Location technologies can also be used to drive app engagement during events. For example, the annual Coachella Valley Music and Arts Festival app uses GPS to allow festival goers to track their shuttle line and check the weather forecast amongst other things.


8. Analytics

📊
An important factor in creating app engagement is the tracking of critical app engagement analytics and using these to develop actionable solutions.
But what should be analysed when it comes to your app strategy?
> Users
Knowing your user is fundamental to creating successful app engagement as discussed previously under user segmentation. The more you analyse each user, the more you can personalise and target your messaging in order to drive better app engagement.
> Session Length
Measure how long each user is staying in your app for at a time. This will allow you to see the users that are spending the most time in your app and why.
> Session Interval
This is the length of time between the users first session and their next one, showing how often your user opens your app on a daily/weekly/monthly basis. This can demonstrate whether or not the user considers your app of value and allow you to better schedule your push notifications to prompt regular opens. There is little value in prompting a user who already opens your app on a regular basis and is likely to just irritate that user.
> Acquisition
How did your users come to download your app? Was it organic search, word-of-mouth, paid campaigns or in-app referrals? This is an especially important metric to analyse when you run campaigns through paid partners like Facebook to promote app downloads to determine your ROI. As well as the number of downloads per campaign, you can analyse the long-term value of acquired users vs. organic users, and see how each group respond differently to your app messaging campaigns using A/B testing.
> Screen Flow
Look at how your users navigate around your app, what they did on each screen and where they went afterwards. Screen flow analytics show you exactly what those users who didn't complete a stage did instead, enabling you to fine-tune your app's flow to increase conversions.
> App Retention
App retention is measured as the percentage of users who return to your app based on the date of their first visit. This highlights your most engaged – and valuable – users, creating better targeting capabilities and allowing you to track in-app purchasing by level of engagement. Analysing retention allows you to determine what's working and what isn't in your app over time as updates occur.


9. A/B Testing 🔬
Creating app engagement is all about trial and error. You are not going to know what each segment of your users respond best to straight away, it will take constant testing and improving. A/B testing different campaign messages is a good way to find your winning message. This allows you to test two different versions of the same message to half of your user database, followed by sending the winning variation to the remaining 50%. This allows you to optimise your campaign and keep your users active. According to Braze, apps that compare different message variants and identify the best possible one before sending a campaign see conversion rates 40% higher than apps that don't.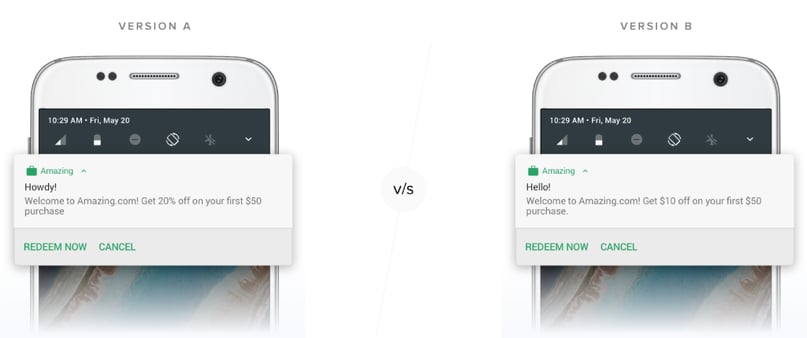 It is best to test on a significant number of users as large samples ensure that your results reflect the preferences of your average user.
Test just one or two variables at once. This is the most effective, since isolating changes allows you to identify which elements had the greatest impact on response.
Potential variables to test:

> Frequency of messaging
> Different times of the day
> Segmentation of user database
> Content; wording, tone of voice, use of emojis/GIFs, images, personalisation, punctuation and in-app messages.


Key points 🗝

Testing is necessary to discover what type of messaging your users best respond to

Use large samples

Only test one or two variables at once
Conclusion
Creating successful app user engagement with your users all comes down to how well you can engage with them on a personal level from the minute they download your app. The market is completely saturated with apps so you need to show your users why you are better than the rest and why, what you offer, is of more value to them.
For more information on the best ways to build better customer relationships visit www.hurree.co or feel free to message me directly via emma@hurree.co.