What Are The Major Components of a Marketing Strategy?
Creating an effective marketing strategy entails more than just writing out some bullet points about what you think you might produce or aim to achieve over the next couple of weeks, months or a year. In order to market successfully, you need to have a number of solid components to focus on.
What is a marketing strategy?
A marketing strategy is a methodically designed plan created to outline and guide marketing activities with the aim of achieving specific outcomes. It's the foundation upon which marketing decisions are made. The ultimate function of a marketing strategy is to focus your marketing objectives and campaigns and keep these efforts aligned with the wider company goals.
Any good marketing strategy has to take into consideration factors that are both internal and external. Internal factors include the marketing mix, performance analysis, budgetary constraints, etc. External factors are elements like customer experience, competitor analysis, the socio-economic environment, and so on. That's why most marketing strategies are partially planned and partially reactive to the market.
It's all well and good to have an overall understanding of what a marketing strategy is, but knowing and implementing the fundamental components that make up a great strategy will keep you at the top of your game.
What Are The 5 Major Components of a Marketing Strategy?



1. Target audience
Your target audience describes the group of individuals who are most likely to identify with your brand and use your products or services. It's important that you confidently establish your ideal audience so that you can convert leads and, of course, turn a profit.
There are brands out there that utilise mass marketing i.e. they target anyone and everyone. Take IKEA as an example. They sell homeware, household appliances and flatpack furniture, and have the right product at the right price for almost every consumer. Mass marketing is only typically achievable for those businesses that sell products that are universally needed, which is why this strategy works so well for IKEA.
Most brands however will need to target several different audiences or concentrate on specific, niche groups of people for maximum success. To define, redefine, or re-establish your ideal target audience, you need to action market segmentation.
There are four main types of market segmentation:

You can collect demographic, geographic, psychographic and behavioural information by conducting interviews, looking at census data, creating online surveys, exploring social media analytics, analysing the actions that customers and prospects make in-app or on your website and so on.
Once you have dynamically segmented your customers and prospects' data, you can create your buyer personas (or redefine/re-establish them, if you have already created some).
A buyer persona is a fictional representation of your ideal customer, created by utilising your data. You attribute this character with details such as their age, income, touchpoints, pain points, goals and buying patterns. The idea of creating a persona (or multiple personas) is to provide structure to your careful audience targeting.

Source: MLT Creative
Actioning market segmentation and creating buyer personas provides a real-world context for your business. This will allow you to learn about your ideal customer and help with your content creation, product development and alignment of resources. Solid audience research of this kind ensures that your company message attracts those who will find it the most valuable and bring value in return.
2. Goals & objectives
A goal is something that you want to achieve and is a broad, overarching statement that typically refers to the long-term. An objective is more specific, precise and involves the action or actions that will be taken in order to achieve the overall goal.
If you feel a little lost or aren't sure where to start, the SWOT analysis method is a great way to dive deeper into your company (as well as the wider market environment) and identify some actionable goals and objectives.
Conducting a SWOT analysis encourages you to identify your business and/or marketing strengths, weaknesses, opportunities, and threats. This will give you a clear picture of where you excel, where you can improve, your potential opportunities and the challenges that you will need to tackle.
Say, for example, your marketing material is receiving a lot of interaction, and, as a result, your marketing qualified leads (MQLs) are increasing significantly. This is, of course, a strength. But there's a problem - your MQLs are growing, but they're not converting. Marketing aims to generate leads to grow your business, so acquiring leads that don't convert would be marked down as a weakness. However, you can turn this weakness into an opportunity by making it your goal to increase your MQL conversion rate over the next four quarters.


Here's an example of 3 clear-cut objectives that will help you achieve your new goal:
Create a

pillar page

that is specific to the product or service that you offer and includes 20+ pieces of supporting content: 12x blogs, 6x infographics, 6x videos, 6x guides.


Create new

product-focused website content

that clearly details each aspect of your product/service and its benefits.


Analyse and re-write your

workflows

to include updated content and more product-focused information for the lowest-performing emails.
Of course, what you want to achieve and the objectives you need to attain to get there don't have to be major or span a whole year like the example I've given above. They can be as extensive or as minimal as you like.

Source: Collato
Having strong goals and objectives is super important for any business, regardless of company size, budget or offerings. The focus of your goals and objectives can be to inform your content, explore different avenues with your social media, bridge the gap between sales and marketing, increase email open rates, improve lead quality, etc.


A key thing to remember here is to ensure that your goals and objectives are S.M.A.R.T.:
Specific
Measurable
Achievable
Relevant/realistic
Time-bound
So, whether it's acquiring new users, focusing on revenue, growing your brand or venturing into new markets, the overall aim of setting goals and objectives in your marketing strategy is to achieve business targets as seamlessly as possible.
3. Competitor analysis




Competitor analysis is a process where you research to identify brands that are a potential threat to your business and analyse their products, sales and marketing strategies, social media presence, website, etc. By conducting a competitor analysis, you will gain knowledge and an understanding of:
The market you operate within
Your target audience
Market forecasting and potential opportunities
Competitor products & product development horizons
Pricing structures
Acquisition trends
This enables you to get a clear idea of where you sit in the market compared to others and provides a benchmark against which you can measure your business's growth.
The more you get to know your competition, the easier it will be to identify potential opportunities and areas in which you can out-perform and overtake them to gain an advantage. So studying your market competitors will not only help you to stay on top, but it will also enhance your insight into what kind of marketing works within your industry and what doesn't. 90% of Fortune 500 companies already use competitive intelligence to gain a competitive advantage.



Source: Forbes

Side note: It doesn't matter how niche your brand, product or service is, there will always be some form of competition to contend with. It may not be direct, but you will happen upon competition regarding some aspect of your company; it could simply be alternative areas where potential customers are spending their money, interacting on social media or reading blogs that contain similar content to yours.
It's important for you to project the qualities that make your brand different and why customers and prospects should choose you over other market options.
Conducting a thorough, usable competitor analysis takes more than just a quick search on Google; you need to work your way through a number of specific steps and utilise the helpful tools that are available to you.
Related content: How to Complete Your First Competitor Analysis: Step-by-Step Tutorial
4. Content creation
Content creation is a truly significant part of modern marketing. Why? Because there's more to marketing nowadays than just pushy promotional tactics and brash advertisements. Great content marketing shows your target audience that you are knowledgeable, trustworthy, and can bring them the value they're searching for.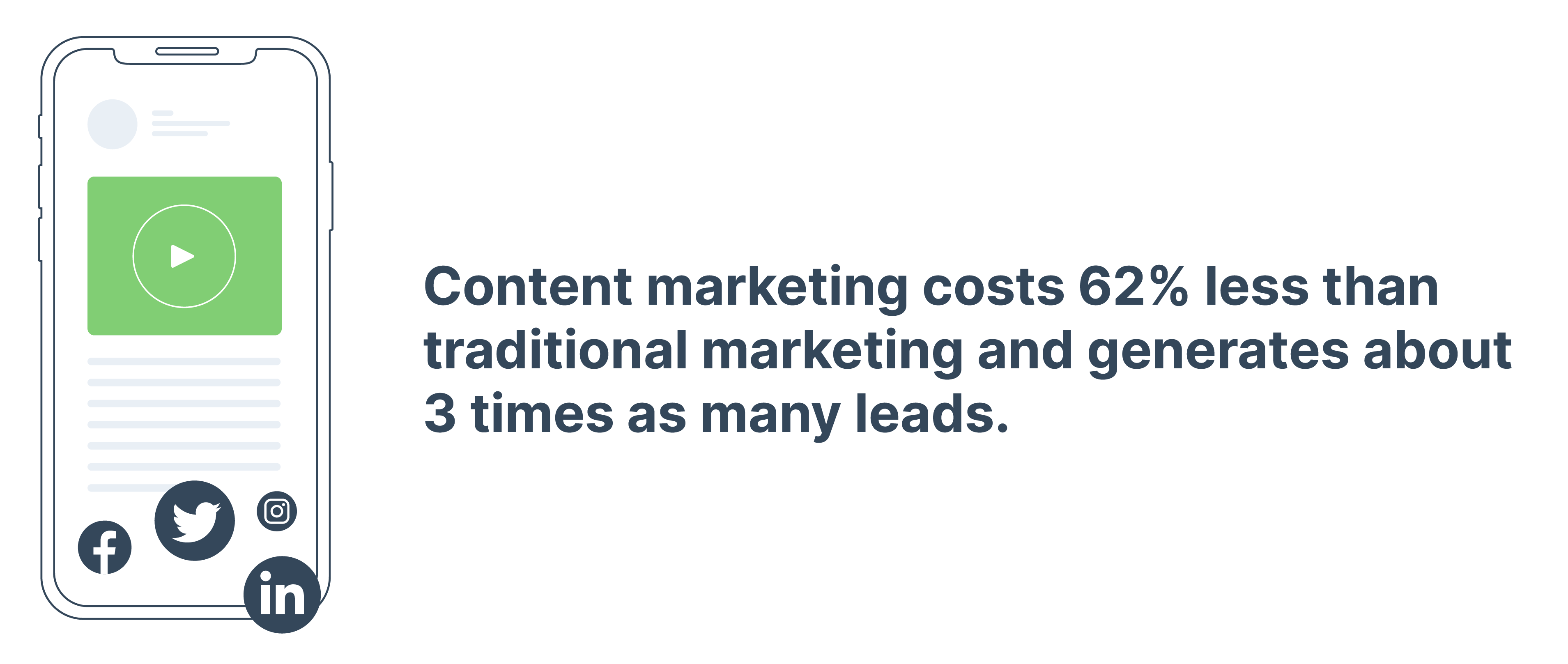 Source: DemandMetric
Research by Hubspot showed that, in 2020, 70% of marketers claimed to be actively investing in content marketing. This is because the content on a brand's website now operates as more than just a slogan or a promotional article; it is a business strategy that functions to project thought leadership, to build an audience, to convert, to retain loyalty and much, much more.
Content marketing comes in many forms, including (but not limited to):
Whilst the influence of content marketing is growing year-on-year, it's not enough to just write about anything; there is a difference between content that's valuable and content that's there just for the sake of it. You can't expect to convert leads with a piece of writing or media that's poorly targeted or inadequately researched. Content like this will come across as amateur, a waste of time for the viewer and can actually do real harm to your brand.
Creating a Search Insights Report (S.I.R.) is a great way to ensure that the content you create is worthwhile, valuable to your target audience and competitive on Search Engine Results Pages (SERPs). A search insights report is essentially a mix between a keywords research report and a content calendar that acts as a roadmap for your content creation.
If you have never conducted a search insights report, here's a quick rundown of the four things you need to do:


1. Select your focus topics: these should be based on the product or service you provide and they act as your main keywords (for example, with Hurree, one of our main topics is 'Market Segmentation' and another is 'Marketing Strategy').

2. Identify content competitors: these aren't your normal, physical competitors; they're brands who rank on SERPs for the same keywords as you, i.e. when I search for "Market segmentation + blogs" in a search engine, I won't necessarily see our direct competitors (those who offer a similar product or service). I will see brands that write about the topic of market segmentation.
To find your content competitors, go to your search engine and type in "[focus topic] + blogs", "[focus topic] + websites", "[focus topic] + tips", "[focus topic] + examples".
3. Run a content competitor analysis: once you have identified who your content competitors are, it's time to analyse them using a keyword research tool so you can see the terms they're ranking for that your site potentially is not. There are many great tools available such as Ahrefs, SEMrush and Moz. Or you can try The Hoth, which is free for a limited number of keywords. Add your content competitors to the keyword research tool of your choice and what you should see is a long list of topic-specific keywords.
You can treat every keyword as a potential piece of content so long as the keyword is relevant to your audience and there isn't an overwhelming amount of competition - to gauge this, look at the monthly search volume (MSV). A score between 50 - 1000 monthly searches is good/achievable. If you're trying to rank for a keyword that has an MSV of 25K then it will be significantly more difficult.
Take my example of market segmentation. The keywords that appear in my keyword research tool are: "types of market segmentation", "market segmentation strategies", "psychographic segmentation", and their MSV is between 50 - 1000, so we would be wise to create content using these keywords:



4. Lastly, fill out your search insights report: It can seem like a daunting task, but you're not alone - I recommend using Hubspot's search insights report template.
Hubspot also has an Academy course which is super helpful. If you don't have access to this, there are other free resources available.
As well as conducting in-depth research like a search insights report, you need to ask yourself these questions to ensure that your content is significant and worthwhile for your customers and prospects:
Is this content authentic (i.e. is it genuinely trying to be of service to your audience and not just manipulative)?
Is this information accurate (does it contain correct material and up-to-date statistics)?
Is this content in line with my brand (tone of voice, design, etc.)?
Does it offer my target audience answers to their questions?
Is it well-targeted for the stages of

my customer's lifecycle?
Creating well-structured content that aligns with your company's purpose will strengthen your brand by adding continued value to your customers.
5. Measurement
You put so much time, thought and effort into your marketing. Don't let it all go to waste. You can have the most intricate, creative, logical marketing campaign out there, but if you don't measure the results, how are you going to know whether or not you're hitting your targets? You need to make sure that your input is equal to, or more than, what you're gaining in return.
Utilising your data, regularly reviewing your actions and measuring your growth will ensure that your tasks, objectives and marketing efforts are being efficiently managed.

So take into account things like:


Industry benchmarks: compare your data against industry averages for MQLs, traffic, social media engagement, email open rates, etc.
MQLs: how many leads are you receiving per week/month? What's the quality of your leads? How many of them convert?
Website traffic: which pages do they visit? How long do they spend on your site? What's the average bounce rate?
Social media: are you gaining new followers or losing them? Do your posts receive enough interaction? Do your social media pages get users to visit your website?
Emails: analyse your click-through rates (CTR), bounce rates, conversions, your CTAs (call-to-action), etc.
Advertisements: are you generating leads from your paid ads?
Measuring the impact of your marketing activities gives you the ability to track your success and analyse what you're doing well and where you need to improve. This ensures you maintain consistent growth and competitive advantage. It also helps to streamline your objectives, keeping them in line with your business goals.
Related content: The 40 Most Important KPIs for Marketers
Conclusion
A well-thought-out marketing strategy provides a multitude of opportunities for businesses big and small.
Things that we all strive to achieve like enhanced customer loyalty, increased sales and ROI, a strengthened brand and the ability to triumph over market competitors become far more obtainable with a structured strategy in place. So implement these five critical components that I've outlined above, regularly revisit them and allow your marketing to thrive.
Book a free demo today to see how Hurree can help you transform your company reporting and improve your sales & marketing output 💌 Don't hesitate to get in touch via contact@hurree.co if you have any inquiries - we're happy to chat!