What is Social Media Marketing & What are the Benefits?
Human beings need connection; we crave it. Maslow's hierarchy places our psychological needs of belongingness and love slap-bang in the middle of the pyramid. To deprive a human of these needs holds back their development and self-actualisation.
Perhaps, this need for connection is why modern humans are so addicted to social media. There are 4.70 billion people around the world who use social media, spending an average of 2.5 hours a day on their chosen sites.
What is Social Media?




Social media is a term used to describe websites and applications that facilitate the creation and sharing of content by users. The content that is shared on social media is made up of text, photos, videos, etc., and is distributed in real-time across either a private community of friends and family curated by the user or in a public capacity, open-to-all users.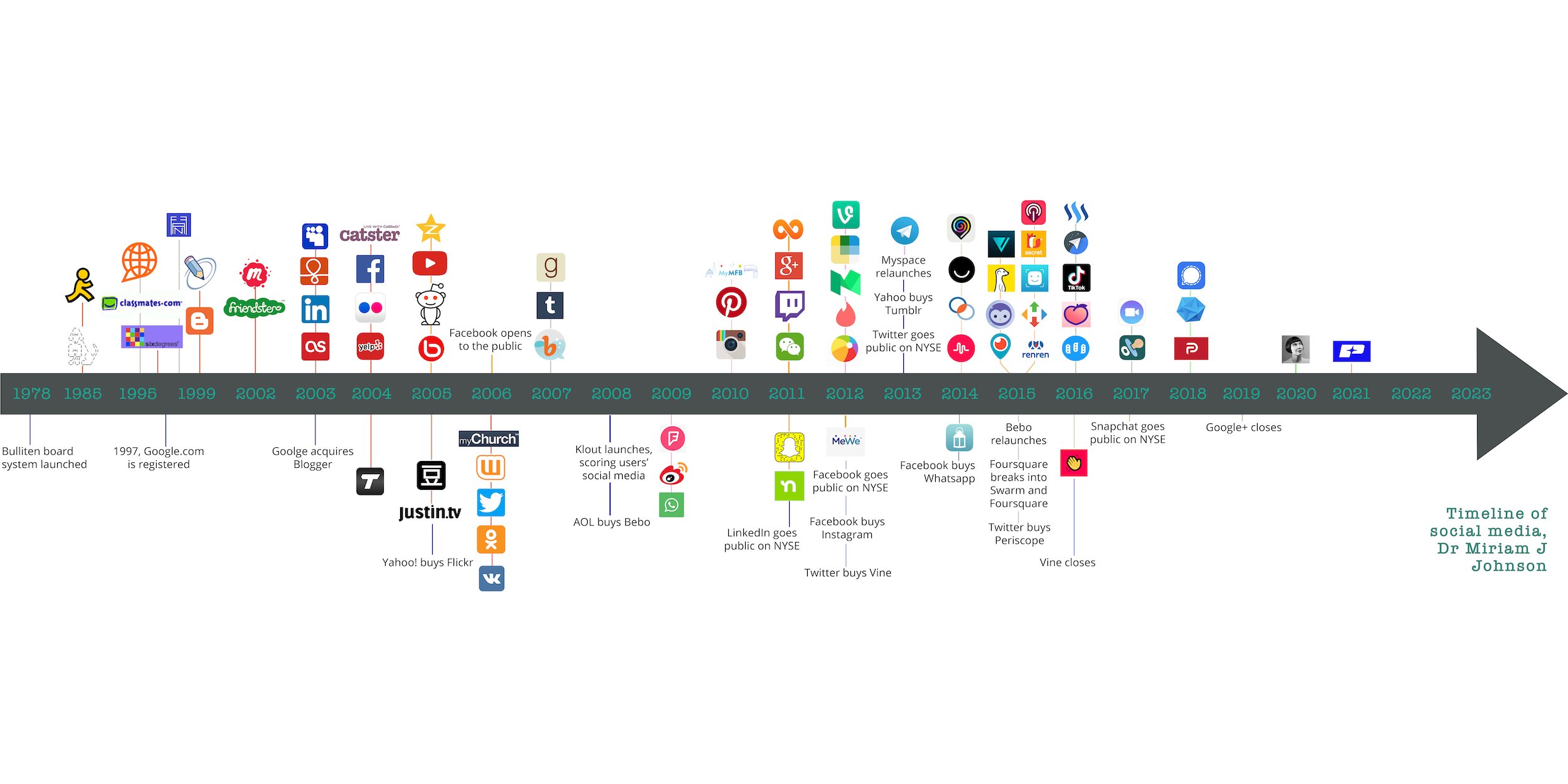 Source: Books Are Social
In terms of modern social networking sites, as we have come to know them today, Friendster was the first of its kind. The US site launched in 2002, allowing users to discover and connect with friends online; it had over one hundred million registered users. However, grumblings of social media had occurred as early as the (late) 1970s, when bulletin boards systems (BBS) allowed users to log on and connect via personal computers.
Social Media & Brands
Initially, social media was a place for communication; update your family on life events, keep in touch or reunite with old friends or even meet new ones and join online communities. The personal nature of social media made its original form individualistic; users curated their profiles with information about their lives, locations, jobs, likes, and dislikes.
As social media gained in popularity, its purpose began to warp and shift. Brands started to pay attention to social media and its potential to change the marketing landscape. Dipping their toes in social media, brands created profiles that consumers could "friend" with the hopes of fostering deeper relationships with their customers. MySpace even surveyed their users in 2008, discovering that 14% of respondents believed brands appeared more friendly and creative on social media.
McDonald's were early adopters of social media, and their "Big Mac Chant" campaign from 2008 shows why. The campaign celebrated the 40th anniversary of their popular product by asking customers to remix a well-known jingle used in Big Mac advertising. The competition generated 1 million page views in 3 weeks via MySpace banner ads on user homepages and the MySpace music page.
Data continued to be poured into and stored on social platforms; then social media site creators, like Mark Zuckerberg, realised they had the potential to make a lot of money. In 2006, Facebook took its first leap into the digital advertising space with a partnership with JP Morgan, which included banner display ads served to platform users.
Following on from the success of this partnership, in 2006, Microsoft purchased a 1.6% share in Facebook for $240 million under the condition that they become the sole provider of their banner ads and sponsored links. Then, in 2007, Facebook Ads was born, and with it, social media marketing as we know it today began to take shape.


What is Social Media Marketing?
Social media marketing is the practice of using social media to find and connect with your audience, build your brand, and drive revenue. To succeed at social media marketing, brands must create authentic content tailored to their audience's needs and interests, track the engagement rates of that content using analytics, and use this data to improve continuously.
In its formative days, brands used social media marketing to drive users towards a company's website in the hopes of selling a product or service. Today, however, social media profiles are seen as an extension of a brand's website; content should be designed for and published directly to a social media platform to increase the likelihood of user engagement and please social media algorithms.
Branded content on social media can exist in two forms:
1. Organic content
To make the most of organic content, brands need to use the free tools and resources available on their chosen platforms to create: a brand profile page including a profile picture, cover image, description, business hours and links to your website, etc.; company updates in the form of text, photos, videos or GiFs; a branded group or community page; live-video content; and more.
The reach that organic content receives is down to social media algorithms which sort posts in users' feeds based on relevancy and time of publishing. Algorithms decide how likely it is that a user wants to see your content; categories, previous interactions with your brand, and # tags used, all factor into what organic content makes it onto a user's feed.
So for example, if someone interacts with an Instagram post about baking, then chances are that user will be served more baking related posts again, as the algorithm assumes this person is interested in baking.
2. Paid content
Paid social media can help to amplify your organic content or generate leads for your company via down-the-funnel advertising campaigns. Many social media marketers have experienced the impact of algorithms on their reach; despite tens of thousands of followers, organic posting can often appear to fall flat of expectation. Paid social advertising, or 'sponsored' content as it is identified in a user's feed, can help to bolster your reach and deliver your content to a broader audience.
You will have more control over what audience your content is shown to as the social platforms will allow you to target specific audiences based on demographics, location, interests and more.

Source: Hootsuite
Brands who successfully master social media marketing implement a strategy that incorporates both organic and paid content; ensuring that they undergo research, planning, and optimisation at every stage.


Benefits of Social Media Marketing
1. Increase trustworthiness and brand recognition
The internet can be a dangerous place; the exploding world of ecommerce has made it a veritable playground for hackers, scammers, and cyber-crime. There are three main categories of these crimes: Buying Scams, Identity Theft, and Monetary Fraud. According to data collected by the European Commission, 56% of those surveyed experienced at least one of these types of fraud/scams in the last two years.
As consumers become better versed in dealing with threats of privacy and security online, they look for demarcations of trustworthiness before proceeding with transactions with a new or previously unknown business.
During the consideration stage of the buyer's journey, 54% of social browsers check company social media pages. Research shows that having a social media presence that is active, organic, and presents a consistent view of your branding can improve levels of customer trust.

Source: Stackla
You can increase the trustworthiness of your social media presence by:
Ensuring all

branding elements

such as @ handles, logos, colours, branded hashtags, images, etc., are present and consistent with your main website.
Ensure your profiles contain a secure link to your website and other relevant social media profiles.
Always reply to customer comments and feedback - both when it is positive and negative.
Share user-generated content (UGC), mentions, and customer reviews.
Be consistent with graphic elements such as filters on images, fonts for text in video content and photographs, colours, etc.
Have a clear and consistent

brand voice

across all social and owned media.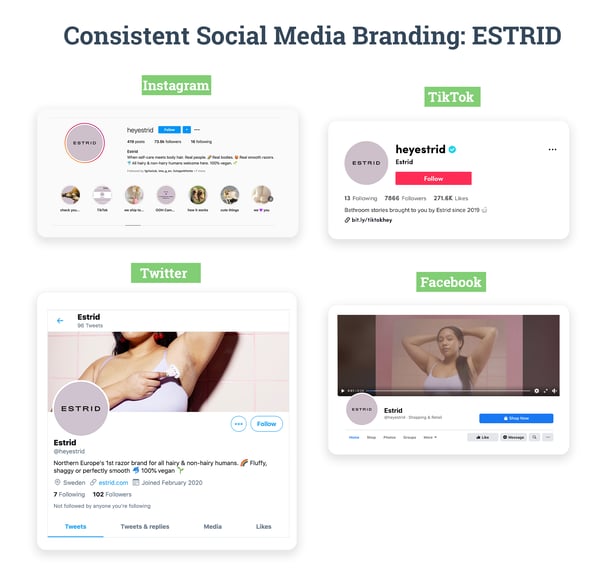 2. Increase levels of customer service and satisfaction
One advantage of social media for brands is that it provides a direct line to your audience; opening up the ability for customers to interact with brands in real-time. For brands, this can be both a positive and a negative.
Brands who take advantage of the real-time feedback provided by social media, listen to their followers and react accordingly. Consumers can comment with praise or criticism of your brand, how quickly and appropriately you respond can impact your brand reputation. Brands that do not take advantage of this line of communication appear uncaring and cause consumers to become frustrated, losing brand loyalty.

Source: Sprout Social
There are two main areas of social media where you can improve your customer service and satisfaction:
Publicly (i.e. in comment sections, mentions, and news feeds)
Public comments are a great way to openly communicate with your audience and show customers that you're an approachable, trustworthy, and entertaining brand. The best social media marketers use their brand's personality to speak to users; ask them questions, get excited about upcoming events or holidays, and use slang and emojis to humanise their brand.
Salesforce has identified some golden rules for responding to your comments on social media:


Always respond within 1 hour (if possible)
Categorise and plan your response strategy, for example:
Category 1 - Positive user comment; Response plan: Thank the customer in comments
Category 2 - Negative user comment (non-critical); Response plan: Apologise to the customer in comments
Category 3 - Negative user comment (critical); Response plan: Apologise to the customer in comments and alert PR or legal team to release an official company statement.
3. Be consistent with responses to FAQs
4. Be friendly and professional


Let's add one more rule to this list: Don't be afraid to have fun! Some of the brands who are killing social media today aren't afraid to be creative, innovative, and even sarcastic! Your loyal customers will appreciate a chuckle or an expert troll take-down.
Irish airline Ryanair, aren't just known for their budget flights, but also for their savage and sassy brand personality on their social channels. Their strategy revolves around being unapologetic and often times, unhinged, when replying to customer complains. A risky strategy, but one that definitely works for the brand.
Privately (i.e. Direct Messaging)
Most forms of social media have instant messaging functionality, known commonly as Direct Messaging (DMs). Platform users can send DMs to brands 24 hours a day, and for many, sending a quick DM is much more convenient than calling an expensive hotline and waiting on hold.



Source: Convince & Convert
To deal with this surge in customer preference, many companies have deployed dedicated social customer service teams. However, with such high demand, manual, human handling of requests is just not fast enough. Studies show that 72% of users who contact a brand on Twitter expect a response within an hour, but the average response time is actually 6.5 hours.
Using chatbots on social media is a great way to automate this process and offer social support to your customers, quickly and efficiently. Chatbots are A.I. (artificial intelligence) that use machine learning and natural language processing, meaning that they are continually learning and improving based on interactions with your customers. There are more than 300,000 chatbots in operation on Facebook Messenger alone. 67% of global consumers had an interaction with a chatbot over the last 12 months.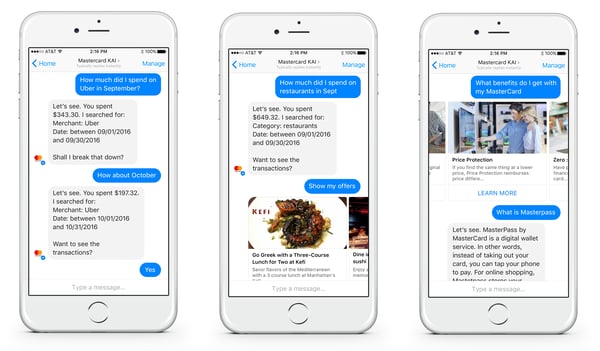 Source: SocialMediaToday


3. Foster online community and tell authentic stories



Representation is a big part of why social media has taken over the world; it gives a voice to so many types of people that we rarely hear from or see in traditional media and connects diverse people with others like them. Virtual communities for many, are places where they feel seen and heard; less alone than in their day-to-day life.
Brands that know the importance of online communities and the people within them, strive to tell authentic stories by highlighting the core issues and values that are important to the brand and their consumers. Speak to the heart of your target audience on social media and you will be rewarded with higher engagement and loyalty. Google calls this type of community building practice "Identity loyalty"; consumers who resonate deeply with the powerful and authentic stories told by a brand, freely participate in promotional activities such as telling their friends and family.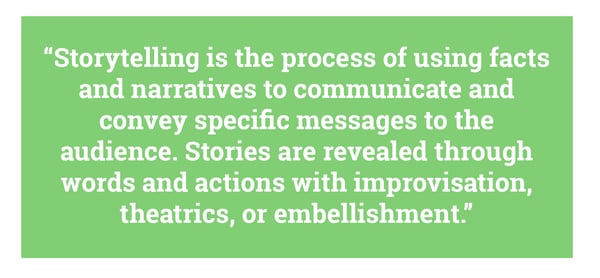 Source: SocialPilot
Tips for community building and authentic storytelling:


Identify your core brand values and align them with your target audience
Create safe spaces on social media platforms for your audience to speak (groups, hashtags, comment sections, etc.)
Focus on the small details and real people
Use video and imagery to tell stories


Take beauty brand Glossier, who have managed to build a strong, cohesive social media community of young, diverse people that value self-love, self-confidence, and self-care. In their campaign, "Feeling like", Glossier told the story of 6 real people from various walks of life via a video series produced and deployed across their social media channels (Facebook, Instagram, Youtube, etc.). Speaking about what is important to them, the stories highlight issues like community, acceptance, family, religion, and LGBTQIA+ visibility, whilst subtly connecting their makeup products to the core of each person's life. Playing on the slang term, "Feeling myself", which is often used by their target demographic, Glossier builds a feeling of togetherness, safety, and community with their video story-telling on social media.
4. Become part of the zeitgeist



Staying on top of societal trends is majorly important as a marketer because when massive shifts in lifestyles, opinions or habits occur consumers change and if you're not changing with them, you'll be left without an audience and without a revenue stream.
Luckily for you, social media is like a microcosm of society; it's a melting pot of trending topics, viral fads, and burning issues. By listening to what your audience is talking about on social media, you can identify the content they will resonate with, and join the conversation in creative ways that entertain your followers.
Social media "challenges" are one great example of brands paying attention to the zeitgeist and emulating it to speak to their audience like a friend. One great example from 2020 is the #DollyPartonChallenge; the famous country-western star shared a photo of herself with her four moods to reflect how she would present on each social media platform. Savvy brands jumped on board and came up with some excellent results.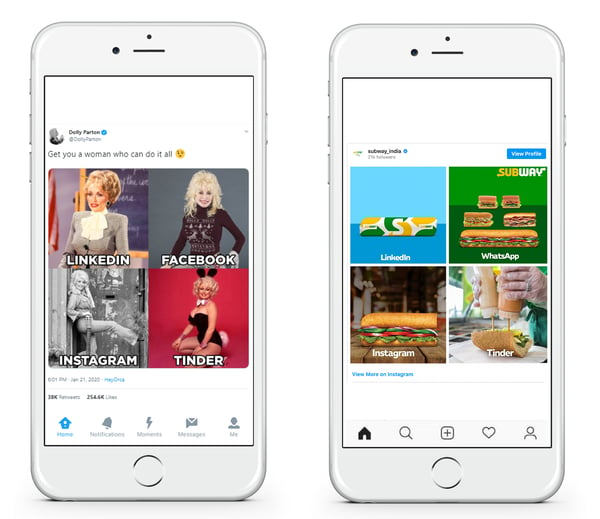 Top tips for creating on-trend content for social media:


Use social media insights to monitor trending topics and #hashtags
Use social listening tools to see what your followers are discussing
Keep on track of any new social media channels that your audience is using
Be timely; meme-culture moves fast, make sure your references are on-point
Create your own branded challenges and encourage user participation
5. Increase revenue with social commerce
Social media is now deeply ingrained in the customer journey with 74% of consumers consulting the medium before making a purchase. But switching from review sites to social media, to product sites, and back again, is laborious for consumers. Social media platforms are quickly realising that streamlining the customer journey is the way forward.
Enter social shopping. Created in the wake of an exploding ecommerce revolution, social shopping takes advantage of the increasing presence of brand inventory online. Whilst brands retain their traditional ecommerce stores housed on websites, in-app stores and shoppable images enable users to view, save, and purchase products all in-app. Social media purchases will account for 14.3% of all online purchases in China by 2023, and in 2022, one in three users will make a purchase on Facebook.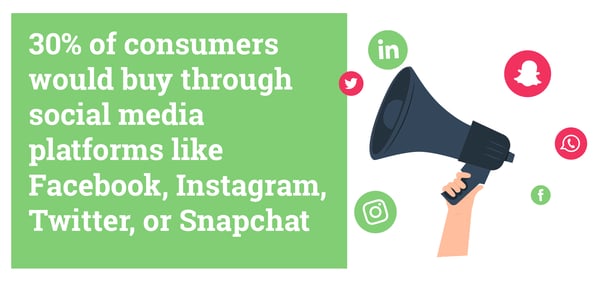 Source: BigCommerce


Outside of using your brand's social media accounts for social shopping, involving key figures, known as "influencers", from your target market can increase your social commerce. In 2019, Instagram extended the shoppable post feature to 'some' influencers and Snapchat rolled out a top-tier 'shop' button that facilitated native checkout for some influencers such as Kylie Jenner and Kim Kardashian-West.
Of influencer power, Adam Williams, CEO of Takumi (Influencer Marketing Agency) has said, "We've seen influencers enriching the social commerce experience in a number of ways, and we predict even more innovation in the coming year." And considering the research that shows 63% of consumers trust influencer messaging over what a companies advertising says about their products or services, it would be foolish to underestimate this tactic.
67% of marketers say they work with micro-influencers with 10K-100K followers or subscribers. Conversely, only 29% say they work with mega influencers with more than 1 million followers.

The benefits we have discussed here are merely the tip of the iceberg when it comes to the potential of social media marketing. To be successful, it takes a lot of creativity, skill, and training to master some of the more complex advertising practices.
Always remember to follow these five pillars of social media marketing when undertaking any new campaign:


1. Strategy:
Clearly define your goals and objectives using the

SMART

guidelines.
Conduct thorough target audience research to determine which platforms are right for your marketing efforts.
Understand the types of content your audience engages with and how best to produce it, including any equipment or training you may require.
2. Planning & Publishing:
Create a monthly content calendar planned 2-3 months in advance.
Be aware of important dates and holidays that drive engagement for your audience and schedule content on those days.
A/B test the tone, timing, formats, and frequency of posts.
3. Listening & Engagement
Use social listening tools to monitor your brand name and keywords.
React quickly to user comments and DMs.
Use A.I. automation to improve response times.
4. Analytics
Track your performance over time with key metrics such as Reach, Engagement, Video-views, ad conversions, etc.
Continuously analyse your failings and set in motion plans to improve performance.
Assess the variation of your performance platform-to-platform.
5. Advertising
Set clear budgets and stick to them.
Use

market segmentation

to create hyper-targeted audiences.
Keep on top of trends and new developments within

social advertising

to understand how to optimise your spending best.
Social media marketing is a powerful tool and holds many benefits for your company; it is a constant process that needs to be part of your overall marketing strategy and your daily routine. As a continually evolving practice, you must always strive to be creative and on-trend, and ultimately, showcase the great brand that you are to your audience.
Book a free demo today to see how Hurree can help you transform your social media reporting and improve your sales & marketing output 💌 Don't hesitate to get in touch via contact@hurree.co if you have any inquiries - we're happy to chat!