Facebook & Google Ads: How to Get Started with Remarketing [made easy]
As a marketer, I love traffic! The more traffic, the better. Seriously, I actively seek it out. Okay, I'm not a crazy person who enjoys sitting bumper-to-bumper on the highway. Let's get one thing straight, the kind of traffic I'm courting is strictly the digital marketing kind. The kind that helps you to measure and prove the effectiveness of your marketing strategy.
Traffic is great and all, but your business also needs conversions to be successful. No one likes to see soaring traffic rates when conversion rates are flat as a pancake. It's a frustrating fact that only 2% of first-time website visitors convert. The average consumer makes 6 visits to a website before they decide to spend.
So, how do you make sure a traffic-jam converts into an open road of sales? Easy! Remarketing. Remarketing will have your users dancing a merry jig all-the-way back to the checkout.



WTF is Remarketing?




Remarketing is a promotional technique that aims to re-engage users who have shown an interest in your products or services. Remarketing enables you to serve highly personalised content to users through external channels, driving them back to your platform and toward the point of conversion.
Think of remarketing as a form of market segmentation; segment your traffic into lists of users who have taken specific actions, such as cart-abandonment. Then, you can focus on re-engaging them by offering the right content, in the right place, and at the right time.
"Remarketing? Don't you mean retargeting? I'm confused…"
Okay, let's slow it down, this is where things can become a little jumbled. Over the years, the terms remarketing and retargeting have been used interchangeably. A blogger may start by writing about "remarketing tactics" then switch to "retargeting" at the halfway point. This can be confusing for anyone trying to get to grips with remarketing for the first time.
"Which is which?", I hear you cry.
The truth is, remarketing and retargeting are fundamentally the same thing. Remarketing is the umbrella term for a practice that includes several key tactics; retargeting refers to one of the tactics within the remarketing umbrella, specifically, paid digital ads.
We have seen this interchangeability in action when Google launched remarketing tools that use solely retargeting tactics...because duh, they're the same thing!
If you're still a little fuzzy, this handy diagram can help you to visualise and simplify these two troublesome terms:
Source: Website Hosting Rating



Why should you use remarketing?


When it comes to remarketing, there are
two main goals
that you should focus on to see the Return on Investment (ROI) on both your time and budget.
The first goal is awareness. This goal aims to remind users who have viewed your site of the great products and services that you offer. The second is conversion; campaigns using this goal remarket to more qualified users. These are the users who have viewed a specific product page or abandoned their cart.
Most consumers who visit your website are on a journey toward making a purchase. During this Buyer's Journey, the user travels through 3 stages, gathering information along the way. These stages are 'Awareness', 'Consideration' and 'Decision'.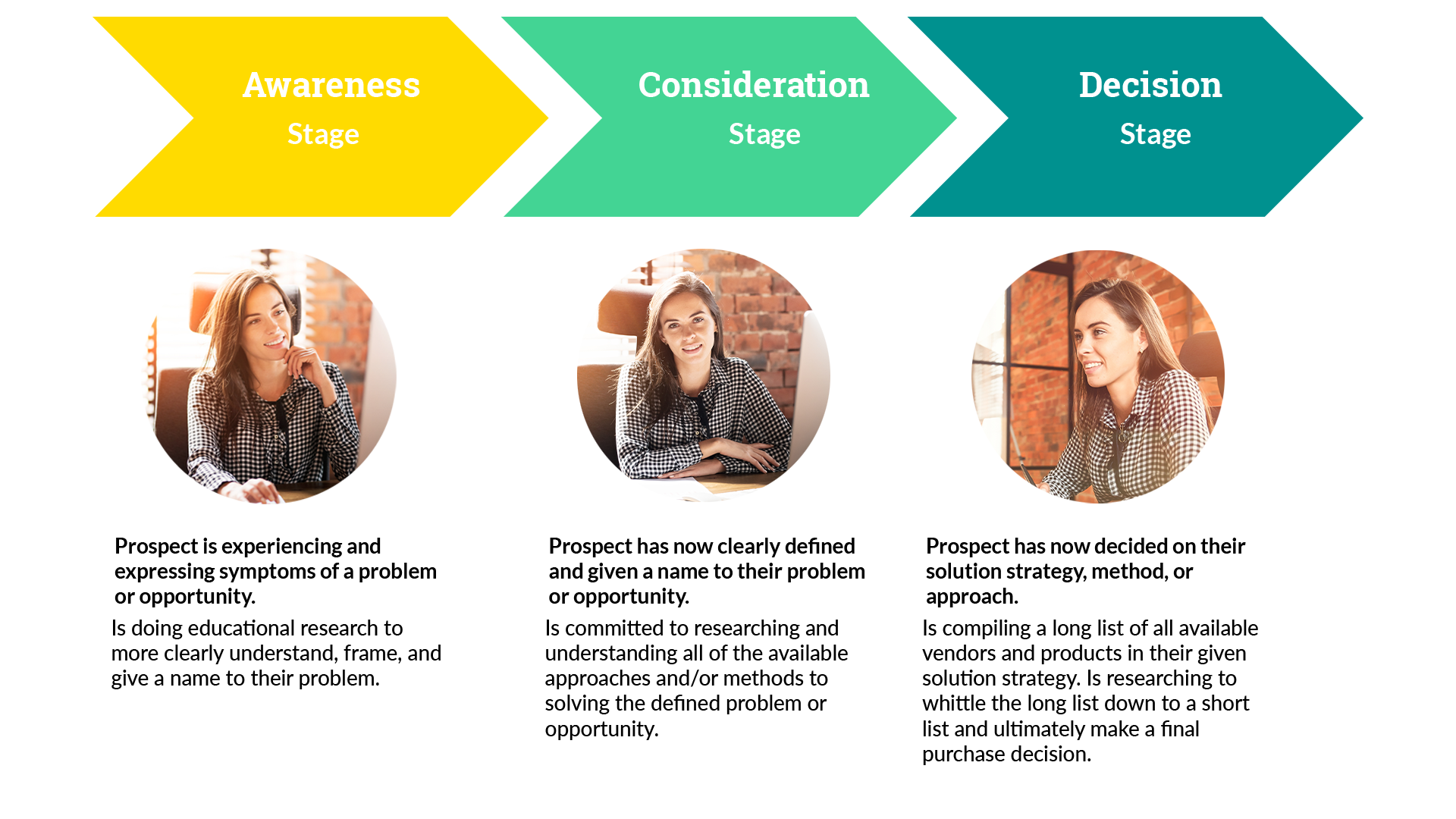 Source: Hubspot

When users come to the consideration stage, they focus on researching all of the options that are open to them. Modern consumers are savvy; they have the internet at their fingertips and know how to search for the best deals available. In fact, 76% of consumers in the UK do online research before they make a purchase.

After a user visits your site you can collect data that allows you to 'follow' these users around the web with branded ads. Target users as they search for offers on your competitors' sites, return to search engines or even view user-generated reviews on YouTube. Remarketing ads create additional brand touchpoints that keep you fresh in their minds.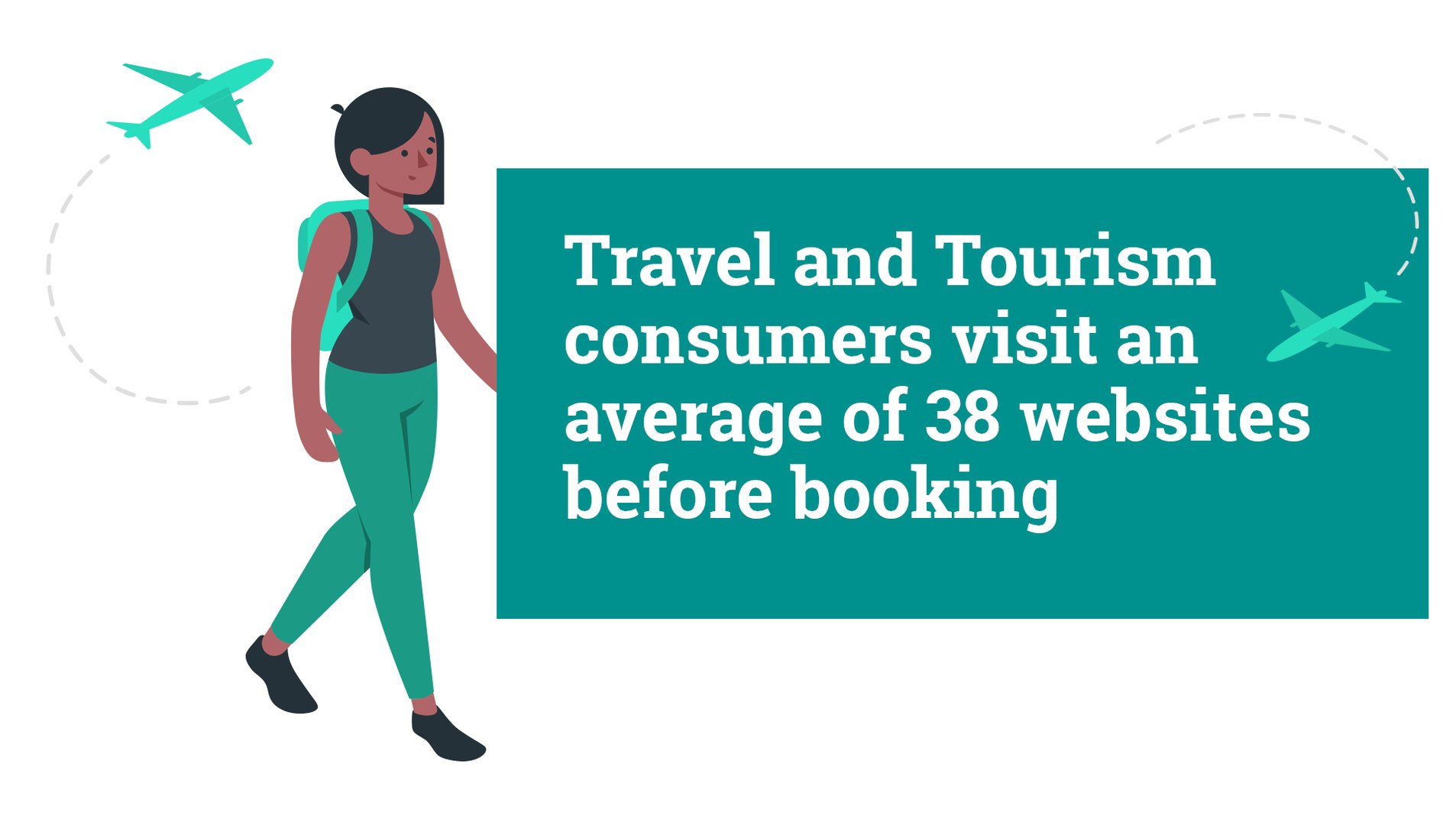 Source: Travel Market Report


Let's say you're on the hunt for a pair of boots that are fit to tackle the winter weather. You want something durable, yet fashionable, and affordable. You enter 'winter boots' into Google and in the top results, you see Dr. Martens Boots. You click the link and navigate around their site, looking at a variety of different styles.

After a few minutes of browsing, you exit and visit a fashion blog to continue your research. While skimming a post titled 'The 5 Best Boots for Winter 2019', you notice something familiar on the website's top bar:

Source: Brafton



It's an ad for Dr. Martens, the site you've just left. Spooky, huh? Nope, it's remarketing in action!

If you click this ad, then the marketers of Dr. Martens have done their job right. But even if you don't click, this extra touchpoint might be enough of a reminder to keep these dream boots in mind for later.
Let's say you're persuaded to click on the Dr. Martens remarketing ad. This time around, you find a pair of shoes on their site that suit your needs and add the order into your shopping cart.
We're on the home stretch here! I can see the light at the end of the tunnel...Oh, wait, your phone is ringing, it's in the other room, you close your laptop and... boom! Cart abandoned.
At this point, you might forget about Dr. Martens altogether. But they have another trick up their tartan-patterned sleeves. The next time you open your browser you're treated to a highly personalised piece of remarketing featuring the exact product you had in your cart! That cheeky ad might look something like this: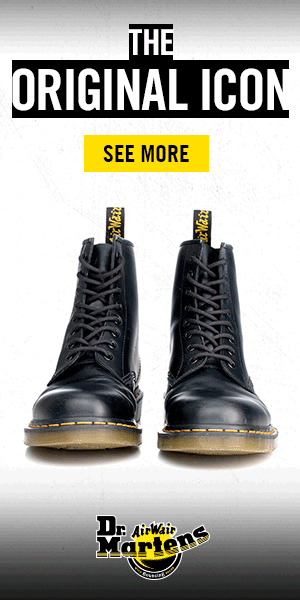 Source: Thamalus
This level of personalised remarketing is a highly effective way of moving customers along the funnel. But what about these customers? How do they feel about all this digital-stalking?... Well, 30% of consumers have a "very positive" reaction to being retargeted, and 47% said they were happy to give up their digital privacy to get a better deal from retailers.
How do remarketing ads work?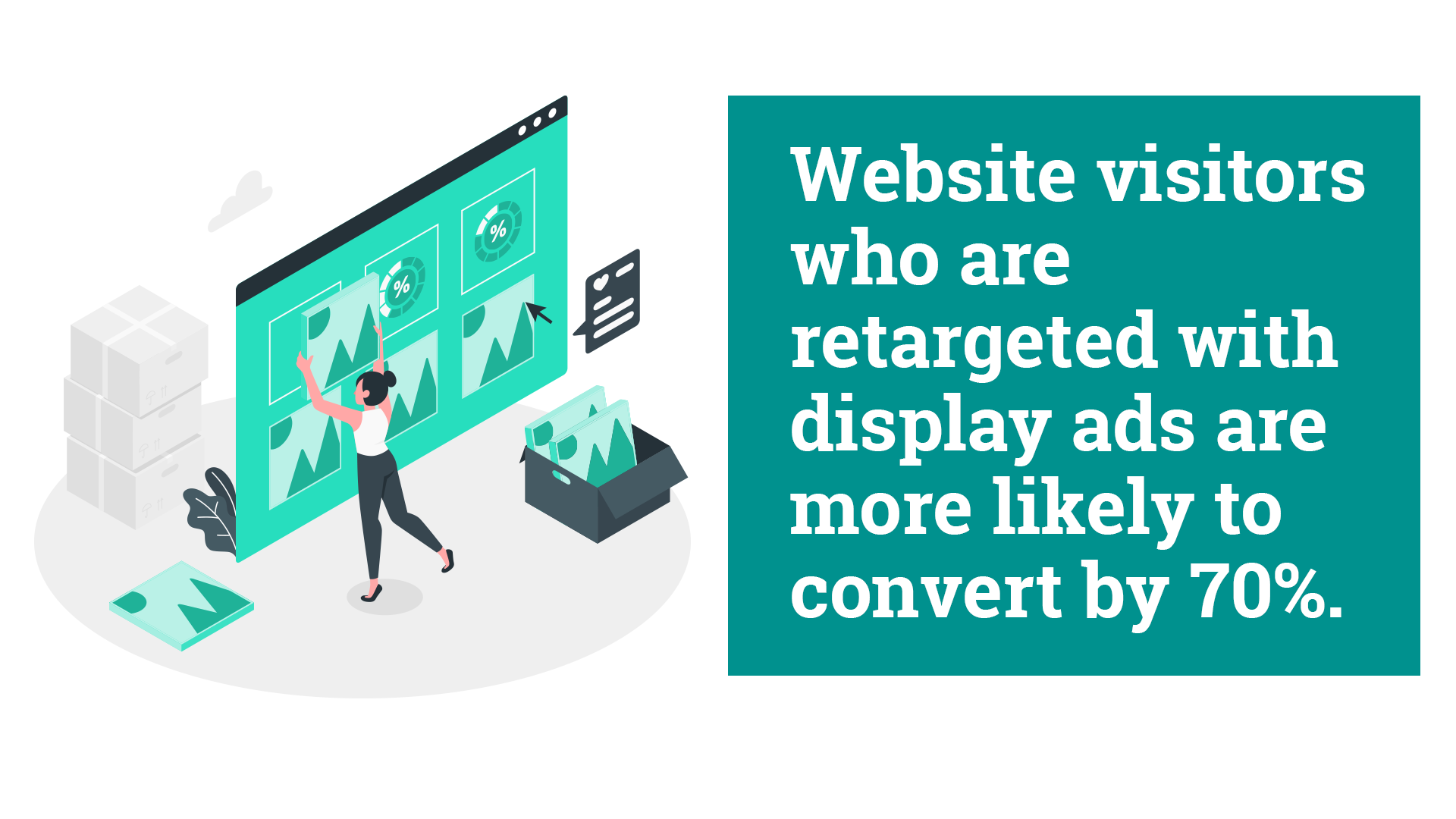 Source: Software Advice
Remarketing with paid ads is a powerful tool and a key part of getting started is the collection of data from users who have interacted with your brand.

Remarketing data can be collected and implemented in two basic ways:
List-based remarketing
A collection of contact data that has been voluntarily relinquished by your customer.

How you collect this data ranges from offline activities such as an email sign-up sheet collected by a cashier to strategically placed lead-generation forms on your website.
Contact data should be stored within your CRM system, making it easily exportable for remarketing activities. Exported lists are uploaded into your chosen remarketing platform and further customised.


Pixel-based remarketing
Pixel-based remarketing is an unobtrusive method of collecting user data. Installing a pixel on your website allows you to subtly collect user data. Pixels collect data via a clever little thing called cookies or HTTP cookies.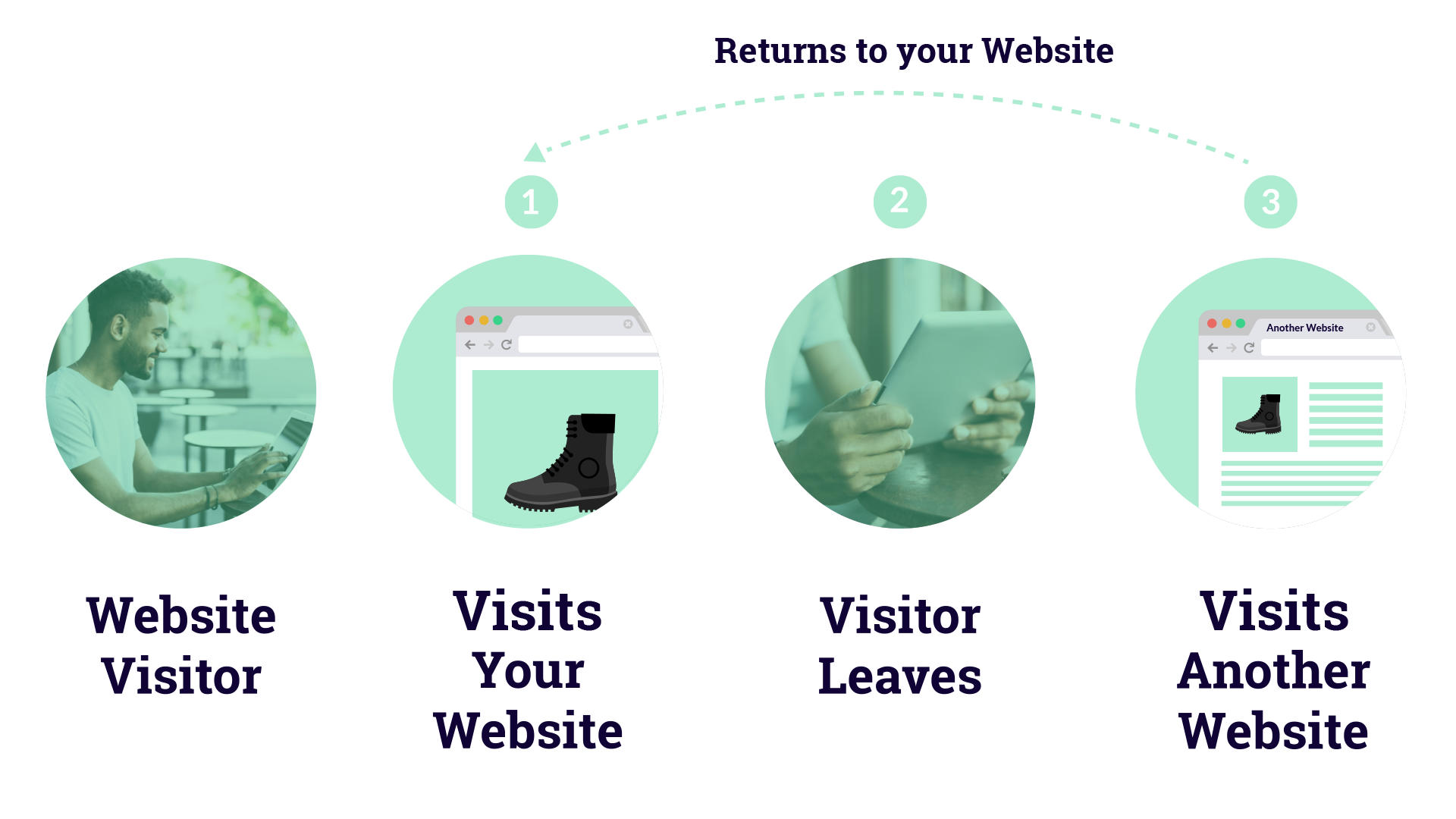 Unlike the tasty treats we know and love, HTTP cookies are snippets of code that are added to a user's web browser when they visit a website. After being 'cookied' the user's movements across the web can be tracked.
Remarketing software communicates with the HTTP cookies to inform the system of effective locations to display remarketing ads.
Choosing your remarketing platform

The benefits of remarketing speak for themselves with click-through rates being 10x higher than standard display ads. Unfortunately, running remarketing ads can get complicated. There's a lot to think about; budgeting, bidding strategy, frequency caps, membership duration, ad placements, and more.
Never fear. There are a ton of platforms to help you make the most of your budget, boost ROI, and, of course, achieve those all-important conversions.
Consider what type of remarketing channel you want to use. Think about your audience; which source is currently delivering the most traffic to your site? Is it Facebook, Google Search, YouTube, or even eCommerce sites like ASOS?
Understanding where your audience spends their time online will help you to optimise your remarketing. This means you can deliver your ads to the right people, in the right place, at the right time.
So what channels can you use? There are plenty out there, so let's have a look at the two giants within the field:
Facebook Remarketing
If you're a complete beginner, social media remarketing is a great place to start. It's one of the easier methods to master, and you can run effective campaigns with smaller budgets. It's perfect for small to medium businesses and large corporations alike.
The most popular social media remarketing platform is Facebook. Facebook allows marketers to set up list-based and pixel-based remarketing ads. Once set up, you can show your ads across all Facebook-owned sites, including Instagram, using several formats: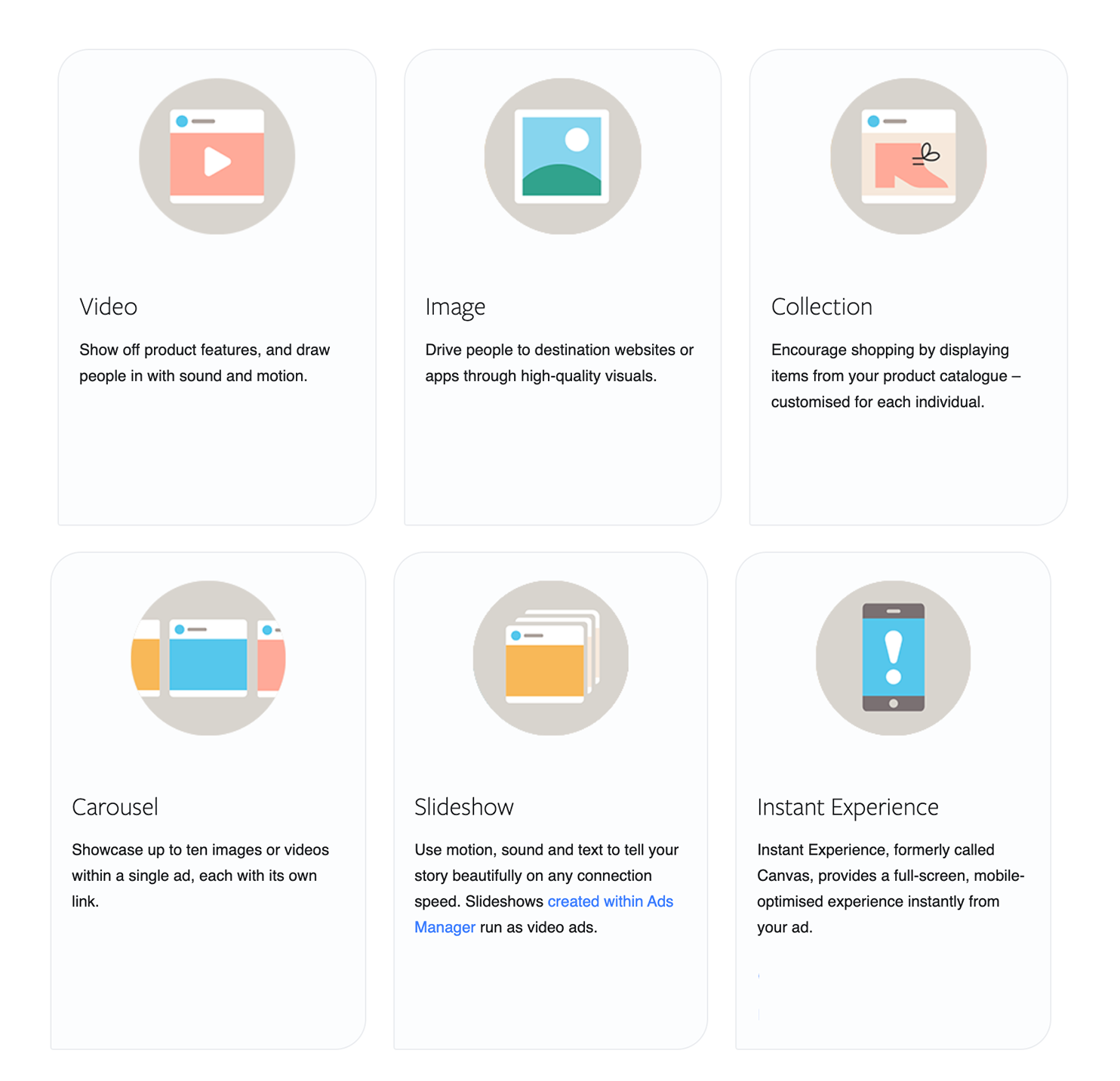 Source: Facebook business

Facebook remarketing ads use the data collected from users who visit your website and link that data with registered Facebook profiles, creating a custom audience. You can then deliver Facebook ads based on specific actions taken on your site.
If you're feeling adventurous, why not delve a little deeper? Create hyper-personalised dynamic ads, which "turn shoppers into buyers.'' Dynamic ads show users the exact product(s) they viewed on your site. And, lucky for you, this process is automatic! All you have to do is upload a product catalog that holds a detailed inventory of your products, like images, prices, descriptions, and more. Then Facebook works its magic for you, showing your customers the products that are most likely to convert.
Take student housing site HousingAnywhere, for example. Their customer inquiries doubled to 10,000 after combining localised custom audiences with dynamic advertising. This allowed them to display available properties from their catalog to interested users across multiple locations. Just like this: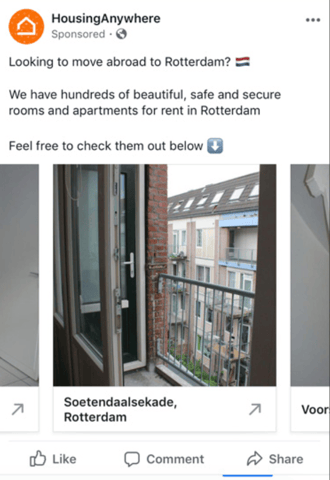 Source: Facebook business


And, once your remarketing ads launch, Facebook's easy-to-digest analytics will make tracking your metrics, analysing your results and optimising your campaigns a piece of cake!
Google Remarketing
Google is the king of the internet, so it shouldn't surprise you that they're the top-dogs of web-based remarketing too. Google's Ad network has the potential to reach 90% of internet users worldwide - that's, basically, everyone on the internet.
Thing is, Google Ads can be a bit confusing, and their interface isn't as user-friendly as Facebook. But, if you can get your head around this powerful tool, you're opening yourself up to a world of possibilities to boost your ROI and push your customers to convert. Google Ads can retarget your users on multiple sites and platforms in the Google Display Network and Google Search Network, rather than just one platform like Facebook.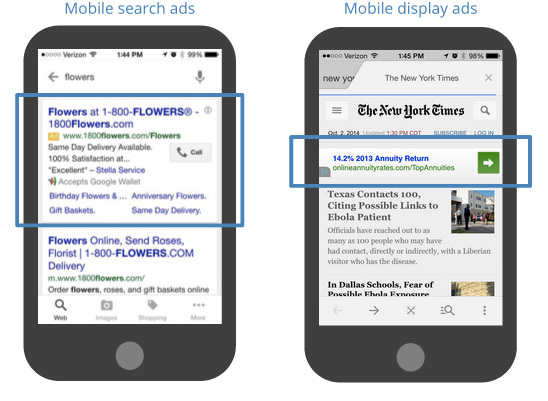 Source: Tinuiti
So how do they do it? Google split its remarketing efforts up into 5 key areas:


Standard Remarketing: using data gathered via Google's Tracking Pixel, Google deliver remarketing ads to re-engage users as they browse the Google Display Network.


Dynamic Remarketing: take your remarketing one step further using pixel data to show hyper-specific remarketing content which includes the exact product a user has viewed on your website. Much like Facebook's product catalog, Google's dynamic remarketing automatically pulls images, descriptions, and prices from an uploaded feed of your products.


Remarketing Lists for Search Ads (RSLA): here's a clever trick, most of your users will return to a search engine after visiting your site; RSLA's allow you to optimise the search ads these previously engaged users are shown. This can work in two ways: either you can optimise your bids for your existing keyword, allocating a higher budget allowance to these users, or you can bid on keywords which you don't normally bid on, for example, the alternative keywords that a secondary searcher may place into a search engine.


Video Remarketing: remarket to users who have interacted with your videos or your YouTube channel across the display network.


Customer List Remarketing: upload the data you have collected from your customers such as email addresses, and use Google's customer match to retarget these users when they are signed in to Google products (Google Display Network, Gmail, Youtube, Google Shopping, etc.).

Segmenting your retargeting data


One final thing you need to think about when you're getting started with remarketing is segmenting your retargeting data.
Just because users have visited your website does not mean they are all searching for the same thing, nor will they all respond to the same remarketing messaging. Segmenting your traffic using behavioural data allows you to personalise and improve your user experience. Marketers see an average increase of 20% in sales when offering personalised experiences.
There are a number of ways you can divide your website visitors for remarketing activities:

Summing Up

If you've heard it once, you've heard it 1,000 times before: it's cheaper to keep an existing customer than to attract a new one.
That's why remarketing ads are perfect; they use your advertising budget to target users who are already engaging with you, and they do it in a hyper-personalised way which amounts to users being x3 more likely to click on your ads than people who haven't interacted with your business before.
Better still, retargeting ads are 76% more likely to be clicked than regular display ads, that's an ROI that's impossible to pass up. So, what are you waiting for? Get started today!
Want to become a master of Market Segmentation? Get your FREE guide here 💌 Don't hesitate to get in touch with me directly via contact@hurree.co with any of your questions, or to let me know what is working for you in your marketing strategy!