Re-engaging App Users Who Opt-Out of Push Notifications
4 min read
May 1, 2019
Every day there are people downloading new apps and choosing to opt-out of receiving push notifications for various reasons. In fact, 56.1% of iOS users choose to decline push permissions. For Android users, however, there is a 91% opt-in rate. Although, this is down to the fact that Android users are automatically opted in without choice, but this is not to say that a % of these users opt-out at a later date. Or even worse, delete the app altogether. For this reason, it is vital to have a full understanding of app re-engagement.



Why would app users opt-out?



This is normally down to having the wrong push notification strategy. If you are sending out repetitive notifications that aren't of much value and on a much too frequent basis then your app users are not going to want to receive your messaging even if they are using your app regularly. A key factor in increasing your opt-in rate and re-engaging app users is making sure you have the right push notification strategy.
However, I get that as an app marketer it can be tempting to think that push notifications are the be-all and end-all. But there are other ways to engage people and these could be ways that some people might actually prefer so don't make the mistake of becoming too reliant on push to reach your app users. Plus, multi-channel campaigns can be more effective, increasing customer retention by 46%.
Whatever their reasons, users opting out does have a dramatic impact on your mobile app marketing efforts. As push is one of the most powerful channels for reaching customers it is definitely something you want to get right.



Is there any way to get these users to opt back in?



Yes. With a re-permission campaign, you can reach out to the users who have opted out through various other channels in an attempt to convince them that they are missing out by not receiving push notifications. When the user downloaded your app chances are, other contact information, such as an email address, was collected and thus can be used for communication.



What steps can I take for mobile app re-engagement?



Identify your target audience
First things first, you need to sort out which groups of users you are targeting with this messaging. Obviously, the first criteria is going to be any users who have opted out of receiving push notifications. You might think that this is the only criteria but I think it's necessary to refine this a little more. There is no point in trying to convince someone who hasn't even opened your app in the past 6 months to turn on push notifications as the focus for these individuals should be on re-engagement. Your ideal target audience is those who have turned notifications off for whatever reason but are still actively using and benefitting from your app.


Decide on a channel
The push notifications are turned off. There is no way around this. You need to choose your next best method of communication. This leaves you with in-app messaging and emails. Or maybe you have the mobile number of your user and could experiment with some SMS marketing.
With in-app messages, you can reach someone as soon as they open your app and you don't require permissions to do so, so this can be an effective way of reaching your engaged users who've opted out. Email marketing has its benefits too and can allow you to be creative and get your point across. Just be careful not to overdo this channel either or you could end up with your user opting out of this channel too. With SMS marketing you can be sure this will reach your user, with an impressive open rate of 90%. However, 25% of users receiving marketing texts will find this method disruptive.
Do your research on each channel and how to use them effectively and discover which works best for you and your target audience.
Offer something of value
What better way is there to get someone to do what you want than to offer something valuable to them? This is especially true when your user has previously had a bad experience with push notifications and is taking it out on all the apps they use. Show them you're different from the others with a thoughtful incentive. The type of incentive you should offer will vary from app to app. Just make sure it fits into your brand and demonstrates the type of value your user will gain from accepting your push permissions. For example:
Retail apps - give your users a discount

Gaming app - offer a free upgrade to the next level
Test carefully
Unlike your usual marketing campaign that you send out once a week/month/whatever, a push re-permission campaign is not something you can test on a weekly basis. Take advantage of A/B testing and try your messaging with different copy, incentives or images on a smaller portion of your target audience before sending the winning version to the majority.
If you continue to harass your users via email, text or in-app messaging you will force them to uninstall your app as a last hope measure. Just like a girl blocks the number of the over-keen guy she accidentally matched with on tinder. It's never a nice thing to do, but needs must. Don't be the app equivalent of this guy…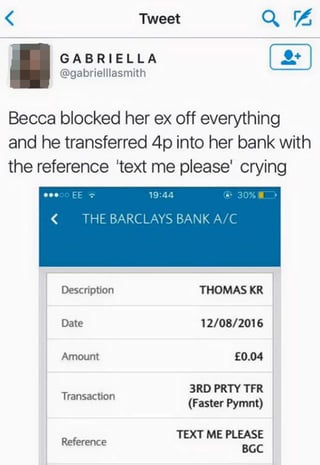 With careful consideration, the 4 steps discussed above are likely to help you gain back some of your engaged users who had opted out. A user's decision to opt-out of push notifications isn't always final. Usually, this decision is made when the user first opened the app with just a casual interest. However, over time, as the user uses and benefits from the app more frequently, they can be lured back into receiving push notifications.
Having an effective strategy already in place when asking for push permissions can help reduce the number of app users that opt out incurs in the first place. But with that being said, no matter how on point your marketing is there are going to be tricky users who refuse to opt-in for any push notifications regardless of how valuable you could be to them. So don't expect to win them all.


For more information on how you can app re-engagement feel free to download our guide, The App Marketing Guide for Dummies, or feel free to contact me directly via emma@hurree.co if you have any further questions.