3 Awesome Onboarding Push Notifications To Welcome New Users
Welcome. Bienvenue. Fáilte. Välkommen!
No matter what language they speak, people all over the globe love to feel welcome. Whether you're entering the home of a family member or the office of a new client, a warm greeting goes a long way.
The same principle applies when new users download your app. Introducing yourself is essential to set the tone for your product and build relationships with your audience.
Initial user-brand interactions are critical to your future success as a business.
Make your first impressions count with onboarding push notifications
In the physical world, you've got first impressions perfected; you're charming, well-presented and know your USP inside out. But what about when the screens go up? Communicating in the digital world is a whole new ballgame; human-nature and body language go out the window.
So, how can you guarantee that your brand stays true to its values both online and off? By ensuring you have a strong onboarding strategy that stretches beyond the first three screens of app interaction and into your push notification strategy. That's how.

What is onboarding, you ask?
Think of onboarding as the virtual handshake that brings a reassuring human-touch to your user experience.
The concept of onboarding borrows from the Human Resources' (HR) practice of organisational socialisation. Let's say you get a fancy new job (you go, girl!); on your first day, you meet with Susan in HR to go through the company's onboarding process. During this initial onboarding session, Susan shares the knowledge, skills, and behaviours required for you to function as an efficient team member. Thanks to great onboarding, within 6 months you get a promotion, gradually rise to the top of the company and, you know, ultimately, reach your goal of world domination...Thanks, Susan.
Onboarding in the world of digital technology is a similar situation. Just replace your new job with a newly downloaded app, and Susan from HR, with demo-screens that explain how the app works. And hey presto! You've got digital-onboarding.
UX expert Samuel Hulick, believes that the early moments of digital onboarding are critical to the overall user experience of technology. Effective tech-onboarding increases the likelihood that new users will become successful in adopting mobile applications.
App designers should endeavour to create onboarding experiences which supply knowledge in a smooth, digestible manner. You can do this by focusing on achieving key moments of success early in the customer journey.
Hulick defines these moments as 'The Aha': when the value of your product becomes clear to the user, and 'The Quick Win': the first point at which a core benefit is delivered to your user through onboarding.
Let's take a look at the onboarding sequence of viral sensation FaceApp to see if we can identify these key moments:



The facial augmentation app has seen a huge spike in downloads - and privacy concerns (sorry, not sorry) - over the past few weeks. A whopping 12.7 million new users have installed the app since July 10, 2019 - that's a lot of people to onboard.
FaceApp gives its new users a sneak peek into the design and functionality of the app. Walk-through screens guide users towards an Aha moment with engaging imagery and copy that explains features with ease.
The purpose of FaceApp becomes clear almost instantly; the simple walk-through delivers the value necessary to hook those users seeking their perfect selfie or look. Although, in reality, most of us have been using the app to take a scarily accurate look-at-our-wrinkly-future-selves - that includes the Hurree HQ team.
TW: shocking content incoming...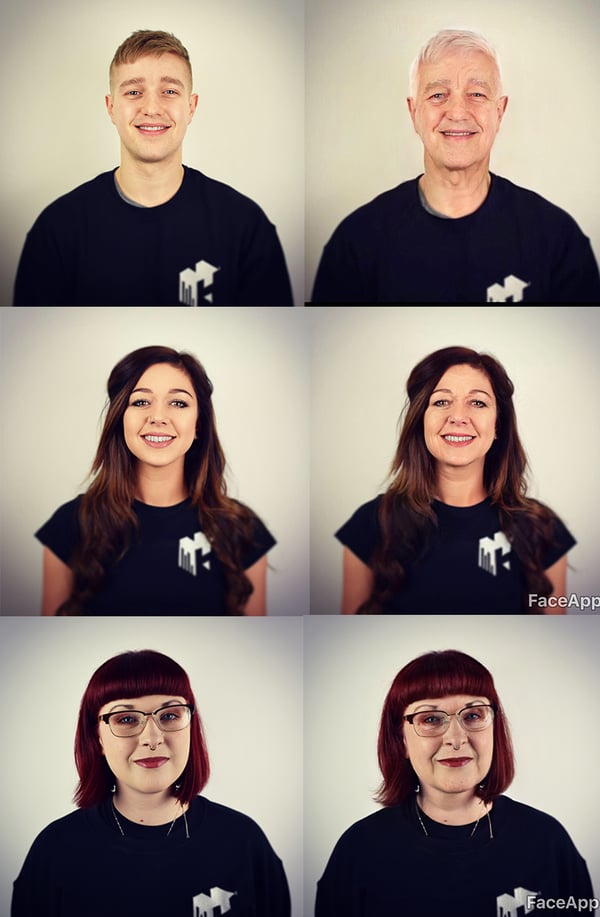 By the fourth onboarding screen, FaceApp has secured 'the Aha' moment. Onboarding efforts now focus attention toward 'the Quick Win': delivering value through push notifications. By motivating users to grant push notification permission, FaceApp ensures the ability to re-engage lapsed members and delight returning ones with new features. Once permission is granted, the user is free to transform their selfies into stunning masterpieces, or wrinkly relics.
But don't be fooled into thinking that this is where onboarding ends.
For a truly great onboarding experience, your next step should always be a welcome message that re-engages new users after their first session has ended.
What does an awesome onboarding push notification look like?
Don't leave your users in the dark after download; continuing the onboarding process with a nurturing welcome message benefits both you and your user.
Welcome emails enjoy an insane 50% open rate, so it makes sense that push notification welcome messages follow suit.
You should endeavour to send every new user a welcome message in the first 24 hours after they have downloaded your app. After all, 74.4% of customers expect some form of welcome, so it would be rude not to!
And, let's not forget that sending just 1 onboarding push notification within the first week of a new customer life-cycle can increase app retention by 71%!
There are many different motivations for sending your users welcoming push notifications. Let's take a look at how some big-name apps use onboarding push messages and how you can incorporate their approach into your push notification strategy.
App: Shein
Onboarding motive: Encourage completion of registration.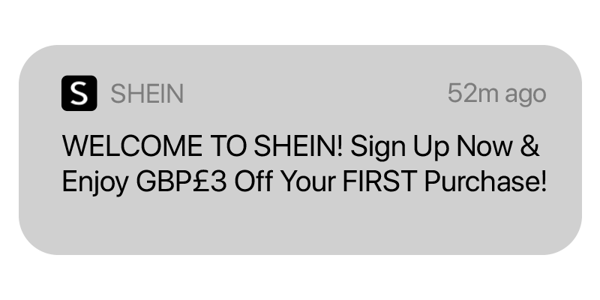 When it comes to onboarding new users, many eCommerce apps, like Shein, make use of a practice known as 'lazy login'. This method adds a third state to the traditional 'logged in - logged out' paradigm. Newly on-boarded users can explore an app, learn its benefits and experience value before fully registering for an account.
In theory, an app-only requires account registration when a user decides to make a purchase. However, app marketers, like Shein, can encourage users to sign-up faster through well-timed welcome push notifications.
Using incentivised offers during welcoming push notifications is a great way to push a partly registered user down the sales funnel, converting them into a paying customer and account holder.
App: HelloFresh


Onboarding motive: Catch their eye with upfront value.



One of the building blocks of push notification best practice is the consistent delivery of value. By dedicating yourself to a set of push notification standards from the beginning of your relationship with each user, you will ensure that you never stray into dreaded 'spam' territory.
What should your standards be, you ask? Well, start by taking a leaf out of HelloFresh's book and you'll be on the right track. With every push message you send, aim to deliver an engaging, eye-catching experience that adds something special to your users' day.
HelloFresh has done this perfectly. With a combination of bright, on-brand imagery, which can increase push notification open rates by 56%, and a new member welcome discount, this message greets new users with open arms.
This unconditional discount acts as a 'thank-you' from HelloFresh to their users; allowing users the time they need to get to grips with the app, safe in the knowledge that their first-box discount is waiting for them when they're ready to commit.
App: Groupon
Onboarding motivation: Create FOMO with a limited time offer.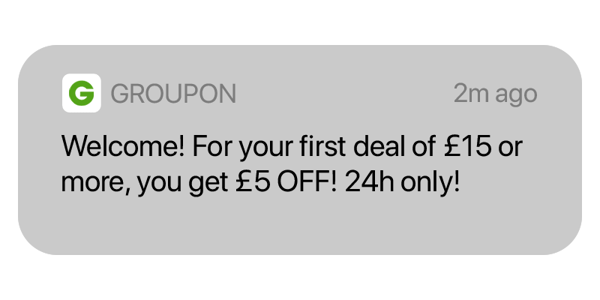 Creating a sense of security is one way to introduce yourself to users. But for platforms where moving quickly is paramount, like with the bargain-hunting Groupon app, fostering a sense of urgency among new users is the key to success.
Studies show that 68% of Millennials say they've made a purchase as a direct result of FOMO (Fear Of Missing Out). It's that classic case of 'the one night you decided to skip the party, Bruce Springsteen showed up to play an intimate set in the garden'. You would be absolutely gutted, right?
Scarcity tactics in marketing make offers appear more exclusive, desirable and valuable. All of this culminates to create one, extremely clickable, welcome push notification to send to your new user. Limited time offers, such as Groupon's use of '24h only!', directly play into modern consumers' inability to turn down a potential opportunity.
For Groupon, this tactic is not only an effective marketing technique, but it also introduces a key behaviour that will see users claim the most value on their platform: act fast or miss out.
Now, go and take your onboarding to the next level with push notifications!
These apps are proof that implementing a solid onboarding process can increase app retention rates. And not just marginally; by up to a massive 50%! Their warm welcome messages build strong user-brand relations and return results that are too good to turn down.
So, whether you're a seasoned push notification pro or completely new to the tactic, you could benefit massively from extending your onboarding efforts.
To learn more about the various other marketing techniques that you can use to grow your app user base and retain loyal app users, check out The Ultimate Guide to Mobile App Marketing. I'd love to hear from you so feel free to reach out to me directly via contact@hurree.co if you have any questions, or you can leave a comment below.