6 Reasons Why Your Business Needs Customer Onboarding
7 min read
Jan 7, 2021
As a new business owner, it's a common misconception to believe that once the sale is made, and money has exchanged hands, that your work is also done, and you are free to move on to bringing other prospects further down the sales funnel.
"Misconception?" I can hear you say...
The truth is that this is only half the job. Acquiring new customers is great, but your business will never last the long haul unless you consider your customer retention, and this is where customer onboarding comes in.



What is Customer Onboarding?

Your customer onboarding process starts from the moment a sale has been made. It involves a variety of different steps and content that is provided to enhance the customer experience, offer instructions and support, and help your new customer get the most value from the product or service you have sold them. It is a crucial stage in delivering a great first impression of your brand, which has a direct impact on your customer retention.

Customer Onboarding Example 1

Part of the onboarding process for Apple iPhone users to explain features and get users up and running quickly and easily with their new device.
Customer Onboarding Example 2


Slack shows new users exactly what to do and where to do it by overlaying onboarding instructions directly onto their platform.
Customer Onboarding Example 3


Beauty subscription service, Birchbox, helps customers understand how their service works with this welcome email.
Does My Business Need Customer Onboarding?

Whether or not your business requires a customer onboarding process in place comes down to your business model and pricing plan. It is not a requirement for all businesses, particularly those that focus on low-value, single purchases that are pretty self-explanatory, for example, clothes and groceries.
However, for high-value, single purchases such as a new car or piece of tech equipment, and account, SaaS or subscription-based business models, customer onboarding is a must have part of your marketing strategy. It's likely that your customer has done a lot of research, investing plenty of time and money into making this purchase, so it's only right to ensure they get up and running smoothly, and reap all the benefits from your product or service.


If you're still not sure, ask yourself the following three questions:
1. What type of product or service are you selling? Do you tend to make more from your customers after the first purchase?
If you have the ability to upsell or cross-sell to your customers, then the chances are, you could benefit from an onboarding process.
2. Are you losing customers pretty quickly after they first sign up?
If yes, there's room for improvement. An onboarding process could help you decrease your customer-churn and increase the profitability of a large percentage of your customers.
3. Is your product or service complex or requires explaining?
Without onboarding, it's likely that your customer support team is answering the same questions over and over again. Avoid the need for your customers to reach out during the adoption stage and make this a better experience for all involved with a standardised onboarding process that answers all general set-up questions.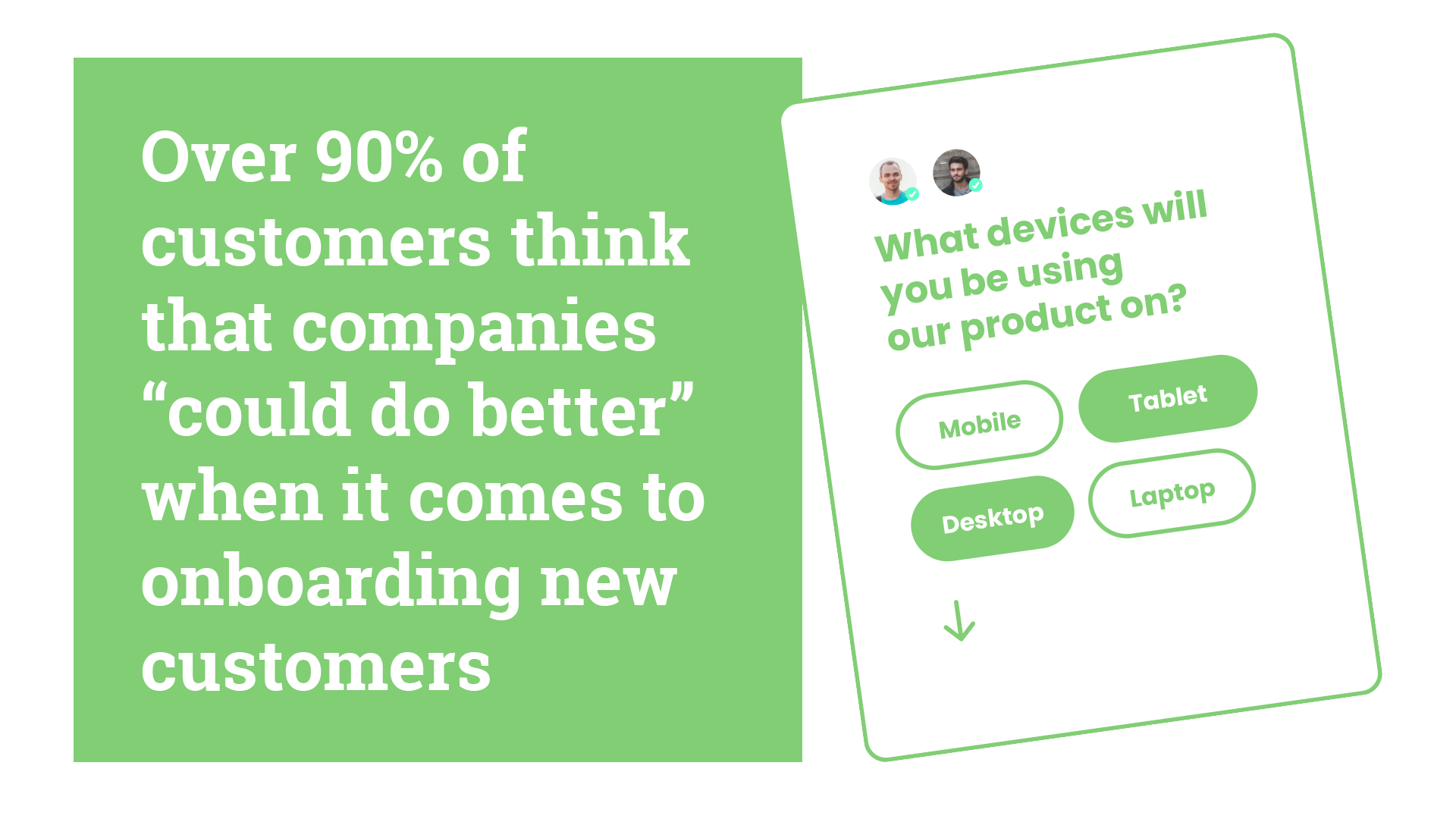 Source: Wyzowl

The Benefits of Delivering a Great Onboarding Experience


According to Hubspot, the top two reasons why customers churn are because:
They don't understand your product
They don't obtain any value from it
These are the exact issues that onboarding seeks to prevent, so it serves a crucial purpose when it comes to your customer retention. Let's look at this in a bit more detail and dive into the benefits of delivering a proper customer onboarding experience...

1. Increased Customer Loyalty

If your customer continues to hit barriers as they try to come to grips with their new investment, they are only going to become more and more frustrated. Don't just wait and expect your customers to come to you for support, as the chances are they won't, and you will have lost the opportunity to win them over as a loyal, returning customer. You only get one shot at this.
With a great onboarding experience in place, you can ensure that your customers gain the most value from using your product or service as possible, without having to jump through multiple hoops. They'll thank you for this smooth experience with their loyalty, giving you the opportunity for account expansion with upsells, cross-sells, add-ons, etc.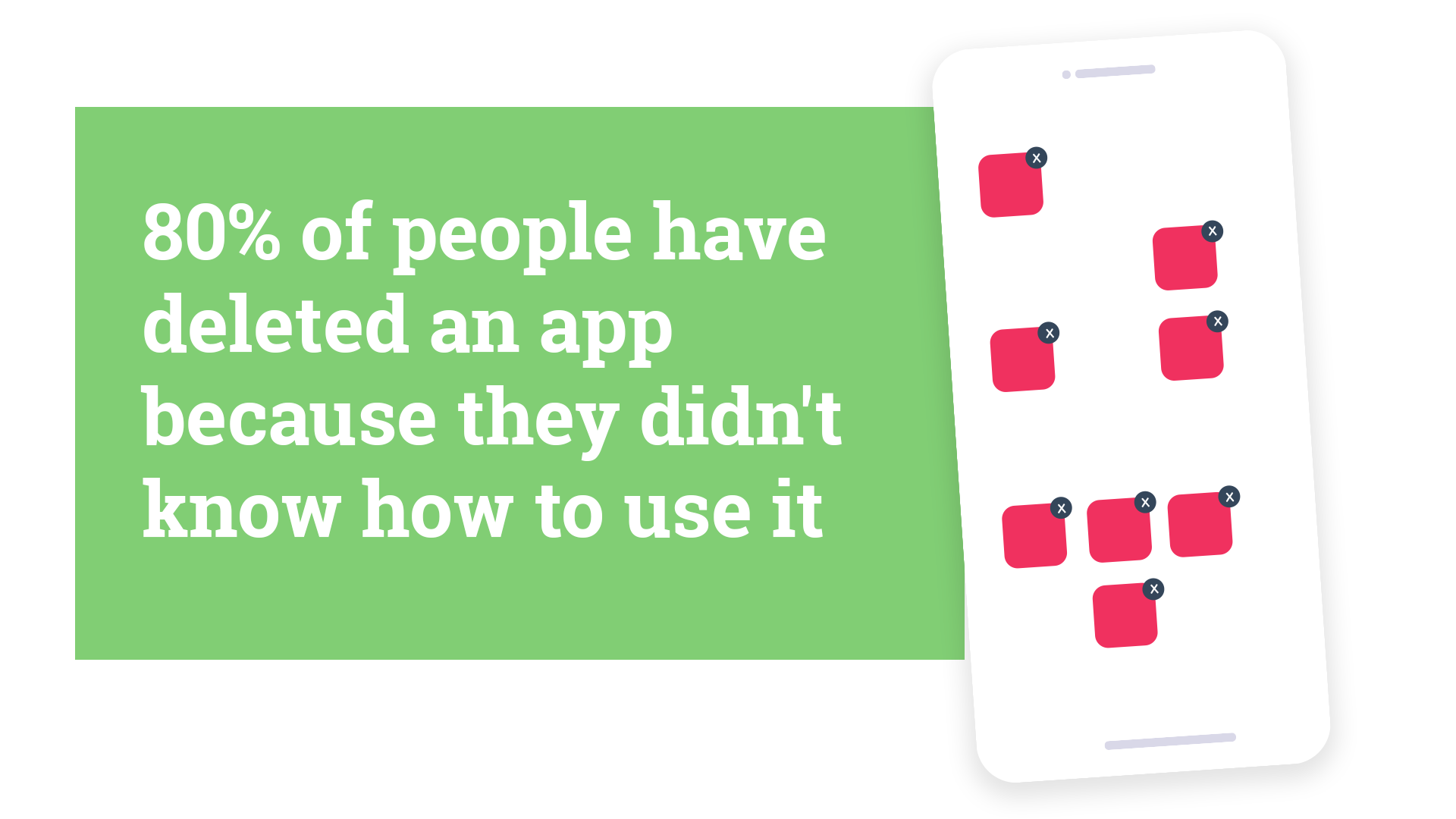 Source: Wyzowl


2. Decreased Customer Churn

If you are witnessing an increase in the number of customers who stick around for the long-run, then naturally, you're going to notice a decrease of that dreaded customer churn.



Churn rate is a vital metric for businesses that rely on their customers paying a recurring fee, whether that is monthly or annually. It can help you understand how effective your customer retention strategies are, as well as how quickly you could grow your business. When you onboard customers, you can help dramatically prevent churn from the very moment they become a customer.
3. Increased Revenue & Lifetime-Value (LTV)

Customer lifetime value is how much revenue you've made from a customer throughout the entire period of your relationship. It's a well-known fact that acquiring new customers is much more expensive than retaining current ones. So, with an effective onboarding process in place that boosts customer retention, you can increase the revenue and LTV of existing customers and help drive further company growth while maintaining profit margins.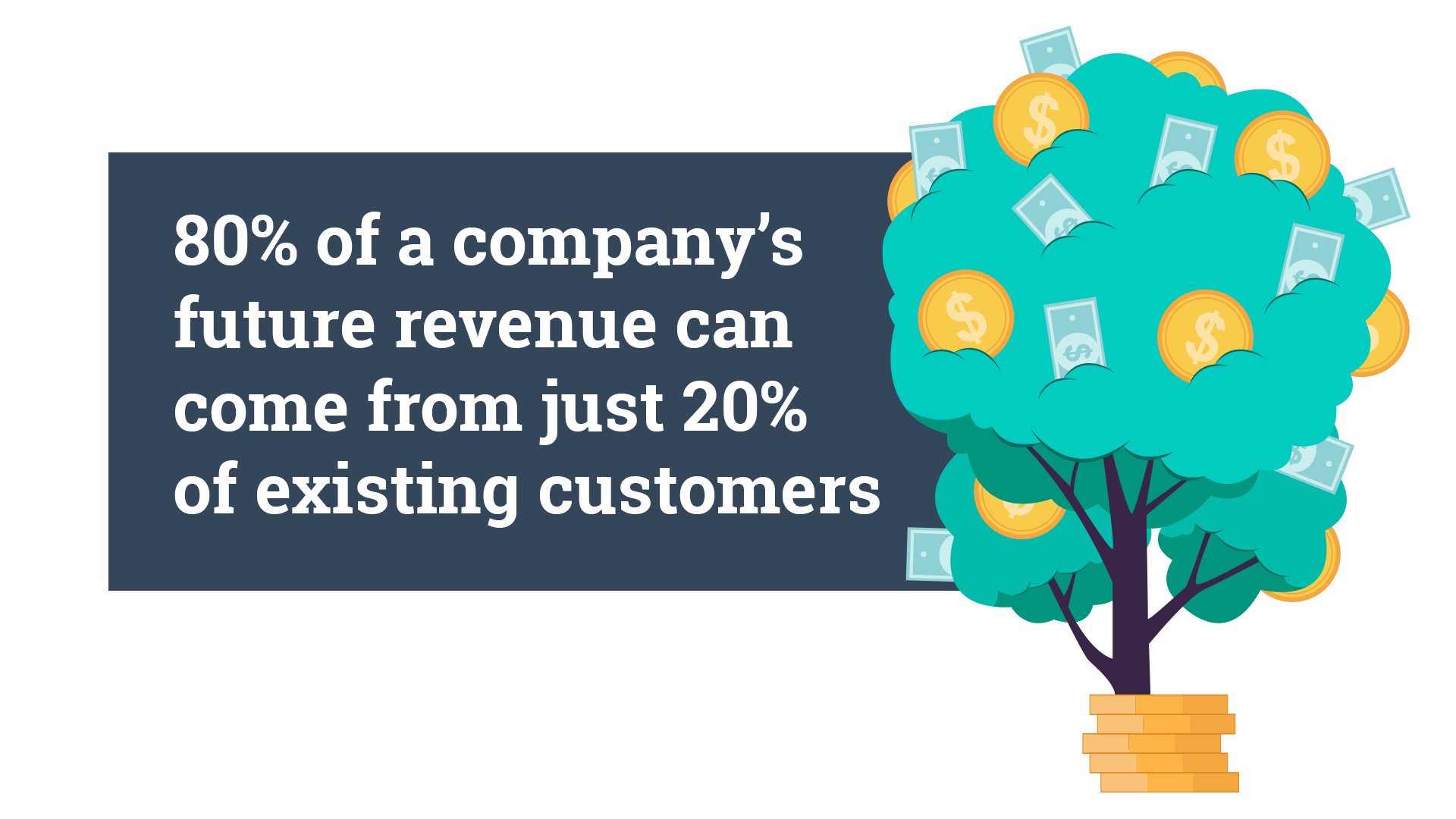 Source: Gartner
4. Word-of-Mouth Marketing


If a customer has had a great experience with your brand then there's a high possibility that they will talk about you to their friends and family. According to a report by Nielsen, 92% of people trust word-of-mouth (WOM) or recommendations from friends and family, above all other forms of advertising and marketing. Therefore, WOM essentially acts as a free form of marketing that has an extremely high conversion rate. What's not to love? Start your customer relationships off on the right foot with a great onboarding experience and you'll be on track to creating happy customers that will act as advocates for your company.
5. Reduced Customer Issues & Queries


Providing your new customers with step-by-step instructions and advice on how to succeed with your product or service will reduce the number of messages received by your support team. This can greatly reduce your overheads and help to free up your team to deal with other, more complex customer queries. Plus, your customers don't want to wait around in a queue for live chat or spend time on the phone on hold waiting for the answer to a simple set-up question. With onboarding, you can help reduce the need for this during this early period of adoption.

Source: Salesforce

6. Lower Acquisition Costs


The result of having a good onboarding process in place is a steady stream of recurring customers, but you should also find a reduction in your acquisition costs. With a consistent revenue from loyal customers, you won't have to panic at your churn rate and pump all your resources into attracting and converting new leads every month to hit your targets. Instead, you'll have the ability to spend less and cleverly distribute your budget to grow at a steady, sustainable rate.


Conclusion

There's a lot to consider when it comes to crafting an effective customer onboarding process. What works for one company, might not be the best solution for yours. Take your time to understand the key pain-points of your customers when it comes to getting started with your product or service. The idea isn't to tell them everything there is to know, just enough to pique their interest, show off your potential and make them keen to stick around to see what else you have in store.
Discover how to combat customer churn by mastering the SaaS customer onboarding process and the tactics used by top SaaS firms to get ahead with our free guide: A Complete Guide to the SaaS Customer Onboarding Process. Please don't hesitate to get in touch with me directly via emma@hurree.co with any questions or comments you may have!