Push Notifications Tutorial: Top Tips for Better Push Notifications
5 min read
Sep 16, 2016
According to Business of Apps, consumers use an average of 25 apps per month, yet spend more than 77% of their time on just three of these apps.
One of the best ways to turn your app from a one-tap wonder into a hit is with a solid marketing strategy using push notifications. Taking time to improve push notifications and make them more effective has been found to boost retention rates by a staggering 180%!


This post acts as a push notifications tutorial so you can go from good to great!



What is a Push Notification?



Push notifications are the opt-in notifications that pop up on a user's smartphone or tablet giving messages such as offers, updates or events related to the app installed. A push notification can be sent at any time regardless of whether the user is in the app or even using their device. When implemented correctly, push notifications have tremendous potential for boosting app user engagement.
But before you hit send on that notification it is important to consider the customer's experience. It might be called a push notification but the aim of the game is definitely not to come across as pushy!



Top Tips for Better Push Notifications





1. Give your users value



A recent study discovered that Gen Z (67%), Baby Boomers (61%) and Millennials (75%) agree – receiving too many irrelevant notifications is annoying and this causes them to delete apps. You need to give your users messages of value to them. The long-term goal of push is to build trust and loyalty with your app users and increase app user engagement, so every single notification needs to be valuable in order to do so.
Travel and navigation app Waze have nailed valuable push notifications on the head. They sent the below notification to app users who regularly travelled the 280 freeway from San Francisco to Silicon Valley, giving them a heads up of when the road would be closed. A perfect example of how to be relevant, timely and valuable to your users.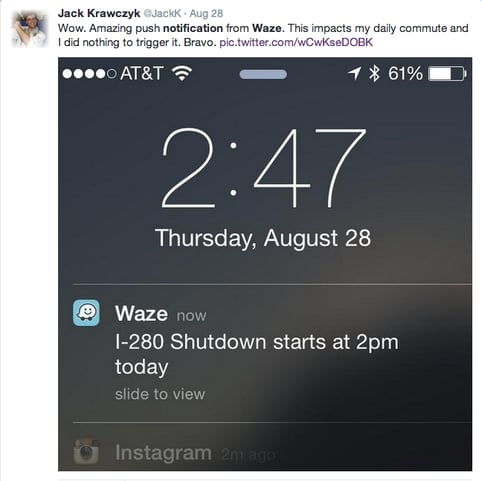 2. Be personal
Use the information provided to you by your users when they installed your app, along with data from in-app behavior, and you can build a fair idea of who your users are and how they wish to benefit from using your app. All of this data will help you improve push notifications.
Give your users a more personalized experience by dividing your audience into different segments. For example by age, gender, location, interests or any other personal information. Consider the fact that some of your users may be new and just getting to grips with the app, whilst others may be regular users or even dormant users who you wish to re-engage. These users will generally require completely different messaging!
Below is an example of how Groupon missed the mark a little when it comes to personalization...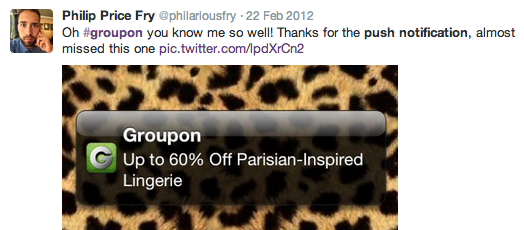 Related content: Video - The Best Practices for Push Notification Permissions
3. Don't be afraid to test
Use A/B testing to figure out what works, and what doesn't, for your audience in order to increase app user engagement. Testing is necessary because even the slightest word change can have an impact on the message's result, and it may surprise you! You can use testing to discover:
Do your users engage more with the use of emojis?

Do they prefer a formal or a casual, chatty tone of voice?

What character lengths produce the best results?
All app users are different so trial and error is the best way to learn, but do not make the same error twice!


4. Don't over do it
As a marketer, when you discover something is effective it's hard not to let the enthusiasm take over and get a little carried away. But no matter how effective your push notifications are, you do need to maintain some self-control. Nothing will push your users away faster than if you become the mobile app equivalent of a needy-partner. Notification tolerance varies amongst different app categories and the individual user, so again this is just something that will need to be tested.
Below is an example of how Netflix have got this right in terms of sending their users a unique message about a specific show they have already shown interest in. This is much more effective than Crunchyroll's strategy which appears to push out a notification every time a new episode of any show has been released.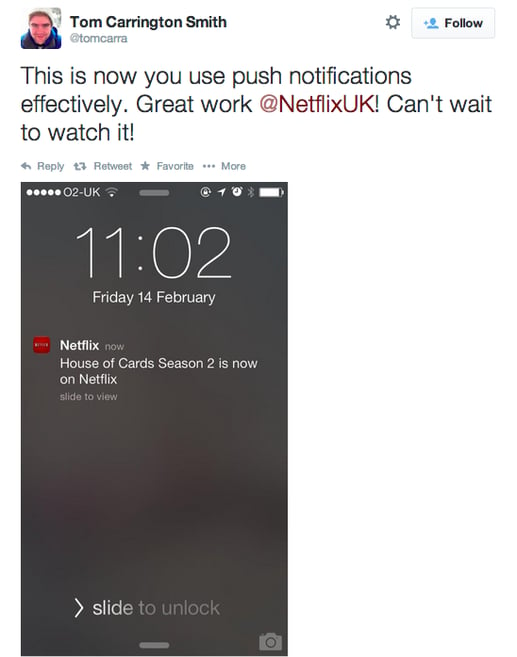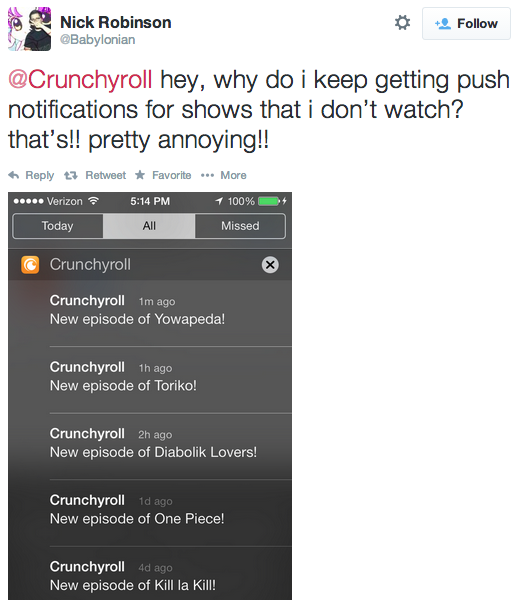 5. Timing is everything
So you've got the content of your push notifications mastered and you've got a cracking, relevant, valuable and personalized message ready to go out. And then you send it while your user is asleep...*facepalm*
No matter how good it is, nobody likes being woken up in the middle of the night! Getting the timing of your messaging right is the difference between irritating your users and delighting them. Kahuna data reveals that customising delivery time based on user preference results in an average conversion uplift of 384%. Again, this all varies in terms of the type of app, the type of message and the user behaviour. Therefore it is important to gather the appropriate user data so you can tailor the timing of your messages to suit when your user appears to be most active and likely to engage. And don't forget to take different time zones into consideration too!



6. Give your user the option
As much as we don't want to hear it, not everyone likes push notifications - no matter how relevant, timely or personal your content is. Send your user a quick message once they install your app asking if they wish to receive push notifications. It's only manners. If they opt in, great! If not, then do not send them push notifications or you run the risk of app uninstalls which is not the ideal goal. However, do make it simple to turn back on within your app settings and by all means, use other channels in an attempt to encourage your users to opt back in and increase app user engagement.



7. Adapt quickly
Mobile technology is constantly evolving and so consumer mobile behaviour is never going to stand still. As a result, marketers cannot rely on what they already know to plan for the future. It is necessary to be on high alert in order to adapt to the latest consumer behaviour trends and continue to build a strong trust and loyalty with your app users.
These top tips for better push notifications should definitely allow you to kick start your app marketing strategy. If you still have any questions with regards to retaining and building loyalty with your app users then don't hesitate to contact me via emma@hurree.co. You may also be interested in downloading our free guide The Ultimate Guide to Mobile App Marketing for more information.