They say a picture is worth a thousand words… and with today's generation making use of GIFs and emojis on a daily basis, this is definitely having an impact on the way we incorporate it within our marketing humour to communicate online and through push notifications.


In fact, despite not even being a word, Oxford Dictionary crowned the emoji '😂' as 2015's word of the year, providing an insight into just how much of an impact these little images are having. Research shows that four in five 18 - 65 year olds use emojis on a regular basis, while 72% of 18 - 25 year olds find it easier to express emotion through emojis rather than written word.

Keep a look out for emojis or GIFs next time you are scrolling through your social media feeds. It's nearly impossible to scroll through Instagram without seeing emojis used either in the caption or the comments, with no words necessary. Conversely, on Tumblr, GIFs are everywhere. According to Adam Leibsohn, COO of GIPHY:
"We don't have time for words because they're not fast enough, nor are they descriptive enough about the things we want to convey."
What are Emojis?



Emojis are images you can incorporate into text, email, Twitter, Facebook and chat applications to convey a message or an emotion.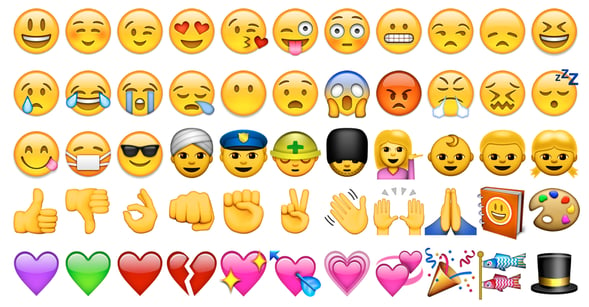 What are GIFs?

An animated GIF file is a graphic image on a webpage that moves. An animated GIF can loop endlessly or it can present one or a few sequences and then stop the animation.

Why your Mobile Marketing needs Emojis and GIFs

Brands who can use emojis and GIFs appropriately will take their connection with their mobile users to the next level. They are a quick way of expressing one's feelings, and often do a better job than words.


1. Attract Attention
Thanks to our mobile phones we consume more information than ever and the fight for customer attention is a difficult one. Make your push message stand out through the use of a relevant emoji or GIF. Our eyes are naturally more drawn to imagery so it makes it harder to ignore. The use of a funny GIF is also more likely to grab the attention of your user over a plain wordy piece of content.


2. Instant Understanding
When it comes to mobile push messages, emojis are extremely useful. Use a symbol that relates to your message and allows your user to understand what the message is generally about before they've even read it. For example, shopping apps may want to use an emoji purse when messaging users about a handbag deal, or use the high heel emoji when promoting a shoe flash sale. Travel apps could use a plane emoji when notifying users about flight discounts, and sports apps might consider using emoji flags to show users which teams are facing off against one another… to name just a few possibilities!

3. Short, Simple, Direct
Humans are an impatient species. We don't like to wait around or spend more time on something than is absolutely necessary. An emoji or GIF can sum up exactly what you are trying to get across a lot quicker than words can in most cases. Plus, there are no language barriers with emojis, a smiley face is universal. Since emojis can provide instant understanding to users, using emojis often allows apps to cut down on the amount of text they use in their push messages. Marketers are often on a very tight word limit so this saves valuable text space and also keeps users happier.
Domino's recently made use of emojis and announced that customers are now able to order pizza quite simply with the pizza emoji. A customer would just need to set up an 'Easy Order' and anytime they wanted it all they would have to do is text the pizza emoji to Dominoes. Simples.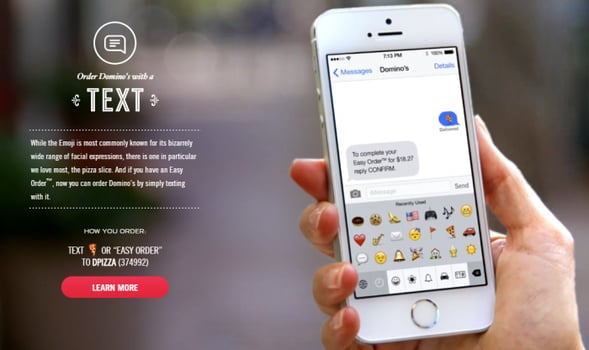 4. Break up the Page

Generally speaking, push notifications aren't that long anyway, but emojis and GIFs are a great way to split up the text and make it generally easier to read.

5. Spark Emotion
With a simple image or two, you can grab a user's attention and spark an emotional response. I don't know about you, but I know I find it rather difficult to text a person who does not use emojis as it makes them come across as so uninteresting. Emojis and GIFs give your brand a bit of substance, and personality, which in turn sparks an emotional reaction in the user and allows them to build a deeper connection with your brand.
Things to Keep in Mind
Quite simply - don't over do it. Emojis and GIFs are fun and effective but if you are using too many, too often, then it's time to reign it in. Bare in mind that these images are there to compliment your message, not dominate it. Flooding your users' screens with emoji-packed messages will just increase the risk of them turning your notifications off. Start slow and limit your emoji/GIF use to get a better sense of what sort of messaging your users' engage with before your scale up your emoji/GIF marketing. All users are different so carry out a few tests to see what works best for your target audience.


The Right Emojis for the Right Users
A poll carried out by AppBoy found that a significant number of customers found emoji marketing inappropriate (11%) or childish (12%). Not all users will appreciate or respond to emojis so you need to ensure you are taking the right steps to avoid sending emoji campaigns to customers who don't respond to them. Make use of user segmentation to target your users who engaged with the initial emoji messages and keep the messaging emoji free for those who didn't.
Emojis and GIFs humanise your brand and allow your users to connect with you on a deeper level. If you still have any questions with regards to creating a deeper relationship with your app users then don't hesitate to contact me directly via emma@hurree.co. You may also be interested in downloading our free guide,The Ultimate Guide to Mobile App Marketing, for more information.