How to Decrease Inactive Users with Email Marketing
As you probably already know, email marketing is a crucial element of any digital marketing strategy. That's why consistently losing the attention of subscribers is unacceptable and has to be fixed fast. Users can lose interest and become inactive for many reasons. It could be that they didn't stick around after a free trial, for instance, or have found a better deal elsewhere.

Many companies make the mistake of believing that their inactive users are gone forever and simply delete them from their mailing list. Don't forget that inactive users have already demonstrated an interest in your business once; it's just a matter of igniting that spark to re-engage them.

In this article, you will find the best strategies to re-engage inactive users. Your efforts will pay off big time, as long as you keep the following things in mind.


What are inactive users?

Before you do anything to re-engage inactive subscribers, we must define an inactive lead on the mailing list. The majority of marketing specialists will gauge inactive users as anyone who has not opened, responded to, or clicked on any email sent in the past 6-12 months.

The definition of 'inactive' really changes by email type and industry (finance, government, employment, etc.). For instance, 'inactive' in the employment enterprise could be six months or even more, meaning if a user seeking a new job has not opened or clicked any email in half a year, they are called inactive. However, for some blogs, inactive users could be twelve months, and even more. Some users might only check social media during the Autumn months to get some apple pie recipes, for example. So, there is no hard rule defining 'inactive' in the email marketing world.
Although for all industries, we can distribute inactive users into three categories - never-actives, lapsed customer inactives, and current customer inactives.


Never-actives




The first category of users is those who are new subscribers who have never engaged with your emails. Your tolerance for these 'inactives' should be low; their lack of engagement is a flag that you don't have a healthy relationship. The reason for that could be:


They didn't realise they subscribed to a newsletter, which might be the result of poor permission practices.
They subscribed using a secondary email account that they don't often check, some people have emails for spammy content.
They have 'subscriber's shame' and immediately regretted subscribing to your content.
The email account is a bot.
Somebody else used their email to subscribe to your content. For example, kids accidentally sign up for some content with their parent's email.
The cutoff point may vary depending on your email frequency. Still, if a subscriber hasn't opened or clicked any of the emails during their first four months on your mailing list or any of the first, for example, eight emails that you've sent them, then that should count as inactive. This status should trigger a re-permission email that asks them to click a link in the email to confirm they want to continue the subscription.


Lapsed customer inactives
The second group is the inactive subscribers who have also become inactive clients. Not only have they stopped clicking your emails, but they have also stopped buying or converting.
With these types of subscribers, you should act according to what type of buyers they are and how often you send them emails. Some people may only purchase your products during the holiday season, so if a contact doesn't open an email for six months, that doesn't mean that they will not be interested in exclusive deals before Christmas.
Your re-engagement efforts could potentially last months, followed by re-permission efforts that ask inactive users to confirm that they want to continue receiving your emails. It's only if all of those efforts fail that you should clear these subscribers from your active mailing list entirely.


Current customer inactives
Finally, the third group is the inactive subscribers who are known to be active customers. The risks associated with these inactive clients are low, while the potential value is high. It may make sense for your business to keep these inactive subscribers for years.
Not all businesses can afford to react to those three groups of inactive subscribers in the same way. Some have more tolerance for deliverability risk, while others' tolerance levels will be far lower. That's why it's important to ask yourself these questions:


Does your company have strong email permission practices? Do all or most people who subscribe to your content sign up via a confirmed opt-in process?
What is the percentage of your mailing list that has engaged in the past month, six months, or year? (Select a period which makes sense to your industry)
Does your business follow email deliverability? If you have an issue with deliverability, how quickly would you find it?
Is your business able to match up customer activity with subscriber activity?
Have you had any deliverability issues in the past? How much did those incidences hurt your company?

Why is it important to identify your mailing list's inactive users?
The number of inactive users is a good sign of whether your content successfully meets your audience's needs. The fewer inactive users you have, the more you get to know what your audience wants from you.
If you only check the open and click-through rates of your active users, you will not get a detailed picture of the response to your email promotions.
A large number of inactive users can harm your email deliverability. For example, repeatedly contacting subscribers who don't open your emails can result in lower email reputation scores, therefore, decreasing inbox delivery rates.



Image source: Popupsmart.com



What should you do to decrease inactive users?

Now that we understand our inactive users, it is time to create a strategy and take action. Don't forget that it is easier to generate interest from inactive leads than to attract a new subscriber - so before giving up on a person, give them a chance. Follow these nine strategies, and you will see how your inactive subscribers will become active again.


1. 'We miss you' message - plus added value


When the 'we miss you' email is done wrong, messages can feel kind of desperate. If these clients have left your service, they probably don't want to be bothered by you anymore. So if you're contacting inactive users, you need to give them something more valuable than a simple 'we want you back' message. Why not try combining the classic 'we miss you' message with an added discount to sweeten the deal.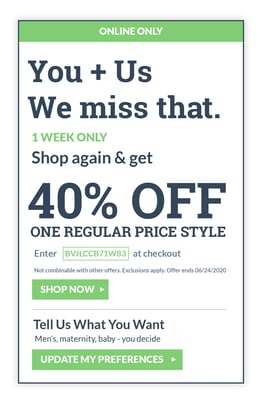 Image source: Pure360.com


2. Progress carefully with discounts


Promotions can be a super powerful way to reactivate users. Although applied without careful consideration, they can also be dangerous for your marketing strategy. Of course, you get high click-through rates on discount emails, but that doesn't mean that you're making a profit from them in the long term.

One way to get around this is to only offer promotions to people who have already demonstrated a real interest in your product; in other words, the customers who have already made a purchase. Former buyers are the best target audience to receive discounts, as they've demonstrated real intent far beyond free trial users. Previous buyers are statistically much more likely to make a purchase again.


3. Show lapsed users what's new

One of the best ways to bring back those inactive users is through a new feature update. If you've launched a new feature and have been working on it for a long time, your team probably wants to show it off.

Remember that if you provide genuinely great content, then it will pay off. According to Sender, the rate of marketing emails that are shared or forwarded increases every year. In 2018 it was only 3.2%; in 2019, it was already 8.2%, and in 2020 it has increased to 8.7%. So invest some time and resources into creating valuable content that your subscribers will love.


4. Send personalised emails

The good news is that it's easy to send interesting, personalised content to your customers these days, particularly if you're tracking in-app actions and can send triggered emails based on product behaviour. For example, you can send the products' catalog according to your client's likes.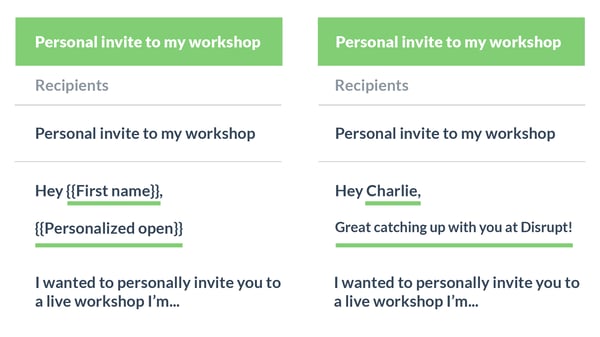 Image source: ArtofEmails.com
5. Make sure your emails create value


Customers are tired of the sheer volume of emails they get these days, so make sure that you are creating value with every email you send. Consider the recent study by DMR; it states that the average person receives 121 emails per day, and the click-to-open rate for desktop users in the U.S. is only 18%. That's a lot of emails, so make sure you give something valuable, so your subscribers have a reason to hit open.


6. Remind users that you're still here


HubSpot's Product Manager, Dan Wolchonok, ran experiments to understand his inactive users. Here's what he discovered - it wasn't that his customers were deciding not to use the service anymore, they had just forgotten about it. According to Sender's email marketing metrics and KPIs results, follow-up and reminder emails have the highest conversion rates. In 2018, the conversion rate for these types of emails was 3.1%, and, in 2020, the conversion rate is 4.3%. Simply try to remind lapsed users why you are worth their attention.


7. Collect feedback


To understand why your clients became inactive and stopped using your service, you should collect feedback. You can politely ask your customers why they are leaving and ask if they can give you valuable feedback to improve your product. For instance, if you learn that your clients leave your page because your website loads too slowly, you can fix this issue.


8. Slow down with your newsletters


Sometimes subscribers are so bombarded with email marketing that they get lost under a mountain of content. They feel overwhelmed, and they stop responding to your email marketing altogether. In this case, you want to slow down and analyse your marketing responses. When it comes to bringing your inactive users back from the dead, it's the quality of your email messaging strategy that counts, not the quantity you send. One message can be much more useful than an entire email campaign if it is optimised and focuses on the benefit gained by the user.


9.Ask to update their information

Honestly, asking customers to update their email info can have unexpected engagement increase results. This method allows the customer to enter a new email address if it has changed, customise email settings, and sign-up for social media notifications.


Finally, clean your email list


If you feel that you have tried everything, then it is time to clean that email list. For those inactive users who do not engage with any of your messages after all of your attempts, you should remove them from your list. If you don't, you might waste a lot of time, money, and resources on subscribers who will never convert to real customers.

The simple truth is that if you send newsletters to contacts who want to receive them, they are far more likely to engage with your content. If customers are not opening your newsletters, even if they signed up for them, your subscribers are no longer interested in your content. If you keep sending emails to the people who are not interested, there is a high chance that they will get annoyed with your business and could even report your email as spam. A significant complaint rate will damage your reputation.

The sad truth is that so many email marketers do not have a plan to re-engage their inactive subscriber base. The simple steps mentioned above can have a massive impact on your business. Subscribers simply need to be reminded of your company from time to time. Take the opportunity to invite them to fill out a questionnaire or provide a freebie to reconnect with you. Find out what your subscribers are interested in, and then provide the necessary resources they need that will help them.

While it won't be possible to re-engage all of your lapsed subscribers, it is easier to re-engage inactive subscribers than attract new ones. Finally, start today to find out which of your subscribers have not opened your last six emails. Send them an email to find out if they are still interested in your business. And, lastly, give them a reason to stay on your mailing list. If they do not respond, then clean them from your list.


Skirmantas Venckus
Sender.net
Skirmantas Venckus is a writer by day and reader by night. He hates talking about himself in third person. He is also the growth hacker at Sender.net – the email marketing provider that is focused on user-friendliness, affordability, and utility.