How to Measure Brand Awareness: 7 Metrics to Track
It's a familiar conundrum for marketers - we know brand awareness is important enough to invest in, but proving ROI is nearly impossible, isn't it? Well, that all depends on how you look at it. While the impact of brand awareness has been and will continue to be debated, there is no denying it's something marketers put a lot of stock in (and, in this marketer's opinion, can have an impact on your marketing bottom line when done right).

Source: Circle Research
What is brand awareness?
Brand awareness is the extent to which people are able to recognise or recall a brand in different circumstances. In other words, it's how recognisable your brand is to your target audience and the public at large. It's one of the key metrics in measuring how successful brand campaigns are and can be an important aspect in making sure your marketing team is getting it right.
Specifically, part of getting brand awareness right is benchmarking and measuring it. Just like with any marketing initiative, getting the right data and using it to analyse how your brand awareness is impacted by your campaigns is the only way to see what you're doing right (or wrong).
But as we noted above, this can be a little bit tricky. How do you measure people's knowledge of you? And how do you measure ROI on brand awareness activities?
Metrics to measure brand awareness
The first step is defining the metrics that will provide you with some idea of your brand awareness. That's where this blog comes in. We've put together a list of some of the key things you can benchmark, track, and measure to prove the efficacy of your campaigns and see how well-known your brand actually is.

Source: Bynder
Brand awareness surveys
Direct feedback is the most straightforward way to gauge brand awareness. You're essentially asking your target audience questions that should give you a good picture of how you're doing. And when carried out regularly, tracking feedback via surveys allows you to monitor brand awareness over time and can be tied to specific marketing campaigns.
A few metrics to measure within these surveys include:
Unaided brand awareness (brand recall): How many within your target audience recognise your brand without being prompted
Aided brand awareness (brand recognition): This is the number of people who recognise your brand or company when prompted

Website traffic
Another basic but important way to measure brand awareness, website traffic shows how many people visit your site. This can be a great indicator of brand awareness, especially as it relates to specific marketing activities. Quite simply, increases in web traffic indicate better brand awareness.
It can be especially useful to look at direct traffic. This is the number of people who came to your website directly, meaning they knew your brand enough to type in your website without having to search for it. Any increase in this indicates more people are aware of your brand.




Branded search volume
Branded search is anytime someone uses a branded term on a search engine. For example, whenever people search 'Hurree' or 'Hurree Dashboards'. Branded search volume shows you the number of people who not only know who you are, but are searching for more information about you.
In other words, when your branded search volume increases it theoretically means that more people know about your business. This can be a great metric to measure when undertaking a specific brand awareness or PR campaign. While you can't tie any individual searches directly back to a specific campaign, you can measure any fluctuations in searches as the campaigns progress.


Backlinks
Backlinks are when other websites on the internet link back to your own. They are a good indicator of brand awareness in that they show that other sites a. Have seen your content and b. Think it's good enough to link to. Think of it as a vote of confidence.
It is also a good indicator of your 'online reputation' as backlinks are a direct factor in search engine rankings. The more backlinks you have, theoretically, the better you should be doing on sites like Google, which means more people are seeing your business and content.
Click-through rate
This is a very useful metric to track for a lot of reasons, but in terms of brand awareness it can be quite a telling stat if you know how to interpret it. When it comes to brand awareness, it can be an indicator how well known or well trusted you are. How? Well, people are choosing to click on your content rather than someone else's. This one isn't as directly related, but when you're looking to measure the impact of specific campaigns or activities, increased CTR can be a great way to show that they've worked.
Social media engagement
A lot of brand awareness activities are run via social media. Whether you're using paid ads or organic means, you should not only be looking at who is seeing the content but also who is engaging with it. When we talk about engagement here, we mean things like: impressions, reach, likes, shares, replies, clicks, follows, etc. The exact engagement will depend on the platform you're using.
These metrics allow you to see how people are talking about and engaging with your brand. Are the comments negative or positive? Do you have any industry influencers engaging with your content? These won't give you the whole picture of your brand, but given 59% of the population is on social media, it should provide a good indication of where you stand with social users.
Share of voice & impression share
These two metrics are similar to brand mentions on social media, but provide a bit more information.
Share of voice (SOV): how much brand exposure you have compared to your competitors on different channels - news sites, blogs, forums, social media, and offline channels. It measures the online visibility of your brand in terms of the conversations taking place about your brand, including the number of mentions and tags etc. Basically, it's how often your brand is mentioned when compared to others in your industry.
Share of impressions (SOI): This is a paid search metric that tells you how often your ads were shown for a particular search when compared to your competitors. It's also shown as a percentage.
When you combine these two metrics you can see both the quantity and quality of coverage. For instance, if your SOV is high but SOI is low, then your organic brand efforts are likely working well, but you may need to look at the factors that go into search engine performance.
How to measure brand awareness
These KPIs are meant to provide a comprehensive overview of how well your brand is known across the digital landscape. Once you define what you want to measure, you have to find the right tools. In most cases, you'll be able to use the native functions within the platform like Twitter or Facebook, and Google Analytics is a powerful tool. However, to properly benchmark and measure progress, we would recommend a dashboard tool, like Hurree.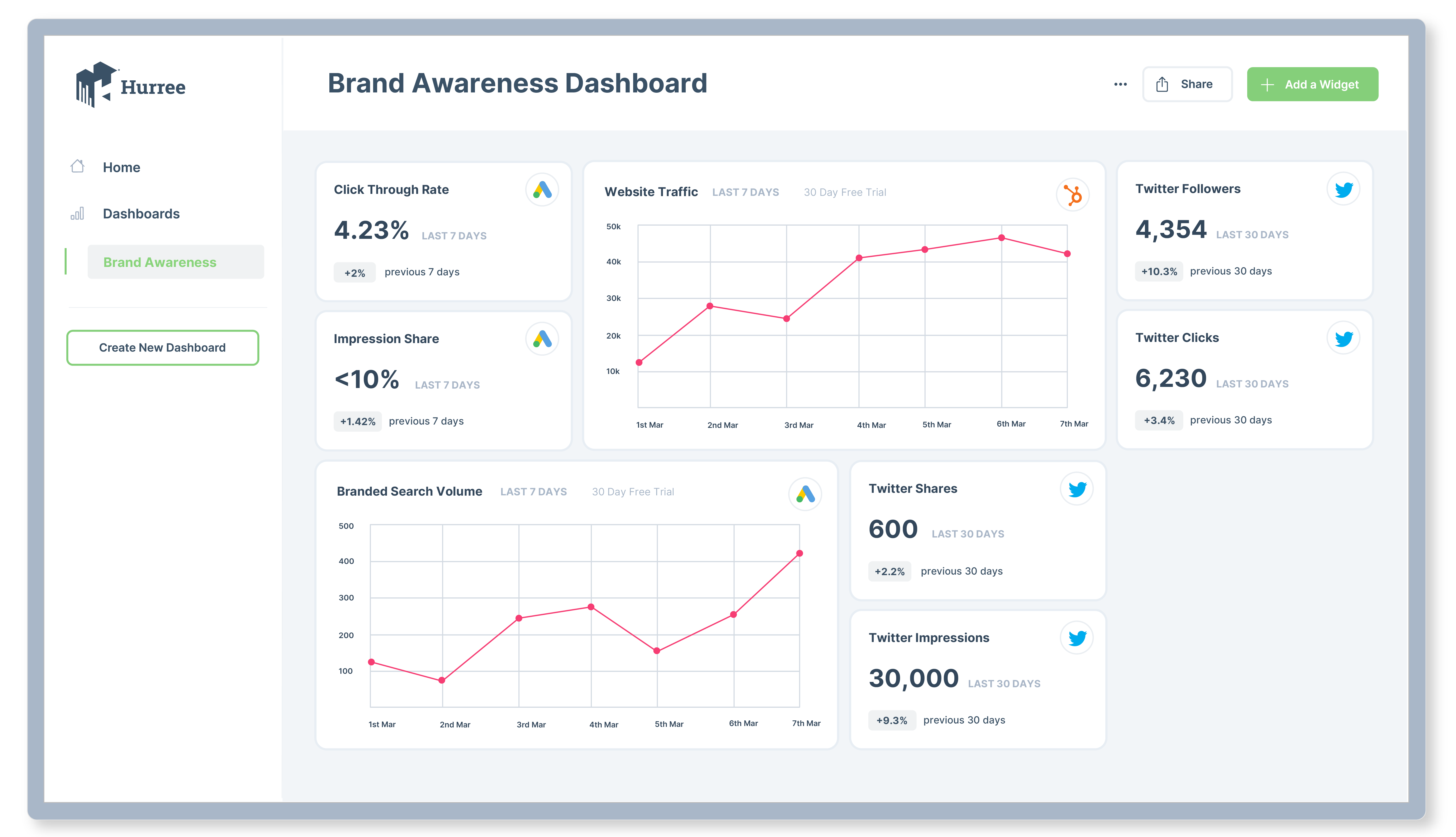 A dashboard will give you a snapshot view of your most important KPIs and allow you to see in real-time how you're doing, meaning you will be able to track, measure, and report on brand awareness and finally show the ROI of your branding activities.
Track and visualise your Metrics in real-time with Hurree. Book a free trial today and discover how to truly harness the power of analytics and transform your company reporting using cross-platform dashboards. If you have any questions then feel free to reach out to contact@hurree.co, we'd be happy to answer them!