10 Competitor Analysis Tools Every Marketer Needs
Completing a competitor analysis is just part of life as a marketer. Whether you conduct this process monthly, quarterly, or before each new campaign, you need to reassess your position within the market, and in comparison to your competitors, to gain and maintain success with your marketing strategy.
Conducting a competitor analysis involves researching, categorising, and analysing companies that you deem to be a threat to your prosperity. Delving into the strengths and weaknesses of rival brands helps you build up the insightful data necessary to design winning campaigns.


Benefits of Competitor Analysis


There are several additional benefits of frequently conducting an in-depth analysis of your potential competitors, both direct and indirect:


Gain a better understanding of the market you operate within
Learn more about how your target audience view your brand and its competitors
Predict future opportunities for growth and expansion by identifying market gaps
Identify product and feature development horizons
Become more competitive with pricing
Foresee threats arising from indirect competitor crossover


Like most modern marketing activities, your competitor analysis can be made more accessible by harnessing marketing technology. There are millions of tools out there that serve multiple purposes, but here are a few useful tools that are particularly favoured by the Hurree team.
Competitor Analysis Tools You Need In Your Marketing Stack


Market Research Tools
Carrying out market research is a crucial part of your competitor analysis; in fact, it's step number one. If you don't understand the market you operate within, you're going to be on unsteady ground when it comes to understanding your competitor's motivations and actions.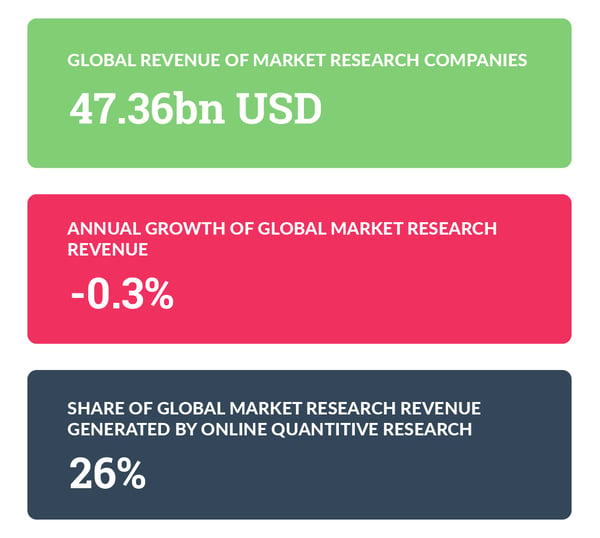 Source: Statista

The market research industry is big business, so depending on which company you use, things can get pricey. If you're on the market for something that doesn't break the bank, however, these tools can help:


Pew Research Centre



This 'nonpartisan fact tank' exists to inform public and business opinion on attitudes, trends, and issues impacting the world around us. Covering everything from demographic trends to environmental occurrences and technological trends, the Pew Research Centre (PRC) is a non-profit, non-advocacy organisation providing independent and objective insights into the global market.


Here's an example of some demographic trend reporting carried out by the PRC on Gen Z: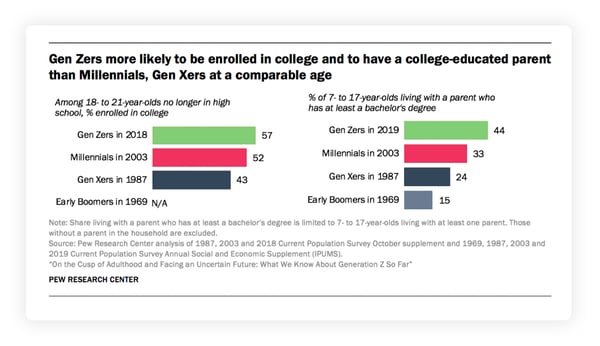 Source:
Pew Research Center
Google Shopping Insights
Shopping as we used to know it has changed, it's evolving pretty much every day with each new hurdle the modern world throws at it. That's why Google Shopping Insights (GSI) is an essential tool to have in your arsenal. Google Shopping Insights is used by retailers to calculate consumer interest in products. Analysis with GSI can operate on a localised, regional, or national scale, enabling you to access hyper-accurate data relating to your market.



Source: Think With Google


Customer Feedback Tools
Identifying who your competitors are is a crucial part of your competitor analysis, and your customers are the key to unlocking this secret. During their customer journey, consumers will have researched and analysed various options before landing on your business and products. Therefore, they have a great perspective on the market offerings and sometimes can even identify competitors that you haven't considered or were unaware of.


SurveyMonkey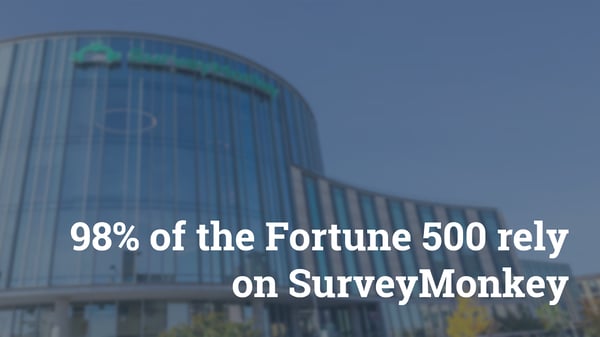 Source: SurveyMonkey
The online survey generation tool is trusted by companies worldwide to design, launch, and analyse customer surveys. You can create long-form questionnaires, quick quizzes, or polls that harness data to give you a real insight into your audience. SurveyMonkey provides expert sample questions to help guide and inform your questionnaires to ensure you get the best results, and their easy to use templates can be customised to suit your brand's style.


Instagram polls
If your brand's Instagram has a solid following of engaged customers, then using this platform can be a fun and creative way to gather information on competitors. There are nearly 1 billion monthly Instagram users globally. A lot of them belong to young age demographics, so conducting Instagram polls is a modern twist on stuffy old customer surveying practices. Polls can be conducted in the Stories section of Instagram and can be formatted as yes/no questions, multiple-choice questions, or questions with a feedback text box. Creativity is essential here, so make sure you put effort into the design and imagery of your Stories - the more eye-catching, the better.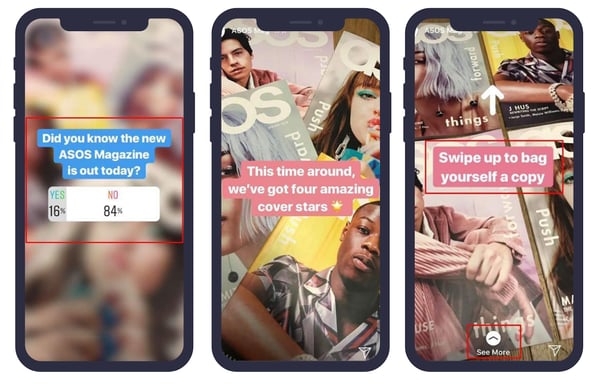 Source: SurveyAnyplace


Operational Tools
Recording the ins and outs of your competitor's business is crucial intel. You need to consider:


How much funding they have as that will impact their marketing budgets
How big their team is, as that will affect the workforce they have to compete with you
Where their HQ is based and how many store locations are operating as this will influence the geographic areas they target.


Crunchbase
Crunchbase is a one-stop-shop for all of your operational competitor data; its main aim is to provide professionals and investors with a network to find innovative companies and connect them with their owners. It's also useful for snooping on your competitors - score!
A simple public Crunchbase search of a company name will provide you with a company summary, financial information, employee details, technology usage, and any recent news or updates from that company. Plus, with Crunchbase Pro, you can monitor your competitors with real-time alerts.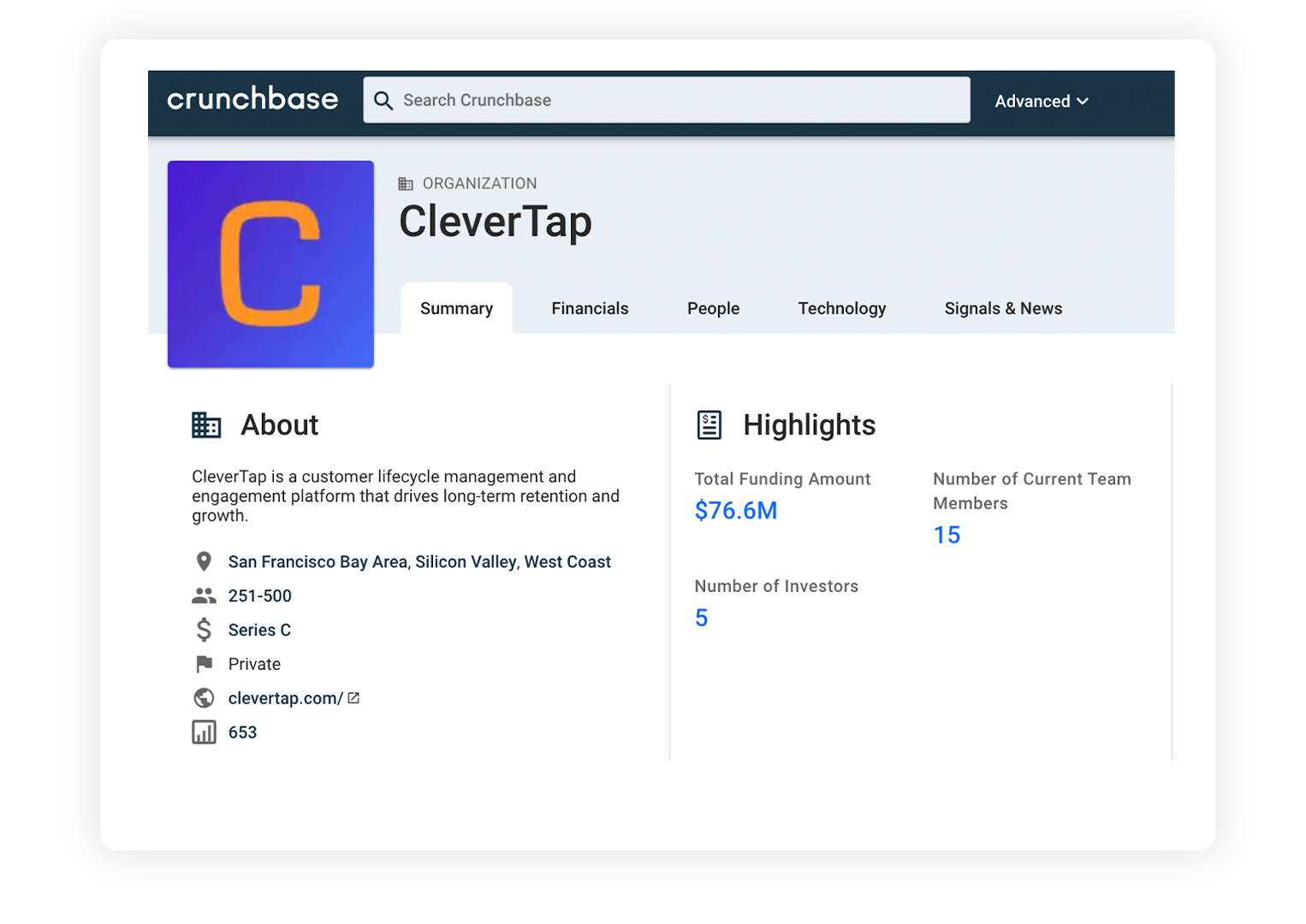 Source: Crunch Base


SEO Tools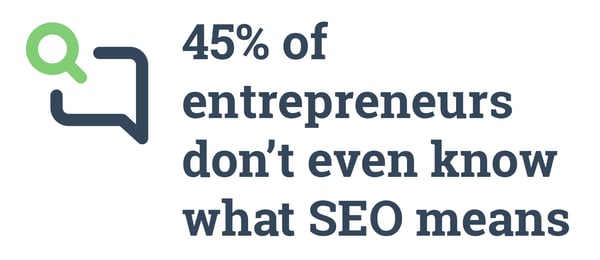 Source: Small Biz Trends

We live and work in a digital world; this means that your offline competitors aren't always the same as your online competitors. Online competitors are defined as the companies or websites that compete for the same traffic as you by ranking for the corresponding keywords. A quick search of your company's chosen keywords in Google's SERPs (Search Engine Results Page) will show you where you rank (if you've made it to page 1 already) and with whom you're competing.
Ahrefs Backlink Checker
Backlinks are a crucial part of any SEO strategy; this element is also known as 'off-page SEO.' Building a strong backlink profile influences the DA (Domain Authority) of your website. Understanding your competitors' backlink profile, who links to them, and what content is gaining them links, is crucial when it comes to stealing their traffic. Ahrefs backlink checker is the 2nd most active web crawler after Google, so they have the most significant backlink profile in the industry.

Source: Ahrefs Backlink Checker
SISTRIX Visibility Index
Measuring how successful your competitor's websites are in terms of visibility is a vital part of your SEO competitor analysis. The SISTRIX Visibility Index has been collated from millions of data points, combining the number of keywords a site ranks for with the search volume and click-through-rate of those keywords. It is a gold standard of measuring success for search engine optimisation and now captures both desktop and mobile visibility. You can compare your competitor's overall digital visibility to your own and find out where you need to improve.
Traffic & Marketing Stack Tools
Understanding the impact of your competitor's marketing strategy on search trends and consumer behaviour is essential. For example, if you monitor the search volume of your competitor's brand name over time, you will be aware of the scale of their increased traffic when they launch a new product or campaign. This means you can readily understand how that impacts your website's traffic.


Google Trends
Want to find out how many people are searching for your competitors compared to you? Or how about where in the world your competitor is gaining the most traction? Google trends deliver real-time data on consumer search interest in any brand name or keyword. You can track the increase or decrease in search volumes over time, which is a super useful way to keep track of your competitor's popularity within the consumer market.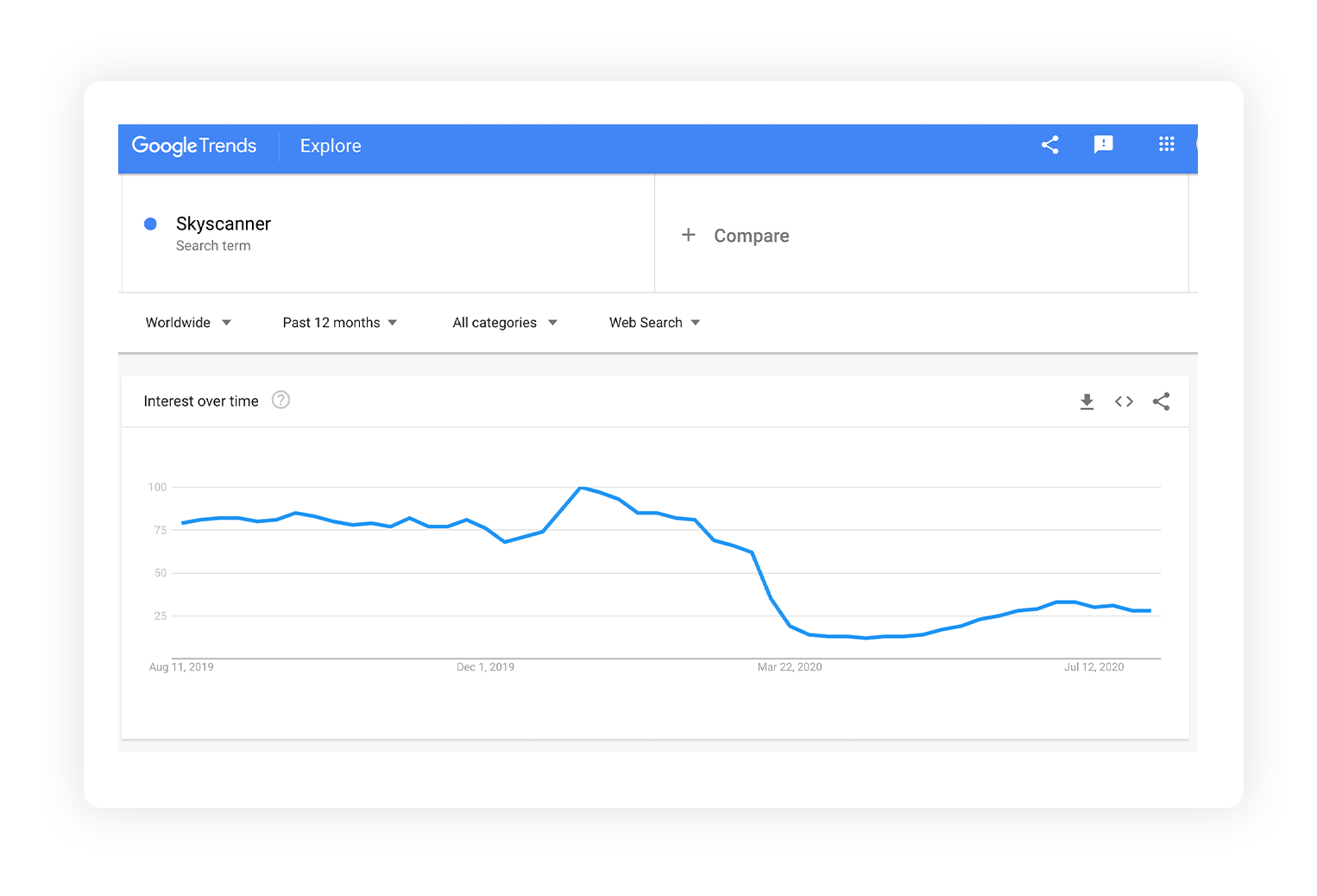 Source: Google Trends

SimilarWeb
Beyond the search results for your competitor's brand name and keywords, you'll also want to know how much traffic your competitor's website is getting compared to your own. If you're already working with Google Analytics, you'll understand the power of traffic analysis; the problem is it's limited to your site. SimilarWeb can help you dive into your competitor's domain and deliver performance analysis data such as time spent on-page, traffic sources, and even mobile app traffic.


Content Tools
Another pillar of a solid SEO strategy is quality content. It's crucial to assess your competitor's content to understand what types they're producing, which stages of the buyer's journey that their content serves, and whether you can identify any content gaps that you could potentially fill.



Buzzsumo
A powerful content research tool, Buzzsumo, helps marketing professionals learn from their competitors' success. You can search by topic, keyword, or domain name to identify what types of content are popular on your competitor's website, adjusting your content strategy based on this insight. Buzzsumo includes data from social media websites such as Facebook, LinkedIn, and Twitter, to show you which pieces of content receive high levels of engagement from their audiences.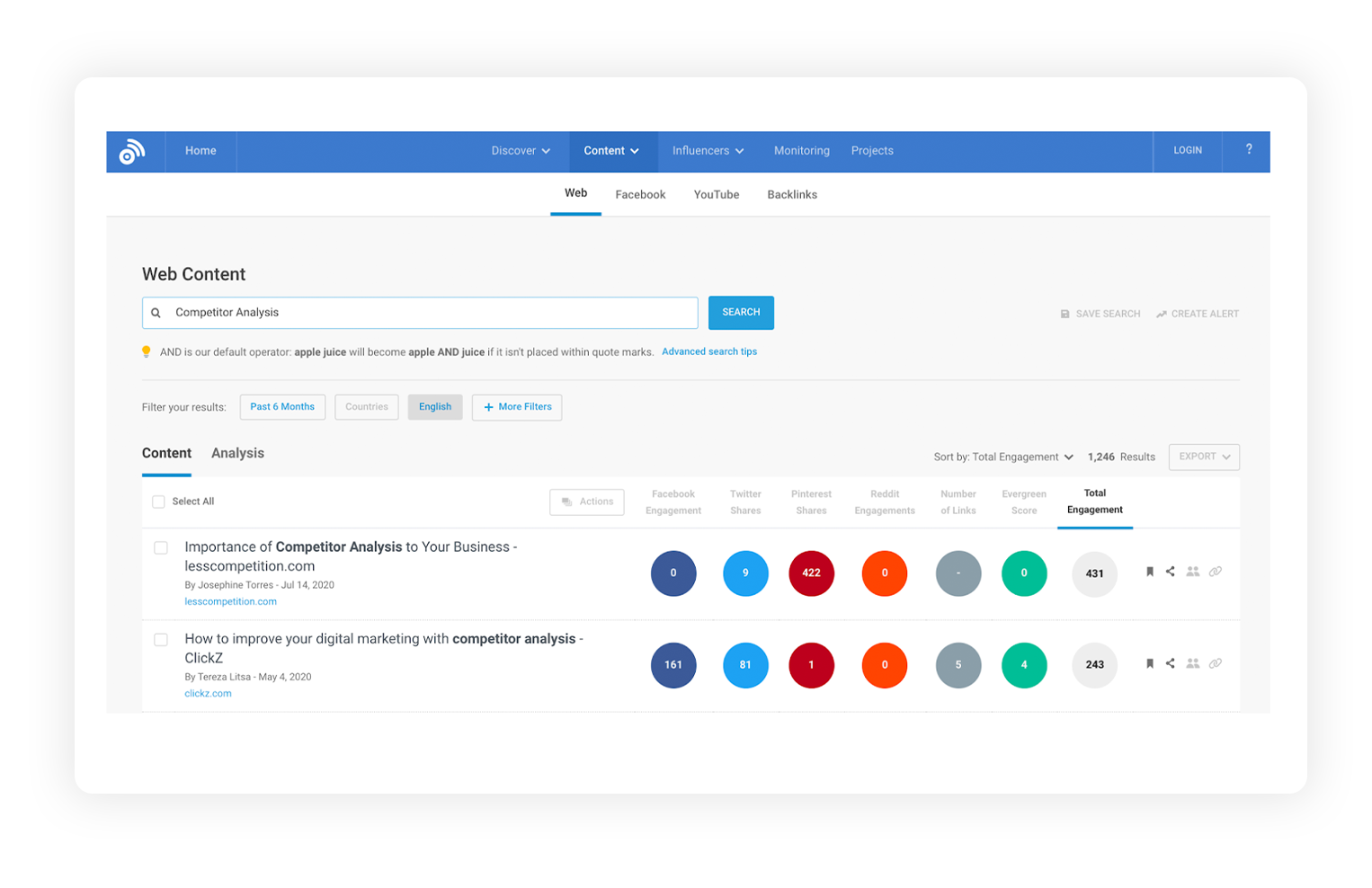 Source: Buzzsumo
Carrying out a competitive analysis may seem like a daunting task when you first begin. Still, there are many tools out there that can help you streamline the process, saving you time and energy to focus on your overall marketing strategy and customer needs.
Remember that competitor analysis is not a one-time affair; you will need to repeat it throughout your business lifecycle. Investing in tools that will make your life easier and your analysis more valuable will increase your competitive advantage, and, in turn, your chances of out-marketing your rivals.
Unlock the full potential of your consumer data and optimise your segmentation strategy with your very own FREE guide: The ABCs of Market Segmentation 💌 Don't hesitate to get in touch with me directly via contact@hurree.co with any of your questions or comments you may have!