Statistics Every Marketer Should Know [2023]
Marketers are driven by data. Testing, industry benchmarks, worldwide trends - these are all elements that inform our own marketing strategies and content.
Data and statistics are especially important when you're putting together a marketing strategy and trying to justify the rationale behind your decisions. While we'd all like to think our opinions should be the driving force, having data to show what you're doing and why you're doing it will always be important.
However, we don't all have the time or budgets to generate our own data and sifting through thousands of pages of data on the internet is not exactly time efficient. That's why we've put together this list of stats from sources we use everyday here at Hurree, that every marketer should know to ensure their marketing strategy is driven by data.
Social media stats
Internet usage stats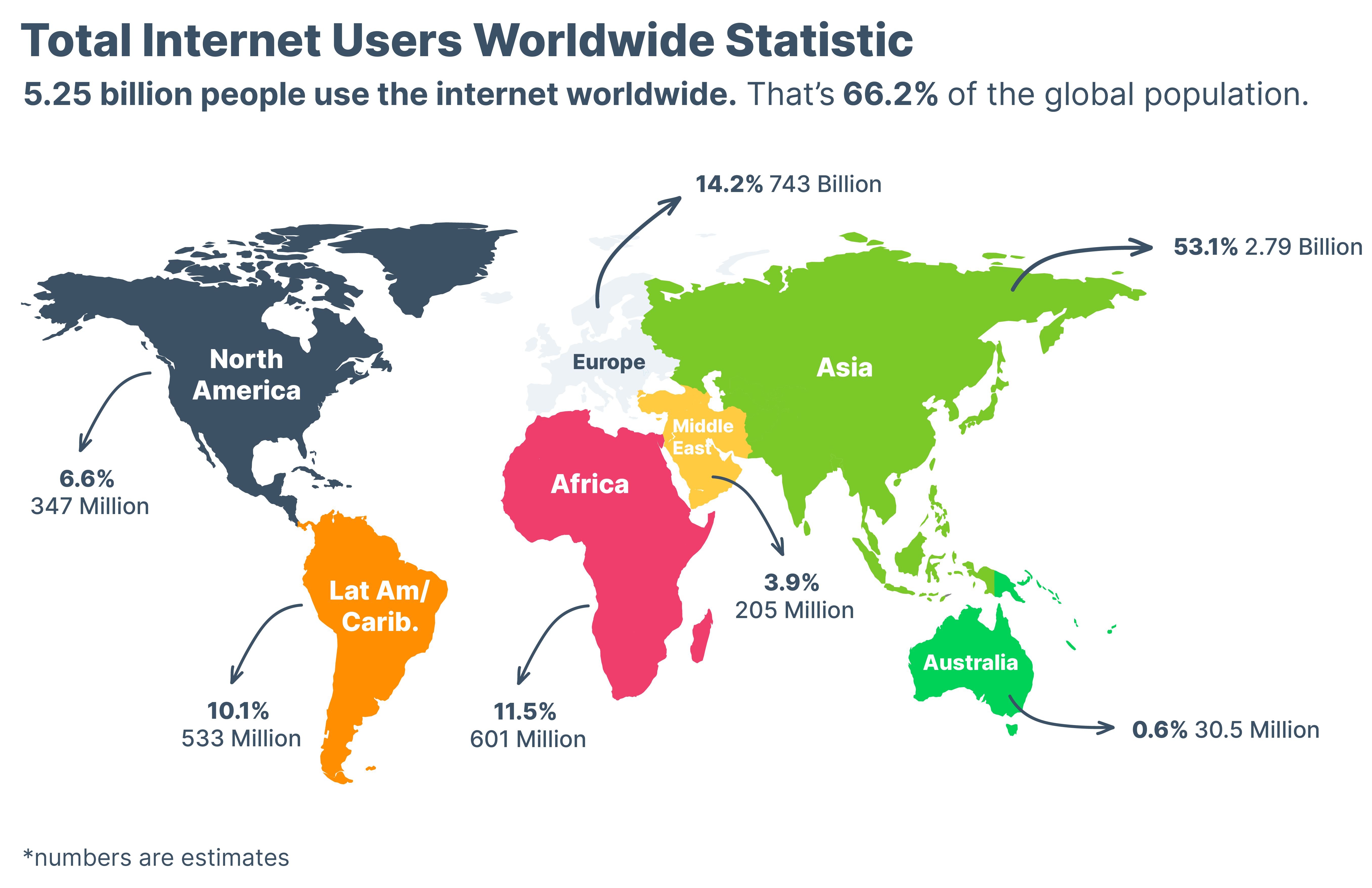 Source: Broadband Search
Email marketing stats

Source: Statista

Campaign Monitor collated email stats by industry
| | | | | |
| --- | --- | --- | --- | --- |
| Industry | Open Rates | Click-Through Rates | Click-To-Open Rates | Unsubscribe Rates |
| Advertising & Marketing | 20.50% | 1.80% | 9.00% | 0.20% |
| Agriculture, Forestry, Fishing, Hunting | 27.30% | 3.40% | 12.50% | 0.30% |
| Consumer Packaged Goods | 20% | 1.90% | 11.10% | 0.10% |
| Education | 28.50% | 4.40% | 15.70% | 0.20% |
| Financial Services | 27.10% | 2.40% | 10.10% | 0.20% |
| Restaurant, Food & Beverage | 18.50% | 2.00% | 10.50% | 0.10% |
| Government & Politics | 19.40% | 2.80% | 14.30% | 0.10% |
| Healthcare Services | 23.70% | 3.00% | 13.40% | 0.30% |
| IT/Tech/Software | 22.70% | 2.00% | 9.80% | 0.20% |
| Logistics & Wholesale | 23.40% | 2.00% | 11.70% | 0.30% |
| Media, Entertainment, Publishing | 23.90% | 2.90% | 12.40% | 0.10% |
| Nonprofit | 26.60% | 2.70% | 10.20% | 0.20% |
| Other | 19.90% | 2.60% | 13.20% | 0.30% |
| Professional Services | 19.30% | 2.10% | 11.10% | 0.20% |
| Real Estate, Design, Construction | 21.70% | 3.60% | 17.20% | 0.20% |
| Retail | 17.10% | 0.70% | 5.80% | 0.10% |
| Travel, Hospitality, Leisure | 20.20% | 1.40% | 8.70% | 0.20% |
| Wellness & Fitness | 19.20% | 1.20% | 6.00% | 0.40% |
| Average Totals | 21.5% (+3.5%) | 2.3% (-0.3%) | 10.5% (-3.6%) | 0.1% (-) |
Demographic stats
Gen Z: Born 1997-2012

Source: Zurich
Millennials: Born 1980-1996

Gen X: Born 1965-1980
Search Engine and SEO Stats
SEO as an industry is worth $80 billion in the US. (

Statista

)
53% of all website traffic originated from organic search. (

Search Engine Land

)
An average Google search session takes less than a minute. (

Moz

)



Source: Forbes