KPIs for Customer Success Teams
The overall success of your company is inherently linked to the success of your customer. Effectively, if customers succeed in using your product or service, they are likely to continue to use it.
Customer success recognises that a satisfied and thriving customer is an essential component when growing your business. It's a proactive process of anticipating and recognising customer challenges and needs and provides solutions and answers before a problem even arises.
When carried out effectively, customer success can improve customer retention, satisfaction and brand loyalty, therefore reducing churn, ultimately driving revenue for the business.
Why is it important to track customer success?
If your customer isn't achieving their own goals while using your product, chances are they will move on to your competitors. Historically, businesses have placed more importance on customer support than customer success. The key difference between these is that unlike customer success, which is proactive, customer support is reactive, meaning issues are only resolved after a customer contacts the business. Customer success is a forward thinking and data-led process, focusing less on the short term, daily tasks like how many tickets have been resolved or emails replied to, but a long term approach of ensuring the customer is effective at using your product.
Tracking customer success is crucial as it allows you to:
Establish a consistent revenue stream
It goes without saying that if your customers are successful and are able to achieve their own goals using your product or service, they will remain customers.
Reduce customer churn
When a customer doesn't receive the value they expect from your product or service, they aren't going to stick around. This is particularly relevant for SaaS businesses or subscription businesses who rely heavily on repeat customers.
Turn customers into brand advocates
Having happy customers naturally means they will be more inclined to leave positive reviews and recommend your business to others, helping to lower your customer acquisition costs. Think about it for a second. If you are unsure about buying a product or service, but your friend or colleague tells you they have used it and had a great experience, you are more likely to buy it, right? So the more customers you can get to do free word of mouth marketing for you, the better.

Source: Nielsen
More opportunities to upsell and cross sell
When your customer perceives real value from your product, it instantly gives you an advantage over competitors. The likelihood that those customers will upgrade their service or buy additional products from you is much higher. Say, for example you sell skin care products. If someone buys a face moisturiser from you and is happy with the results, they are more likely to go on to buy a body moisturiser, eye cream, exfoliator etc, rather than buying from a different brand.
Improve your product or service offering
If you focus on giving your customers the best experience possible when using your product or service, chances are you will recognise faults in the customer journey or the product, allowing you to make adjustments. For example, in a SaaS business, you might realise that some of your customers can't successfully navigate their way around the reporting tool. In this instance, you need to educate your customers on how to use the reporting tool, so you could create a comprehensive how-to guide with online training courses and email these to customers at the appropriate stage of their buying journey.
Increase employee engagement and morale
The more success your customer success teams achieve, the more that morale will increase. The benefits of employee engagement aren't just good for your workplace culture, but can also lead to increased productivity and a reduction in HR costs. Overall, companies with high employee engagement are 21% more profitable and saw 41% lower rates of absenteeism.
Best KPIs for customer success teams to track
With most businesses now having a dedicated customer success team gathering customer data from various tools and platforms, it can be difficult determining which data is of most benefit to measure. While the list below isn't exhaustive and the data you decide to track is highly dependent on your goals, business type and industry, these KPIs might be a good starting point.
1. Customer churn
Customer churn rate measures how many customers you lose over a specific period of time. A high or increasing churn rate should set off the alarm bells in your head and it signals that your customers aren't satisfied with your product or service. Lost customers means lost revenue, and if you can't keep your customers then it can seriously affect your business.

Source: Harvard Business School
One important factor to consider with customer churn is how you define a 'lost' customer. They will look different in every business and industry and depends on the frequency of purchase and average customer life cycle. A lost customer for a monthly subscription business is relatively straightforward and can be classed as a customer who has cancelled their subscription. A lost customer for an e-commerce business might look different. If your data shows that customers usually buy from you once every 6 months, then you can use this as a benchmark to determine that if they have not repurchased after 6 months, then they can be considered lost.
2. Net promoter score (NPS)
NPS measures customer satisfaction and gathers both qualitative and quantitative data from your customers via a short survey. One of the most popular ways to measure NPS is by asking your customers how likely they are to recommend your company to a friend. This question is answered on a scale, usually between 1-10, with a follow up question asking customers to provide an explanation for their score. Customers who give a score of 9 or 10 are considered as your brand advocates, those who give 7 or 8 are neutral and those who rate you between 1 and 6 are classed as detractors and would harm your business reputation if they are given the chance.
To create actionable data from the scores, you should subtract the percentage of detractors from the percentage of promoters. The score can range anywhere from -100 to +100, and the higher the number, the better. For example, if 40% of your customers give a score of 9 or 10, and 15% give a 6 or below, your NPS is 25, which is not the worst, but there is certainly room for improvement.
You can use the data obtained from your NPS survey to determine the value your customers place on your brand and how loyal your customers are. Research indicates that companies with a high NPS have a much better chance of outgrowing their competitors by at least double.
3. Customer satisfaction score (CSAT)
Customer satisfaction score is similar to NPS but has one major difference. CSAT measures how satisfied a customer is with a specific area or aspect of the business, whereas NPS measures a customer's level of satisfaction and value on the overall brand. The CSAT is also gathered via a short survey with answers usually given as a scale, for example very unsatisfied to very satisfied, or even the use of sad or happy faces.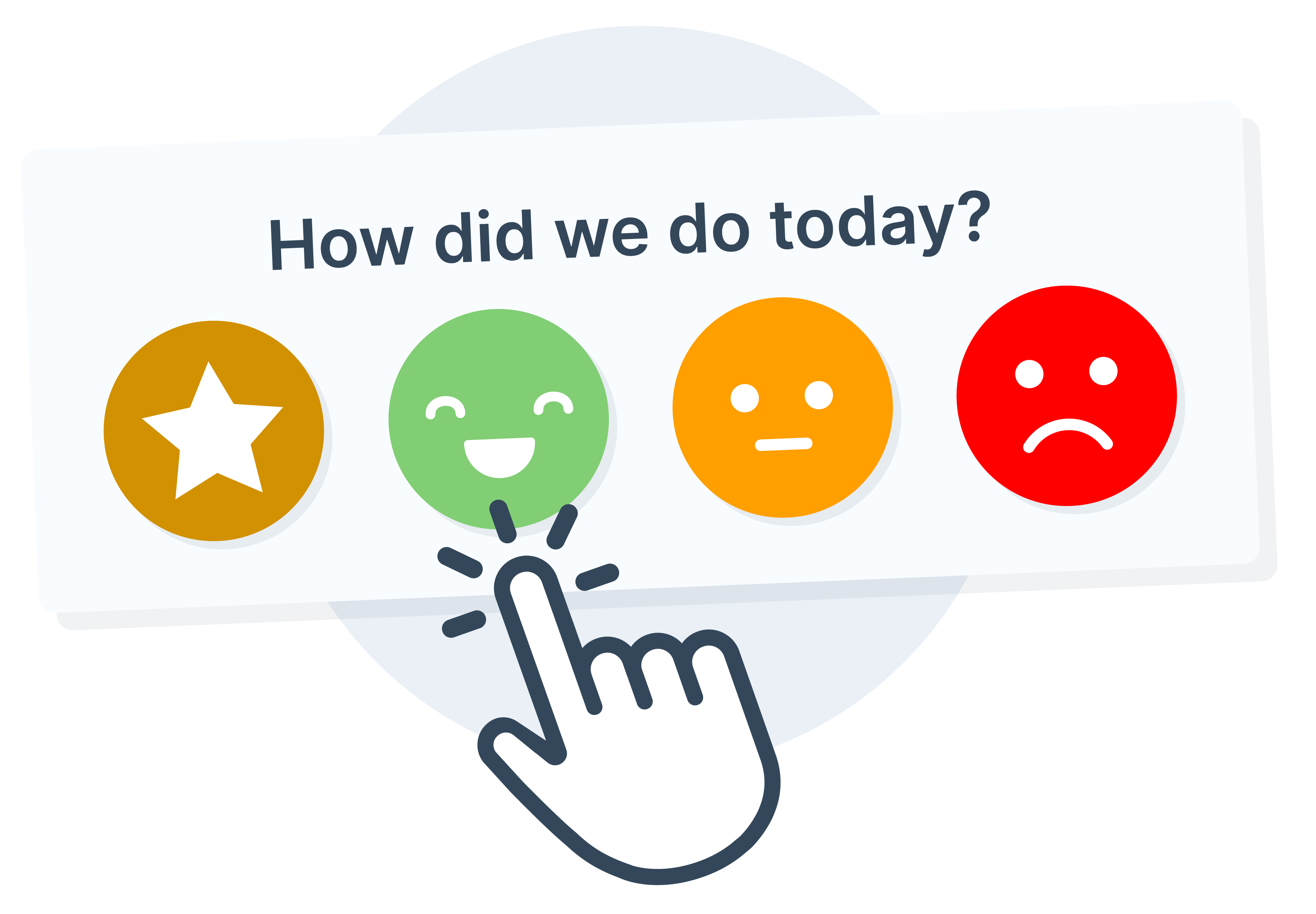 The main benefit of measuring CSAT is that you can distribute the survey after a customer interaction or at specific touchpoints or milestones, for example after a customer has finished a trial period or after a customer support ticket has been closed. If you don't ask your customers how satisfied they are with your products and services, you may lose them and have no idea why.
4. Monthly recurring revenue
This value is one of the most important customer success KPIs for SaaS businesses or those that rely heavily on subscription-based revenue. The MRR refers to the amount of money that your customers are spending on your products and services each month. For example, if you have 100 customers who pay you £10 per month, your MRR would be £1,000. It is an essential metric that can help to predict the future of a business and help in financial planning and forecasting. If you begin to see your MRR grow, then you know your customers value your product and likewise, if it's decreasing then more work will need to be done to find out why and rectify the issue.
5. Customer lifetime value (CLV)
This represents the total revenue a company can expect to make from one customer over the course of their relationship with your company. It is often considered as one of the most fundamental customer success metrics that you can measure.

This metric can be used as a clear indicator of how well your product or service resonates with your customers and can be used to identify specific customer segments that are the most valuable and loyal. Using this data, you can segment your customers into different groups, allowing you to target each group differently and customise your marketing efforts to each segment.
6. First contact resolution rate (FCR)
This is another metric measured often by customer service teams, but it is still of relevance to customer success teams. First contact resolution rate measures how many of your customers have had their queries resolved during their first interaction with your brand. It includes all customer service requests including calls, live chats, emails and social media messages. Customers don't want the hassle of having issues with your product or service, so it's paramount that they are resolved quickly once they make contact with your company. The quicker you can resolve a customer issue, the less chance there is of customer churn.
This is a KPI where the higher the percentage, the better. While this metric is very insightful, the one piece of information it doesn't provide is the actual length of time a customer has waited for the issue to be resolved. So just because a customer's issue has been resolved on first contact doesn't necessarily mean that it was resolved fast. The benefit of a high FCR is quickly undone if the customer has had to wait too long, so you may also want to consider measuring first response time.
7. Customer support tickets
Similar to first contact resolution rate, measuring the number of customer support tickets can be extremely useful. Issues shouldn't be occurring when your customer uses your product, so having a high number of customer support tickets is a sign of failure at some stage of their journey.
This is another metric that is most commonly measured by customer service teams, but keeping a close eye on this data will highlight the areas in which your customers are not gaining success from your product or service. You can segment the tickets to highlight the different types of queries that are coming in, which will allow you to make adjustments so that future customers do not experience the same pain points and have more success in using your product.
8. Customer retention rate
This measures the percentage of existing customers that have stayed with your company over a specific period of time. In other words, from one period to the next, how many customers stick around? For the majority of companies, it takes a significant amount of time and money to acquire a new customer. It seems obvious that once you have a customer, you want to hold on to them for as long as possible. If you put the same amount of effort into your customer retention program as you do your customer acquisition efforts, you will reap the rewards and will create a group of loyal customers who will continue to buy from you, and tend to buy more often and spend more than newer customers.
Conclusion
Customer success is vital to the overall success of the business itself. To master the art, you need people, processes, resources and most important - data. When choosing the KPIs you want to track, the key is to focus on your overall goals, what you want to measure and why they are important to the success of your brand. Once you have measured your KPIs, the hard work doesn't stop there. Customer success is an ongoing process and evolves as your brand grows. Displaying your data on a customer success dashboard will help massively in highlighting how satisfied, or not, your customers are.
Track and visualise your KPIs in real-time with Hurree. Try Hurree today for free and discover how to truly harness the power of analytics and transform your company reporting using cross-platform dashboards. If you have any questions then feel free to get in touch!