8 Tips from Real Companies to Make Your Meetings More Productive

Meetings are an everyday part of working, but in recent years, they seem to have taken over our daily schedules, especially for middle and senior managers.

Source: Otter

Whether you're a CEO, COO, or just someone looking to make a difference in how your company operates, many of us are seeking out ways to be more productive, especially in meetings. But when you head to the trusty search engine and scroll through search results, it's hard not to be disappointed.
It's not that I don't enjoy being told to 'keep things simple' or hearing that multitasking is bad, it's just that this type of advice seems too vague to be super useful. I don't know about you, but when I'm looking for ways to make my meetings more productive, I want tangible, tested strategies that I can replicate, tweak, and put into practice.
One of the best ways I find to do this is to look at what real companies are doing and why. So here are a few examples of how real companies are changing they way they run meetings to make them more effective and productive.


Shopify's meetings ban
Meetings are seemingly a controversial occurrence these days across the corporate world. The phrase 'this meeting could have been an email' has become its own trope, especially across corporate humour enthusiasts. But, the data backs it up.
New research suggests that 70% of planned meetings prevent employees from working and completing their actual tasks. On the other hand, productivity can be increased by up to 71% when meetings were reduced by 40%.

Source: Harvard Business Review
Shopify seems to have taken these statistics to heart, making news with their recent "ban on meetings." Not so much a ban, the ecommerce brand, has removed meetings of 2 or more people from all calendars, with a 2 week "cooling off period" before they can be reinstated. That resulted in the deletion of over 10,000 meetings.
Going forward, meetings can be held, but they have to meet certain criteria. For example, meetings of 50 or more people (not uncommon, given that Shopify employs more than 10,000 people) can only be held in a small window on Thursdays. They are also employing what they refer to as a 'nonjudgement zone' where employees can decline or cancel meetings whenever they feel the need. Oh, and Wednesdays are meeting free.
The hope, according to the company, is to provide employees with time to actually do their work rather than sit in unproductive meetings. Quite literally, they are asking their team to send an email instead of scheduling a meeting.
TheSoul Publishing's radical transparency
Another company that determined meetings to be a drain on productivity, TheSoul Publishing banned almost all meetings. This is despite the fact that almost 80% of their global workforce works remotely. There are very few instances where internal meetings are allowed to be scheduled, and they must follow a strict process.
Even more drastically, the company also banned all internal emails. They call this practice "radical transparency." Instead, they provide an internal platform where all communications are posted publicly so that everyone has equal access. It also allows for instant updates, rather than waiting for a long, tedious email chain to be forwarded to the right person.
To ensure this process is as seamless as possible, they include communication training as part of their new hire onboarding. While the company says people initially find this approach unusual, they quickly adapt and become more productive than ever.
Amazon turns off PowerPoint
We've all been in that meeting. You're all sat down and then someone starts up the shared screen to present a PowerPoint deck that was put together minutes before the start time, and then they read the slides word for word. Not exactly productive.
That lack of insight and productivity is why Jeff Bezos banned PowerPoint from meetings across Amazon. In the letter he sent to the company, Bezoz said that finding a "narrative structure" for a meeting was more effective than sharing slides.
According to Ram Charan and Julia Yang's book The Amazon Management System, Bezos believes that "PowerPoint-style presentations somehow give permission to gloss over ideas, flatten out any sense of relative importance, and ignore the interconnectedness of ideas."
Instead, meetings at Amazon begin with each attendee getting a hard copy of a memo (no more than six pages). They are given time at the start to review the memo, which outlines the meeting's purpose, at which point they then dive into a discussion about the topic.




Tripping.com keeps it short and sweet
Did you know that prior to Covid, company VPs spent 44 hours a week in meetings (really puts the 40 hour work week in perspective). That doesn't take into account the time moving from one meeting to the next.
Tripping.com tackles meeting overload with a strict 30 minute rule. At the beginning of every internal meeting, a 30-minute timer is set. What happens if you go over? Well, the company makes the meeting organiser put their money where their mouth is. Whoever called the meeting is responsible for keeping it on time, and if they don't, they are fined $5.
Don't worry, the Tripping.com doesn't pocket the money, it is put into a communal beer jar for the team.
TINYPulse battles the cost of lateness
Research from Harvard Business Review finds that meeting lateness costs businesses $15 million/year on average.

Source: Harvard Business Review
And while a lot of employees say they value punctuality, more than 50% admit to being late to meetings on a regular basis. So how do you combat this?
TINYpulse has taken an innovative approach, starting meetings at "bizarre" times like 8:48am. Apparently the odd start times require extra effort to remember, which serves as a memory trigger. And according to the company, this approach has eliminated tardiness almost completely.

Skift bans laptops
Think about the last time you were in a long meeting with your laptop. There's a high probability that, at some point during said meeting, you were distracted by something else - an email, an IM, or that latest ASOS sale.
No laptops means more engaged meeting attendees, at least according to Skift. To make their internal meetings more productive and engaging, Skift banned most attendees from bringing their laptops. The only exception is a singular laptop or tablet to video conference or present something to the group.
Their philosophy is that communication requires focus, and eliminating distractions like laptops makes meetings more effective. In fact, they also have a 25-minute limit on internal meetings.
Google ventures into the great outdoors
Off-sites are meetings that take place in a location different from your normal office space. But what about an on-site off-site? This is a concept that Google introduced in 2021, as it was looking to support social distancing initiatives on their campus.
More specifically, they encouraged employees to hold their in-person meetings outside. More than just allowing their employees to maintain social distancing, the initiative was put in place, Google claims, because it "allows [employees] to have more of a physically intimate team meeting than just doing everything digitally."
It may be a bit easier to do this at a large campus in California, there is evidence to backup the introduction of outdoor meetings. Studies have shown that being outside makes people's focus much sharper and strengthens memory, both important elements for improved productivity.

Modal Forms uses dashboards
Modal Forms have teams scattered across the globe and were struggling to bring everyone together in meetings. What Excel report was the most up-to-date? Who was meeting their monthly KPIs? Feedback sessions tended to be scattered and unfocused.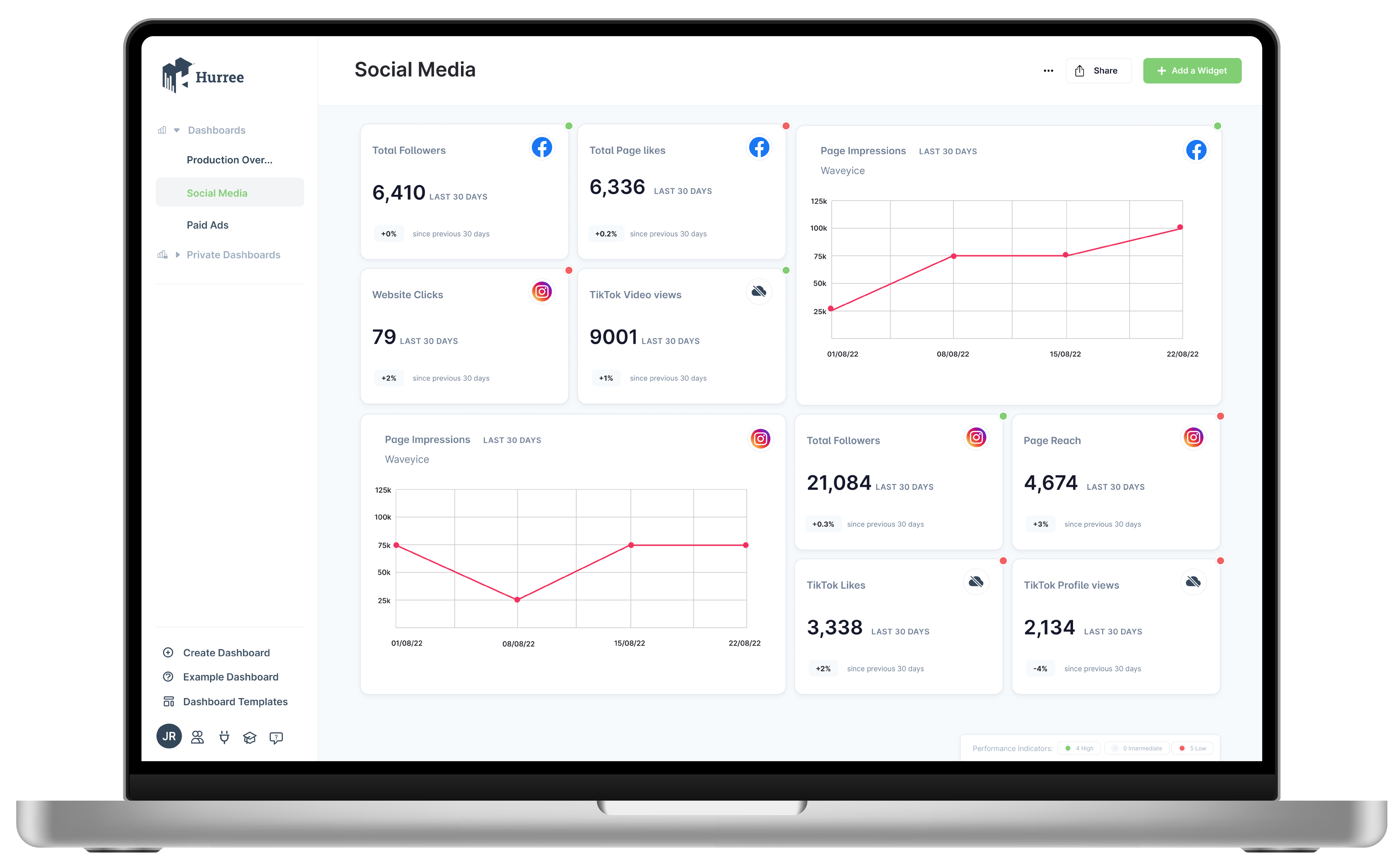 To combat this data clutter, Modal turned to Hurree for their reporting, specifically using it for monthly feedback sessions for their global teams. The organised and up-to-date nature of the dashboards means that there is no confusion about what the teams are looking at, and they don't have to waste time in their feedback sessions interpreting data, they can just dive right in.
Love them or hate them, meetings are a part of working life. All you can do as an organiser or attendee is try to get the most out of the time you spend on them. Hopefully these examples can get you started, but as the way businesses communicate continue to evolve, meeting culture will follow suit.
Want to make your meetings more productive? Try Hurree for free now to see what dashboards can do for you.