How To Get Started With B2B SaaS Marketing
9 min read
Apr 22, 2021
Marketing a B2B SaaS product isn't for the faint-hearted. It's an entirely different ball game to the likes of e-commerce and most other forms of marketing due to its complex customer journey, high level of input needed from multiple parties within the business you are targeting, and the constantly evolving nature of the product itself.
In this blog, we've laid out 8 actionable tips and insights specifically for B2B SaaS marketers. But first, let's get a better understanding of the definition of B2B SaaS marketing.

B2B SaaS Marketing Definition


First off, SaaS stands for "Software as a Service" and is essentially a software distribution model which gives users the ability to connect and use cloud-based apps over the Internet. Then, of course, B2B means "business-to-business" which is when a company sells a product or service aimed at another business. So B2B SaaS marketing is simply the method behind marketing companies who provide software to another company as a service.
The general idea behind many B2B SaaS companies is to provide a solution to a business that enables it to run more efficiently and effectively, automating tasks where possible, thus saving time and resources, whilst preventing human error. Some well known B2B SaaS companies that you might be familiar with are Google, Slack, Adobe, Mailchimp and Shopify.



8 B2B SaaS Marketing Insights & Tips for Success

Now, let's get stuck straight into our 8 tips to B2B SaaS marketing success, and discover how you can get on the radar of your prospective customers.


1) Target Decision-Makers
When it comes to selling your SaaS product to a business you might find that, often, the person who you'd expect to be the end-user is not necessarily the decision-maker. Depending on the solution you offer, your product might be aimed at junior marketing executives, HR assistants, office managers or payroll administrators, for example. However, it's likely to be those who are higher up the command chain who have the purchasing power and make the decisions when it comes to signing off any new software that the company implements.
This makes marketing slightly trickier than your regular B2C campaigns and requires a slightly different approach. Yes, to begin with, you first have to make sure that the end-user loves your product but you also need to make sure you have considered how to reach the decision-makers in your approach too. This means having all the relevant materials required by the end-user to easily advocate for the adoption of your software to the people that hold the power. Ensure your pricing and packages are impeccably clear, along with the benefits your product can bring to the business as a whole and some great case studies to back this up. With all this, you'll be well on your way to impressing the top dogs and getting that all-important sign-off.
2) Competitor Comparison
Before coming to a decision, it's likely that your prospective customers will have done some digging into your competitors to see who was the best fit for them. This means that your team needs to know what they offer too, so you can quickly and easily identify why your solution is the better option should that come up during a sales demo or call. Do your research and make sure that you are providing your website visitors with as much information (if not more) than your competitors. Keep tabs on what they are writing about on their blog, how they use their social media accounts to drive engagement, what keywords they are competing for, and so on. With this insight, you can always try to remain one step ahead by understanding what marketing tactics work for your competitors, and then do it better.
If you are pretty confident that your SaaS product is up to the mark, then it can be quite an effective tactic to offer a comparison between your product and that of your competitors. It's a high possibility that when a consumer gets far enough down the sales funnel that they are typing something like this into Google:

If you can get your webpage to rank for these terms and get your prospective customers back on your site, you'll be able to frame the narrative to better appeal to your customers and have the opportunity to win them over.
Check out this example of how Help Scout has gone head-to-head with a comparison page of their solution to their main competitor, Zendesk: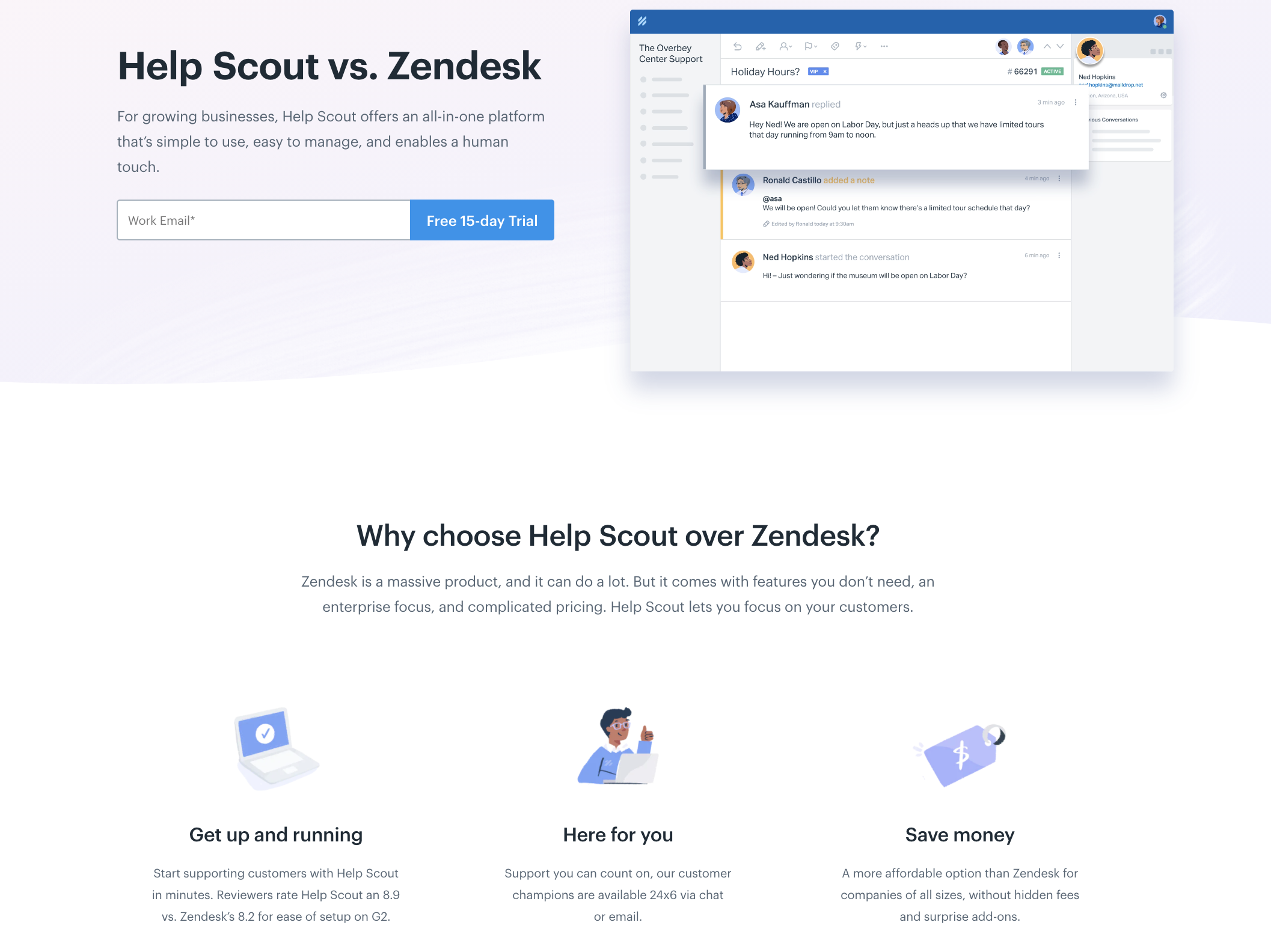 3) Offer Free Trials
What better way to win your customers' hearts than by letting them try out your product for themselves? In fact, it's estimated that 75% of SaaS companies offer free trials, so many buyers actually expect this. Without a trial, it can be difficult for prospects to figure out if your software is worth the money or able to solve the issue at hand.
Figure out how long it takes for your customers to reach that "Aha!" moment. This is a moment of sudden clarity that your user experiences, when something immediately clicks and they realise the true value of your product. You want your trial to last long enough for them to reach this point. The norm is usually a 7-day, 14-day or 30-day trial. But regardless of how long the trial may be, the most important part is to stay in constant contact with your users throughout this period. Provide them with plenty of support, gather feedback in real-time and help keep them as engaged and interested in your product as possible.
Of course not every SaaS company will be suitable to enable trials for customers, as it can do your business more harm than good. So first, you need to assess whether or not this is a viable option for your company before you start offering it.
4) Product Demos
A product demo is a must-have for any B2B SaaS product, and a great way to provide insight into how your solution can help your prospective customers when offering a free trial isn't an option. Have a discovery call with the company prior to the demo and find out as much as you can about their business so that you can tailor the walkthrough to their needs. Make them the main character and paint a picture of how your product can solve the exact problems they are currently facing. A generic demo just won't cut it.
You want to make sure the process to sign up for a demo is also as painless as possible. If people have to jump through multiple hoops to view your product it's likely that they will lose interest and the bounce rate from your demo landing page will be high. Try not to ask for too much personal information straight off the bat. Keep your form simple and stick to the basics such as a name, company and contact email or phone number, whatever you need to simply follow up and arrange a suitable time.
5) Content Marketing
Position yourself as an expert in your field and help drive organic traffic to your website through content marketing. This can be in the form of blog posts, guides, infographics, podcasts, webinars, videos, case studies and so on. Gear this content towards your ideal customer and the keywords and phrases they search for. The idea is to provide them with an extensive resource library on your website full of "how-to" articles that help address potential issues and topics that are relevant to their company. This is where your SEO comes into play as research shows that 68% of website traffic and the bulk of leads gained by the top-tier SaaS companies comes from organic search.
With content marketing, it's important not to expect any quick wins. In fact, building momentum can take months, or even years, but, with the right strategy, your investment into this marketing tactic will pay off. Here are some questions you need to ask yourself before getting started:
How will it support company goals and objectives?
How will I measure performance?
Be sure to create content that addresses prospects and customers throughout each stage of the sales funnel. Your top of the funnel content is all about awareness and introducing new readers to your brand. Middle of the funnel content should focus on using sales and support feedback to tie problems to your specific solution. Finally, the bottom of the funnel content should have the sole purpose of making a sale, as this is targeted at those with the highest buying intent.
6) Optimise Your Website for Lead Conversions
A key trick for B2B SaaS is to optimise multiple areas of your website for lead conversion. For every page your visitors are on, there should be an opportunity for them to take action, whether that is through signing up for a webinar, subscribing to your newsletter, downloading an ebook or requesting a demo or free trial.
Having a website that receives high levels of traffic is great, but as a B2B SaaS product, this traffic isn't what's going to get you those sweet sales. The customer journey through the B2B marketing funnel is anything but straightforward, and it's normal for an enterprise deal to take anything between six to eighteen months to close. So, the sooner you can gather their contact information through enticing content and great call-to-action buttons, the better.
7) Personalised and Segmented Email Campaigns
Once you've been able to harness the power of your content marketing to secure some contact information, it's time to get smart with your email marketing. This is where you want to convert them from subscribers into customers using super personalised and well-segmented email campaigns. Generic email blasts will not work well for your B2B audience.
Source: Campaign Monitor
For a B2B SaaS marketer, the best way to tailor your email marketing campaigns is based on audience lifecycle stage. Someone who has just stumbled across your blog and signed up for weekly content notifications is not ready to receive content regarding your pricing. In fact, they might not even know what your product is yet! These initial stages are all about brand awareness and establishing credibility, so the emails you send need to reflect this. The last thing you want to do is scare them off and have them hitting that "unsubscribe" button before you've even had a chance to build any sort of rapport.
Here are a few common lifecycle stage examples of various audience segments for B2B SaaS marketers that would all require completely unique communications:
New blog subscribers
Users who signed up for a product demo but didn't show up
Users who participated in a product demo but didn't convert
Users currently in the middle of a free trial
Users who failed to convert after a free trial
Users on a freemium subscription who you wish to upsell to
Current paying customers who you wish to upsell to
Former customers who cancelled their subscription
...and so on.
By personalising your content based on some of the examples above, or by company industry or job title, you have a much better chance of standing out amongst the clutter of your prospects' email inbox. If you do this well, you could see your revenue gained through email marketing increase by an impressive 50%.
8) Customer Reviews
Finally, if you are lucky enough to already have real, paying customers, then others will want to know exactly what they are gaining from using your SaaS product. Having customer reviews, case studies and testimonials on your website, social media or on third-party directories (G2, Product Hunt, Capterra etc.) is exactly the sort of social proof you need to help take your sales conversions to the next level.
Conclusion
When it comes to B2B SaaS marketing, it's important to know that there really is no one-size-fits-all strategy. The advice laid out in this article contains some great starting points, but there are so many different factors that each unique business needs to take into consideration when creating its marketing strategy. For example, price-point, target audience and market readiness. Of course, your software itself needs to be flawless and powerful as well, but possibly the most important element of your "Software as a Service" product is the actual "service". The service and support that you offer businesses who purchase your product is what will enable your customer relationships to last the long haul.
Are you struggling to get the full picture when analysing campaign results? Book a free demo today and see how Hurree can help you transform your company reporting to improve your sales and marketing output 💌 Don't hesitate to get in touch via contact@hurree.co if you have any inquiries - we're happy to chat!