For as long as the concept of digital marketing has existed, so has A/B testing. It is important to know what your users are going to respond to and a great way of doing this is if you A/B test it. A/B testing lets you gauge what content attracts more engagement, visits to the app store page or even downloads.

What is A/B Testing?
A/B testing is basically, where you compare two versions of something with the outcome of establishing which performs better. It is an experiment or test, where two variations of content are shown to users at random, and statistical analysis is used to determine which variation performs better for a given conversion goal. The secret about A/B testing is that while "everybody" talks about it, most businesses don't do it. Don't just talk about it, DOT IT! Give your page an advantage over your competitors.

Why test?
Instead of trying to predict what your users want, you can test your theories through A/B testing. It allows you to make the most out of your existing traffic. It also helps you find the combination of elements that work for your page, helping you achieve higher conversion values and reduced bounce rates.
A/B testing helps you avoid unnecessary risks. Maybe you have found research that states that a particular colour gets a better download rate, but this colour is neither your brand's main colour nor complementing with it. You can test it to see before making it a permanent change and if you get a great response then you know to change to it but if not you have saved yourself from making a mistake and potentially damaging your brand recognition.

What should I test?
Realistically you should test everything that you can on the page, however, it is not always possible. StoreMaven found that after analyzing over 50M impressions, the below elements are the most impactful and therefore should not be ignored.
These 5 key elements are as follows:
Icon

Title

Video

Screenshots

Description
By testing the above elements you can see in this diagram below the average impact each factor can have on conversion.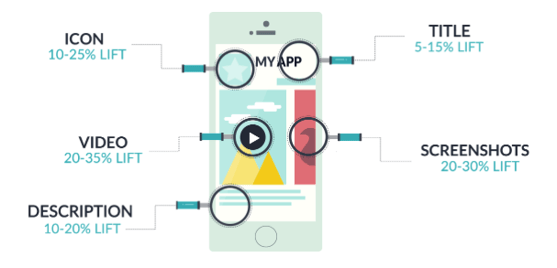 Image Credit: StoreMaven

So you have established which elements to test but what exactly do you test, consider some of these ideas:
Keywords: Should the app title say "Netflix" or "Netflix - Watch TV shows and movies recommended"

Music: Should your video have music in the background or a voice over?

Color schemes: Should you use the main brand colour or is there a complimenting colour that will help sell your app?

Arrangement: Should your screenshots be in

portrait or landscape

?



How do I A/B test?
There are 4 main steps in the testing process for app store pages.
1. Identify Goals: Begin by deciding what it is you want to test. Let's take, for example, the app's icon. Next, you will figure out how you want to measure the icon's performance. For this example, let's say your metric is the number of users that visit the app store page.


2. Plans & Create Variations: This might seem obvious but you would be surprised by how many leave this to the day of the test launch and make last minute decisions that might not have been thought through or based on research.

3. Run Test: With your variations complete, you will then conduct your test by sending two sets of users (assigned at random when they visit the site) the different versions.

4. Analyse Results: This is the most important step. Once you have gathered your data on the test you will be made aware which icon has the higher visits to the page.


TIP: You may want to give your test a good few days to run so that you still have enough results to base any conclusions on.

Testing one element of the page at a time helps pinpoint which element variation had an impact on the app store page visits and which did not. Over time, you can combine the effect of multiple impactful variations from the tests to demonstrate which improves the page visits and which don't.

A/B testing is not an overnight project. Depending on the amount of traffic the app store page gets, you might want to run tests from a few days to a couple of weeks. Obviously, you will want to run one test at a time for the most accurate results. With all results collated you can figure out which variations work better.


For more information on app store optimization, check out our guide A Beginner's Guide to App Store Optimization or feel free to contact us directly via contact@hurree.co.