It is often said that opening a new app can be similar to meeting someone for the first time. You might hit it off straight away, you might instantly dislike them, or although it seems awkward to begin with, over-time, you could grow to quite like them. Whatever the scenario, the first impression means everything!


App onboarding is a vital stage of the app user's journey and a necessary part of your mobile app marketing strategy. It is normally the first point of contact the user has with your app and your chance to really make that great first impression. An app without an onboarding process can be faced with a 17% first time user abandonment rate. Whereas, with a true onboarding experience, the customer churn rate from first time users is a much lower 9%.


What is App Onboarding?
App onboarding gives you the opportunity to show users how to get the most from your app, demonstrate the main value proposition and generally help set-up what you hope to be a long-lasting bond between your app and its users.
Normally, the onboarding process is a series of screens shown to the user the first time they open your app and that help guide them through the app's interface and functions. They have three main purposes:
To educate each user about the main app functions and benefits

Give the user an opportunity to register their login details

Collect profile information that can be used to deliver more personalized, relevant and

valuable notifications
There are three main types of mobile app onboarding, which are:


Value-Orientated Onboarding
Communicates the main benefits and value a user will receive from using the app.


Functions-Orientated Onboarding
Focuses on the main functionalities of the app and explains how the user should use them.


A progressive approach presents key information and advice for getting the most out of the app as and when the user requires it. So rather than an all at once, with a step-by-step tutorial, the information is displayed as the user makes their own way around the app.

5 Tips for a Great Onboarding Experience
No matter what approach you decide is the best for your app, there are certain best practices for onboarding that should be adopted to help increase your app user retention rate.

1. Emphasize the core value of your app
Don't make the mistake of going into the nitty gritty of your app functionality without explaining WHY this function is going to change your app users life for the better. Having a long list of exciting and impressive features is great. But the truth is, your users don't care about these features. What matters more is the value and benefits they can receive from said features.

2. Keep it short, keep it simple

Your new user is eager to get using your new app straight away after the initial download. So the last thing you want to do is force them to swipe through 10 or more text heavy screens before they can even begin using your app. No average user is going to sit and read these in detail. In fact, it's likely they will just quickly skip past these screens and it will all be a big waste of time.
Prioritize your main features and benefits at this stage. Stick to whatever the basic information is that your user needs to know to get by. Don't overwhelm the user with lengthy pieces of text and opt for the use of graphics and app screenshots to help you get your point across. It's also worthwhile to make use of progress indicators. These do exactly what they say on the tin and indicate to the user what progress they are making throughout the onboarding process. If they can see that your process only has around 4 - 6 easy-to-digest steps then they are more likely to give it their full attention.




3. One screen per function or benefit
A general rule of thumb during onboarding is to stick to one single screen that demonstrates just one key functionality or benefit. This makes the information much more easily absorbed for the user. You can see below how AirBnB does this successfully in their 4 screen user onboarding process.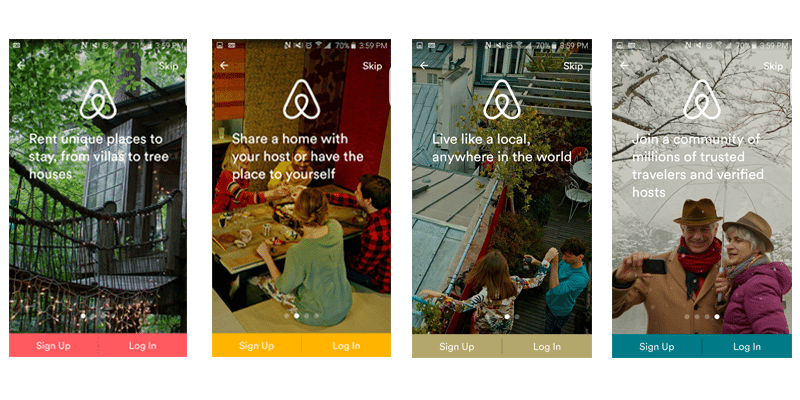 Example - AirBnB Onboarding Process
4. Make the sign-up process easy

The sign-up process should always be simple, fast and easy. In fact, having a complicated registration process can result in 68% of users to immediately uninstall your app before they've even given it a chance. Where possible, give the user the opportunity to sign up with their existing social media account. This makes it no more than a two-step process and gives the user an added sense of trust and security.



5. Don't ask for too much information
In order to function to the best of its ability, many apps require a certain amount of data and access to various permissions. To gain access to this data your user will have to grant this through the use of permission requests. However, asking for too much, too early will likely only cause the user to uninstall your app. Think about what is the essential information, and make sure you explain to the user why exactly you are asking for access to these particular areas. 82% of users agree that they need clear reasons behind an apps' permission requests. If you can show them the added value they will receive from agreeing it is likely to boost your opt-in rate. Save the less necessary permission requests for a time when your user is more engaged with your app.
Conclusion
You get just one opportunity to impress a new user. They'll either get it straight away, or they won't. Whether they do or whether they don't is down to you and the onboarding experience you provide. Do this correctly and you'll find yourself with users who are still using your app weeks, months, and maybe even years later. With loyal users you'll achieve the desired snowball effect as they'll be the ones to talk about your app to their friends, family and wider social network.


To learn more about mobile app onboarding and the various other marketing techniques that you can use to grow your app user base and retain loyal app users then check out
The Ultimate Guide to Mobile App Marketing. I'd love to hear from you so feel free to reach out to me directly via emma@hurree.co if you have any questions, or you can leave a comment below.