Mobile app analytics presents marketers with user engagement metrics, for example, length of in-app sessions, the number of active users and retention. By using the right metrics, you can understand the impact app changes make, for example, the price of the app.


Here are 6 tips for getting the most from your app analytics...


1. Use A/B Testing


As human beings, we're naturally wired to try and find the best outcome. A/B testing is an invaluable tool to help achieve this aim.
A/B testing allows you to compare two versions of
something with the outcome of establishing which performs better. It is an experiment or test where two variations of content are shown to users at random, and statistical analysis is used to determine which variation performs better for a given conversion goal. The
secret about A/B testing
is that while many people talk about it, most forget about it. Don't just talk about it, DO IT! Give your app an advantage over your competitors.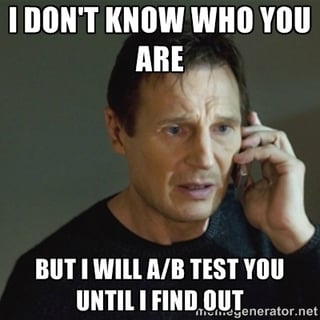 2. Segment Users


No user is the same, so why treat them as they are? So many marketers forget that behind the app downloads are human users. Segmentation is, therefore, vital to improving your app marketing. User segmentation is simply a way of
arranging your users into smaller groups
according to type similarities. If you segment the app users trends in their behaviour will appear and you will be able to identify how each group of app users behave.
Segmenting your users into groups can be very useful when creating targeted marketing campaigns.
We can segment users based on many things such as:
Language

Location

App Interaction

Device

Relationship Status
Segmentation also helps us improve your engagement. For example, you can launch campaigns targeting users who have got engaged by segmenting due to relationship status.

3. Set Clear Goals

Think about the overall purpose of your app. It is important to set clear goals, to give you a focal point when using app analytics. When defining these goals make sure they are SMART - Specific, Measurable, Achievable, Relevant & Timely. Designing your goals using Dave Chaffey's SMART goal technique will ensure that you can define what success looks like for you, allowing you to know what needs to be improved upon the next time. An example of a SMART goal would be a 10% increase in 30-Day Active Users by the end of February.

4. Define The Most Appropriate Metrics For Your App

As mentioned before, no app is the same, therefore not every metric is applicable for you to measure. But how can you discover the most suitable metrics? Take a look back to the goals you set. By clearly defining the goals you wish the achieve, you can now make strategic decisions on the appropriate metrics to be measured for your app. A starting point of key metrics to monitor that would be applicable for most apps would be:
New users signing up

Users consuming content

Users interacting with content


5. Don't Ignore Your Competitors

Learn from your competitors! As marketers we are constantly doing experiments and tests, so why do all the hard work when it has already been done for you? Why waste a great deal of time or effort in creating something that already exists. By paying attention to your competitors you can see what works for them and what doesn't and adapt their ideas to suit you.




6. Don't Forget To Evaluate Results

You have gathered up all this great data about your app but what do you do with it? This data is a vital insight into your user's likes, dislikes and much much more. This is gold dust that can inform your app marketing strategies, new and existing in-app features and even insight into the in-app user experience. Monitoring your app using app analytics is, therefore, a must. By evaluating your app analytics results, you can see what worked, what didn't, and the all-important 'why'! Mobile app analytics can show you or help you interpret the reason why.

Points to remember:
Set clear goals before you begin using app analytics tools. Be sure to figure out what you want to get out of the process.


Segmenting users by their in-app behaviour allows you to personalise messaging based on the amount of interaction with the app or even their purchases.


App analytics are much more than just finding out what your users are doing in-app.



Actually use the data you have collected to your advantage. Don't just forget about it.
For more information on app analytics check out our guide A Beginner's Guide Mobile App Analytics or contact us directly via contact@hurree.co.