So iOS 10 has finally been released to the public and according to Apple is the biggest release of iOS ever! A whole host of new features can be yours after just a few taps and a bit of patience while it upgrades (it'll be a long few minutes wait, I know).

But how does iOS10 help marketers and how do these new features impact your day to day mobile marketing? This iOS push notification tutorial will walk you through the best practices to make sure of user engagement.
Messaging
Of course, you have probably heard that the main "big-ticket" feature of iOS 10 is the complete revamp of Messages, allowing you to dress up your messages with a wide range of different, funny GIFs, stickers, and effects. The new features also include being able to send handwritten notes and 'invisible ink' messages that are only revealed if swiped by the recipient, putting iMessages back up there with the likes of WhatsApp, Snapchat and Facebook Messenger.
All this added functionality to messages gives mobile marketers the opportunity to give their SMS marketing more of a personal touch and add a bit of humour through the wide range of GIFs available, which is always a great way to increase engagement and improve your push notifications.


Replace Outdated Push Notifications
This new feature is particularly useful for apps that provide breaking news or regularly push out up-to-the-minute information via notifications such as news, airline or weather apps. Instead of notification after notification stacking up on a user's lock screen, iOS 10 allows old notifications to be replaced with a new one.
Matthew Panzarino, TechCrunch, describes it like this:


"Imagine a sports app, like MLB At Bat, which delivers play-by-play information or scores. When you come back to your phone after being away, instead of a long list of outdated scores and game info, you only get the latest happenings."


This a great way for apps to provide their users with the most relevant and up-to-date information whilst avoiding plaguing them with notifications, which can ultimately lead to frustration with and deletion of the app. As instead of sending yet another push notification they can simply update the previous one.
Rich Notifications
iOS 10 allows you to deliver significantly more engaging content directly to your users and improve your push notifications. Gone are the days when push notifications were just pieces of well thought out text. Now you can send images, GIFs and videos directly to your user, providing a strong visual incentive for them to interact and engage with your app. The use of imagery is more likely to grab the attention of your user and often do a better job than words at trying to get something across.


Related content: Video -The Best Practices for Push Notification Permissions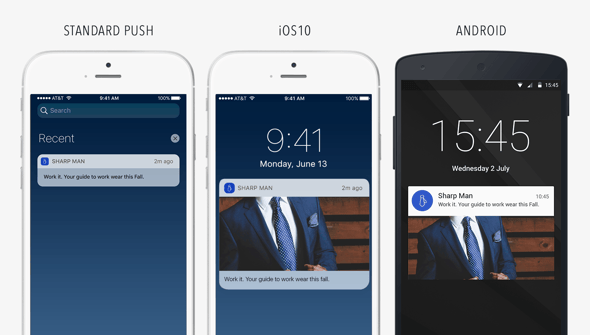 New Unlock Feature
Although subtle, the changes in how users unlock their devices has the potential to deliver strong increases in engagement for marketers. For iPhone 6s and 6s Plus users in iOS 9, the unlocking mechanism was so quick that users often bypassed the lock screen and went directly to their Home screen, missing out on any notifications that may have been sitting there unread. However, in iOS 10, users must press the Home button and authenticate via Touch ID (or a code), keeping the lock screen in view for a tiny bit longer, giving lock screen notifications a fighting chance for engagement.


For more information on how you can improve your push notifications feel free to contact me directly via emma@hurree.co or download our free guide The Marketers Guide to Creating App Engagement below.