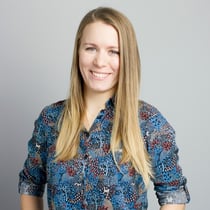 As part of our blog series on mobile user experience we spoke to Designer and UX Guru, Karolina Chmiel.
Karolina is a firm believer in following design processes and methodologies; she always strives to deliver the best designs and immersive user experiences. Karolina graduated from the Product Design Department at the Academy of Fine Arts. She's been a lecturer on Interaction Design at the Polish-Japanese Institute of Information Technology in Warsaw.


Keep reading to learn some of Karolina's top tips for designing, evaluating and improving the overall user experience, as well as the challenges she faces as a UX designer.

1. Based on projects that you have completed in the past - are there any pieces of key advice that you would give to others?

I would say that communication and empathy is the best problem-solver. When a project brings together people from different fields and backgrounds it's often difficult to apply a certain method or use one universal tool. However, if you put yourself in someone's shoes and you're open to a conversation it will give positive results.
2. From your perspective, what are the notable differences between web and mobile when it comes to UX?
That's a huge topic. In general we can say that today, with the Responsive Web Design (RWD) and "mobile first approach" the line seems to be blurred. But it's not quite right.
When we work on web only, we design for a static situation, more likely a home setup. Mobile forces designers to think about the whole app environment, its context and changing landscape is especially important when it comes to security and privacy while displaying sensitive content, for example in fin-tech apps.
I would say the difference is the information architecture—how do you distribute information across screens and how do users navigate. A shopping app like eBay is a good example here. On the mobile app more information is accessible after the interaction and not directly via the main screen.
Of course navigating and manipulating with gestures allows for different interactions than with a mouse or a touchpad.


3. Are there any good resources that you would recommend for people designing their UX process?
When it comes to good (and free) tools, I recommend Digital Innovation Lab by Ustwo, Lean Service Creation by Futurice, Platform Design Toolkit, UX Design Methods & Deliverables by UXdesign.cc.
4. How do you go about evaluating an existing product to improve the UX?
Evaluation is certainly a very powerful tool to upgrade a product's quality. Usually we start a cooperation with a client with the Heuristic evaluation and expert analysis of their existing app in the context of usability, visuals or the overall UX. It often happens that our clients who only want our engineering services at first, change their mind after we evaluate their product and show how it can be improved.
You need the evaluation stage to learn why the product doesn't function as expected, to improve it or to learn if there is a chance to improve the product without labor input and to increase user satisfaction.
5. Within a project, who are the key people outside of your team that need to be involved?
In my experience, teams have always included designers, programmers, testers and PMs. So, apart from that anyone who can influence the project can contribute. Sometimes even the client is not sure who should be included in the team, as they are not aware of how different roles in the organization can influence the project. At the beginning, during workshops, we always try to conduct a "stakeholders map" exercise to learn about different roles and their connections.
6. Do you have any tips when it comes to keeping the peace between these different departments on differing ideas about the product direction?
It's crucial to always set one person on the client's site who is responsible for communication and final decision making.
Often, when we cooperate with a corporation and large structures, different people from different departments want to make decisions and change product development directions independently. Certainly many people's points of view have to be included, but the rule must be clear and firm: one point of decision and contact at the end.
8. What are some of the biggest challenges you face as a UX designer?
Clients often don't want to invest time in user testing. Without the users, the right and positive UX can't really happen.. It's crucial to make a client understand that user testing is an investment and doesn't have to take lot of extra time. It's always better to have some insights on one's product, than none.
9. What are your favourite apps for UX? Explain why.
Revolut is an app that I use very often while traveling. I really appreciate their no-fee option. The idea works great with other travellers: easy currency converter and the option to share fares with friends.
App itself is intuitive and easy to use— the structure is very native for iOS but with a nice look and feel. I enjoy all the micro-interactions and real-time graphs animations.
The app is very complex when it comes to reviewing history and analytics – there are many categories and filters.
On the other hand, it's easy to use when it comes to switching between the multi-values.
We'd like to thank Karolina for her time and expertise in answering these questions. For more information on UX you might be interested in checking out our guide: Guide To Mobile Experience From The Experts