App stores are continually growing year on year with the app economy expected to reach £4.69 trillion by 2021. Yes, you read that right! However, even with a massive growth, an average of 71% of all app users churn within 90 days. However, there are things you can do to help reduce your app churn rate.


One very effective method is personalisation.
Sending the same, boring, un-personalised message to all of your users just isn't enough. You need to get to know your users, from their interests, likes and dislikes to where they live and more. Powered with this information, you can send them the most relevant, timely and valuable messages possible.

But can you be too personal? We asked that exact question to a number of industry experts, and in this blog we discuss how to get personal with your users without being intrusive.
When asked the question "can you be too personal?" CEO of Apptutive Carissa Lintao said this:

"I don't think there's such a thing as too personal. There is, however, a difference between personal and intrusive. Personalisation is tailoring every touchpoint to best suit the end user. Intrusive is taking advantage of data and technology to only benefit your business at the user's cost." Carissa Lintao, Apptuitive

She was not the only expert to think that. After speaking to the industry expects there were 5 key ways you can ensure that your personalisation is spot on and effective.
Get The Timing Right
"It's not only personali

s

ation. It's relevance and timing. If the experience is personal and well-timed and relevant it can't be overdone." Mark Haslam, Loud Mouth Media Ltd
The right timing is essential! An intrusive app is no help to anyone! As Mark has mentioned above, timing is of huge importance. Nobody wants a sent notification in the middle of the night reminding them that they havent hit their daily steps goal or to be informed that a new level of Sudoku has been unlocked for them. Taking into consideration the time zone that your users are in will eliminate this potentially negative mobile experience.

Put Yourself In Their Shoes
Think about it personally. Put yourself in the shoes of your target audience or current users. If you wouldn't like it then chances are neither will your users. Use your common sense!
" … How would you feel if a family member had been targeted with an ad or campaign that you're about to launch? If you'd feel uncomfortable then you've probably strayed into the "too personal" realm." Ross Brown, Brown Bear Marketing
Tell Users What You Need
"The app user definitely needs to know what kind of personal information you capture and process, so he/she isn't surprised when you reach out to them with a personalised message or push notification. Of course, it's better to have timely and relevant personalised messages that add value to the user and help them reach the goal of the app." Tigran Hakobyan, Inapptics

It is important to tell your user what personal information you need to know.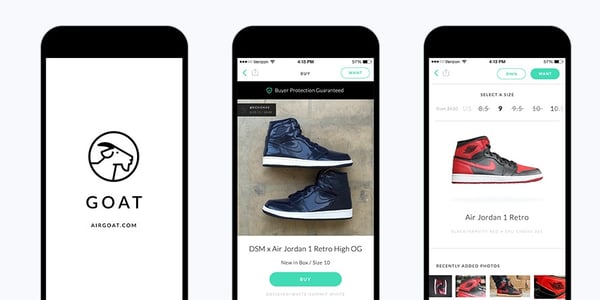 Image Credit: Adweek
GOAT are a great example of an app that has got their personalisation on point. They wanted to create a personal experience for their app users. They have gone further than just putting their users' names on push notifications. They have taken it to the next level. Their users have the power, and by this I mean they let their users create a wish list of trainers they want, along with the amount they are willing to pay for them. This is vital information! It allows the app to notify the user when that trainer that they liked is for sale or when it is within a 5% range of what the user wants to pay for it. GOAT asks their users to create a wish list of trainers, along with the amount they are willing to pay for them. This means the users will not feel exposed as they have given this information in the first place.
The More Personali

s

ation The Better

"In terms of understanding the customer the more personal the better. We are very careful with guarding user data, so we don't share it with 3rd parties, especially since we don't do any advertising on our site. But the more we know a customer the better we understand his/her needs and we are able to serve them better (content, flow, experience)."
Adrian Gradinaru, Sailo
The more we know the easier it is to develop and inform our user profiles and user personas. Therefore, we can't know too much about our users. User profiles and personas, if informed correctly, will allow marketers to segment and target their potential user with more relevant content because if you're speaking to everyone, you're speaking to no one.

"It's more about your target audience, you have to be personal in content and timing to achieve better results. If something is not according to a users mindset then it's very hard to retain them. For example, you should give a user more options to personalise the product for themselves." Ameer Haider, Novatore Solutions

As Ameer has mentioned the more personal you can be the better the results. For example, LeanPlum conducted a study and found that personalised push notifications had a 4 times higher open rate compared to generic ones. If in doubt personalise.

Be GDPR Aware
Personal information is available and easily collected. GDPR was implemented on 25th of May 2018 in an attempt to clean up the standards around how organisations collect, store and dispose of consumer data. Therefore, it is essential to be compliant.

"...users want reassurance that their sensitive information is protected, especially with GDPR merely weeks away and discussions around data-privacy reaching a peak. At the same time, they are happy to give data when there is a clear value exchange, and they are aware of what data companies have … which means personalisation in advertising will definitely go through a major shift that could affect how the bigger players approach personalisation." Megan Dean, Yodel Mobile

Recommended Reading: General Data Protection Regulation (GDPR) for Marketers

Key Takeaways:
Personalisation is all about timing!

T

he more personal you can be the better the results.

Be sure to be GDPR compliant.
When you have your personalisation on point you are likely to be on the road to success. However, be sure to note that even though personalising content can get better results, always be sure to step back and think. I
f what you are about to send would make you feel uncomfortable then you've probably been a little "too personal". Put yourself in their shoes just for a moment.. With a 4x higher open rate for personalised push notifications compared to generic ones you would be mad not to, however, it is vital to get it just right.
For more information on personali

s

ation you might be interested in checking out our guide 'A Guide To Mobile Experience From The Experts'. We'd love to hear from you if you have anything to add or any questions, so feel free to leave a comment or reach out to us directly via contact@hurree.co.