When implemented correctly, push notifications play a huge role in app user retention and app user engagement.

Note: When implemented CORRECTLY
On the flip side, there are many apps out there who get their push notification strategy wrong. How do they do this? Well by simply sending too many notifications and irritating their user, or sending completely irrelevant content to an uninterested user due to a lack of personalisation and segmentation.


That being said, there are definitely many apps that do get their push notifications strategy right. So I wanted to provide you with some inspiration by sharing with you a few mobile app marketing strategies that are great examples of different tactics to increase their app user engagement...

MyFitnessPal


MyFitnessPal has been clever here by using reverse psychology to grab their users attention. This notification is likely to give users a kick up the bum who haven't been using the app as much as they initially intended to. And even if the message doesn't result in the user using the app again straight away, the app won't be irritating the user every day with notifications, so they are less likely to delete the app, therefore, leaving them open for re-engagement in the future.

Abercrombie


Abercrombie doesn't give everything away with this push notification but instead appeals to our curious nature. This message is likely to have resulted in a much higher open rate simply because people are so damn nosey. And also, who doesn't like surprises? 🙄

Google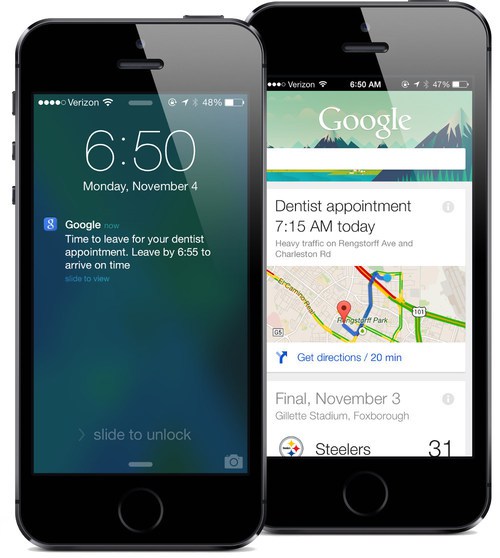 Personalised, relevant, timely and valuable. What more could you ask for in a push notification? Google really did hit the nail on the head with this one, taking into account the user's event, location and current traffic. I can't see why anyone would want to delete this app or turn off the notifications. 10/10 Google! 👍🏼🙌🏼

TripAdvisor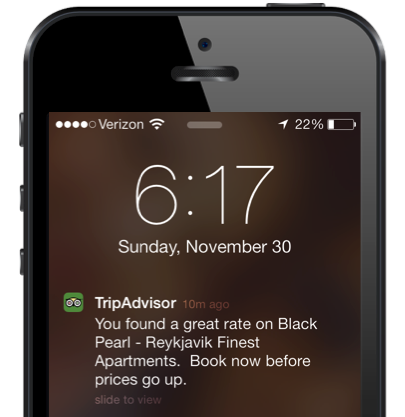 TripAdvisor uses a good personalisation strategy by taking into account their users' previous app activity and sending them a valuable notification based on that. Users appreciate a message that is personal just to them. In fact, Leanplum found that personalisation can increase open rates by a whopping 800%.

8tracks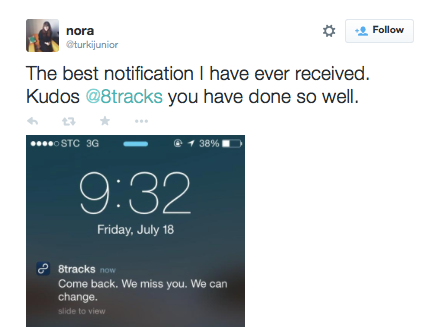 Not many apps can get away with using humour but 8tracks have done this perfectly and it hasn't gone unnoticed. It's short, punchy and gives you a laugh as it's like you've just broken up with your partner and they are messaging you wanting you back. A notification like this grabs the user's' attention for all the right reasons.

H&M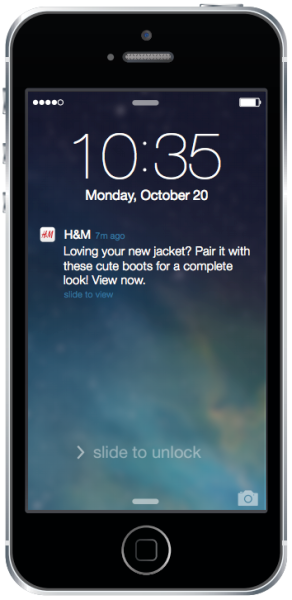 H&M know what they're doing. By using personalised recommendations based on the user's past purchases, it's like having your own personal stylist right in your pocket. This is a notification I would definitely find hard to resist! 🙄🙈

Simon Circles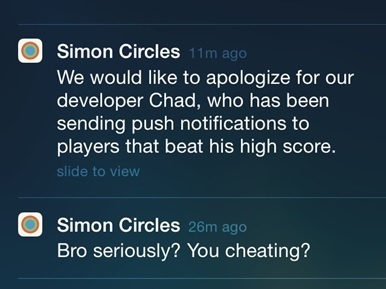 This is another great example of how humour can be so effective. Simon Circles app sent out an apology for the first notification blaming it all on one of their developers called Chad that couldn't deal with users beating his high score. Chances are this was cleverly thought out by a genius marketer and not actually a mistake from an angry employee. Either way, it was hilarious, it worked and it got users talking about the app on Reddit.


To find out more about how you can create great app user engagement like these apps feel free to download The Ultimate Guide to Mobile App Marketing here. You can also contact me directly via emma@hurree.co.