App marketing strategies play a huge role in app user retention and app user engagement so it's important to get this right. In my previous blog post we looked at some great examples of push notifications, so today I thought I would share with you what NOT to do when planning your push notification strategy.
Gilt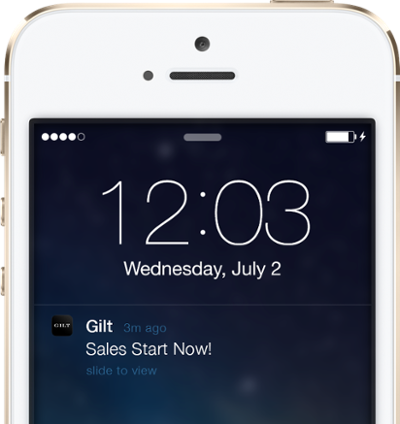 Gilt is an online fashion retailer that provides designer labels at a lower price. There are sales all the time, so this is by no means a revolutionary piece of information for the app user and provides little to no incentive for the user to actually open the app and have a browse.
What this notification needs is a little bit of personalisation. I could put money on the fact that if Gilt were to be a bit more attentive to their user's browsing habit and send a more tailored notification based on that information they would definitely see a higher open rate.
Groupon




This notification from Groupon is a prime example of personalisation gone wrong. This can be avoided by using the right platform. But hey, at least they tried and gave Philip a good laugh by the looks of things.
Uber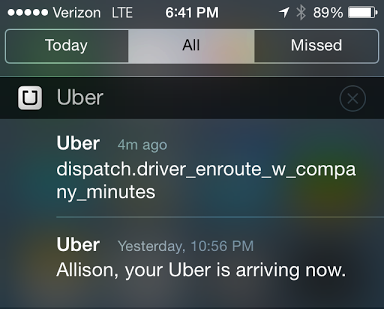 Uber's initial push notification to Allison pushed all the right buttons. Extremely relevant, personalised and timely. However, the next day Allison received a push with exposed coding which comes across as completely sloppy and is likely to damage the user experience and hurt the brand's reputation. Such mistakes can be avoided with the use of a push platform that is marketing team friendly and does all the heavy lifting for you.
LinkedIn






LinkedIn has over 722 million professionals on its network. Despite this, they have never really paid much attention to their app. I'm sure most LinkedIn members can agree that most of the focus goes into the desktop experience. This lack of attention shows in their push notification efforts also. Push notifications should add value and give users an incentive to swipe it.
This message is so dull and vague it simply defines what their company does. It would be much more useful for users if more relevant, targeted messages such as when someone in their network has a new job, posts an article or endorses them for a skill was pushed out in the message.
Tamagotchi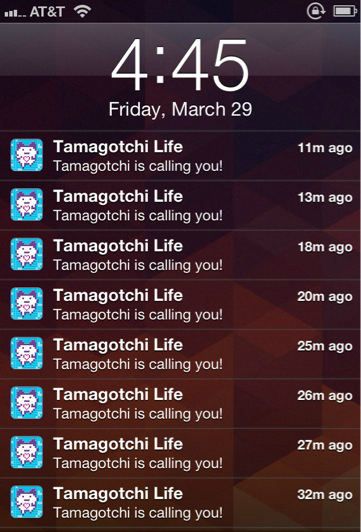 Now, this example brought back some memories. Back in the day, as a 9 year old girl, I was fully committed to looking after my pet Tamagotchi. In fact, I was so committed I didn't mind the constant nagging from the little egg shaped device in my pocket. However, that was before the kids of today owned a smartphone and could download 50 games at once. Don't get me wrong, it's great that Tamagotchi have reinvented themselves in app form, but this amount of notifications with about 3 minutes in between is not OK. What on earth could a digital pet want that often anyway? Even I don't require that much attention!
My Pet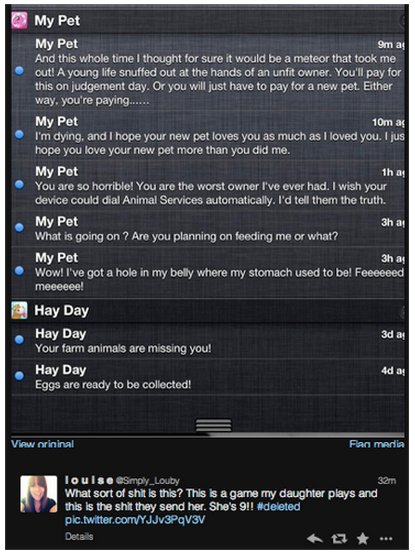 Considering the likely age group of this game's users, these notifications are completely inappropriate and a one-way ticket to getting deleted forever. In the example above we can see the reaction of the mother of the 9 year old girl who played the game, and it's exactly how you'd expect any parent to react to their child receiving such messages. It's essential that app marketers know their target audience before dabbling with any sort of humour, never mind this kind of twisted stuff.

CNN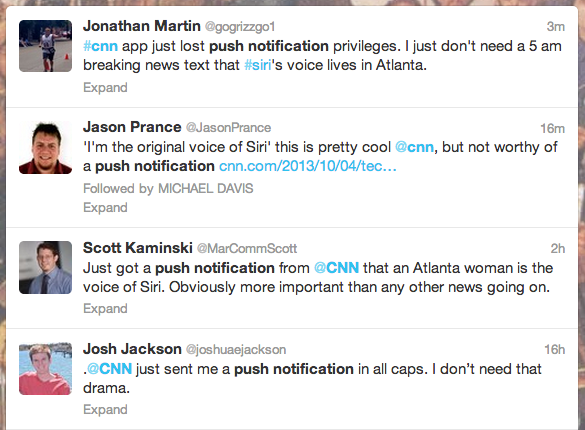 Not only did CNN send out a push notification completely unworthy of breaking news, they sent it out at 5:00 in the morning. I don't know about you but I personally wouldn't appreciate this unimportant information waking me up at stupid O'clock. To be fair, I probably would click on this news article if I came across it whilst using the app, (mainly because I'm nosey) but it's definitely not push notification worthy. This is the sort of stuff that would result in users silencing their phones, opting out of your push notification alerts, or worse, deleting the app altogether.
Are you struggling to integrate data from your marketing tools? Book a free demo here to see how Hurree's data unification and segmentation platform can help your business. Feel free to get in touch via emma@hurree.co with any questions or comments you may have 💌 It's time to get your tools talking and we can help you do it!