User segmentation can be a real pain however, it is extremely important in the app marketing process!
The general aim for most marketers is to have tidy groups of users all ready and waiting for tailored messages... Simple right?
You would be surprised at how many brands get this wrong.
The biggest hurdle is usually understanding the best way to go about it. Just like baking a cake, there is more than one way to do it, you just need to work out what way works best for your app.
What is User Segmentation?
Simply put, user segmentation involves
arranging your users into smaller groups
according to their similarities. Segmentation does not need to be complicated. For example, if you are a small one man band app you might want to start off with smaller groups that highlight two or three clear categories of user types, all with different needs.
These are your user segments.
The segments should show similarities in certain areas that have meaning to your app but also allow you to communicate to the masses but in a much more tailored, personal way.
Because of this grouping of similarities, segmentation can add intelligence to your user profiles.
Segmenting New Prospects
Knowing how your users tick goes a long way. Your job is to be the guru of all things user personalised. And communication is core to that. By reaching out to existing users in a more personalised way you can drastically improve both your user retention and user engagement.
But what about your new prospects? How do you go about identifying potential new users and segmenting them?
For an app to succeed finding new users is vital. Firstly, you need to establish whether there is a market for your products and services… that is a given, and let's face it, this should of been done at the start of the marketing strategy process… heck the beginning of your entire app journey!
Let's assume that has already been completed.
Next, you need to identify the type of people that would make your ideal users. These users could be based on existing user profiles. Or perhaps you are branching out into a new area and need to identify clearly who you are targeting next.
Paint that picture. 🎨
Tell that story. 📖
Who are these people within that segment? The key is to draw a picture of the individuals that represent the type of person you are aiming at. These are your user personas.
If you take two different types of user segments and throw in a bit of market research, you will find that they have very different needs, wants, values and opinions. This research will help you build a fictional user persona which will be very useful for you when creating targeted content.
User personas take user segments to a higher level, creating a typical 'fictional' user within that segment, by adding their personality and values to it.
When the targeting and personalisation of your campaign for each segment is on point it can see an increase conversion rates by 200%.
Demographic Segmentation
Are they American, are they Irish or are they Spanish? Yup, it is simple but man is it effective. By sending a notification about the latest items on sale personalised for each demographic, whether that be language or trends in the area, you are showing how well you know the user personally.
Too many brands wait until the point of transaction to turn anonymous users into known users or rely on inaccurate third-party data for demographic insights. Collecting basic information at the time the app is downloaded can go a long way in developing user relationships and allows you to segment your user base more effectively.
Social Data Segmentation



Social networks can give you a wealth of user information.
By allowing your app users to verify who they are using their social accounts you are removing a barrier and making it easier for them to enjoy your app faster. Even better - when given permission, your brand can have access to specific social data points (such as groups that the user has liked or content that they engage with regularly) allowing you to segment your users more strategically.
Behavioural Segmentation



A picture speaks louder than words, as does actions … and demographics. 😉
Successfully segmenting users based on their in-app behaviours allows you to personalise based on the stage they are at within your user lifecycle.



9 Simple Ways To Add User Segmentation To Your
App Marketing
1. Gender



It may seem obvious, but keeping gender in mind when segmenting users can have a significant impact on results and save you from wasting time and money. There is no point sending a push notification to a male user about the latest bikini range (forgive the stereotyping), if like Borat you are into wearing man-kinis then good on you!
2. Birthday



Let's be honest, who doesn't like to be remembered on their birthday? A great example of a brand that personalises user experience with birthdays is Krispy Kreme. They keep tabs on each user's birthday and send them a voucher via the app to show in store for their free birthday doughnut.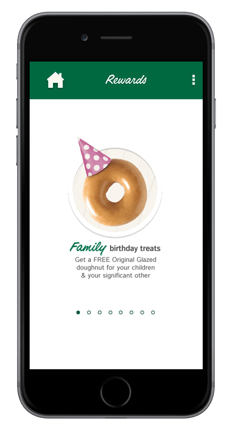 This is a great idea and one that can easily be replicated by using segmentation. Perhaps you segment your users by birth month. This is where you can send them a birthday treat at the start of the month via your app to help them feel special!
3. Language



Speak their language. Catering for different languages is a niche you want to get into. While this may seem quite advanced, it most definitely has its rewards. Speaking the user's preferred language gives your brand the edge that you are in fact speaking directly to that user. Segmenting by language type can also give you interesting statistics on your global marketing and allow you to understand exactly how different cultures interact with your app.
4. Location

Three letters… G.P.S. With GPS included in most modern smartphones you are now able to influence app users real-time decisions by reaching them on-the-go. You can cleverly segment users by hometowns or cities allowing you to send a push notification with special discounts. These discounts can only be redeemed at the store location in their hometown, drawing your users closer to you not only online but in person.
5. Interaction

Interaction is key. Users that actively and consistently engage with your app already show signs of loyalty to your brand. Make sure that the users within the highly engaged segments are the ones that get the highly personalised and relevant content that will help keep them coming back.
For this personalised or highly relevant content, you might want to consider some type of reward that the most engaged users can redeem as a simple "Thank-you!" (and if that tip isn't enough it might be worth noting that 84% of users prefer apps with rewards).

6. Abandoning a Purchase

This is another great user segment. We have all put something in an app shopping cart at one stage or another and realised that the bank balance won't stretch to this purchase. 🤦🏼‍♀️
Though, instead of clearing the cart, we leave it there until pay day. Why not use this as a little pick me up for your users and help them (and their bank balance) out by sending a discount closer to payday to remind them that you still care?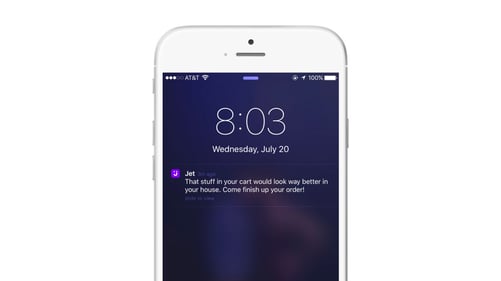 Above you can see a perfect example of Jet tailoring outreach based on the users in-app behaviour.
7. Past Purchases
This is not a segment you want to forget about. So they have made a purchase, but you don't want the relationship to stop there do you? Did you know that it is six to seven times more expensive to attract a new user than to retain an existing one? Why not try strengthening this relationship further by sending your existing user base personalised suggestions or exclusive discounts? You can even go further than this and segment existing users, based on frequency, number and volume of purchases
8. Interests



Nobody wants to be marketed to about something they are not interested in. Segmenting your users by their favourite sports, TV shows, brands and foods can enable you to send highly relevant and influential messaging. For example, a clothing brand may find out that a lot of their users are rugby fans. It would be useful for these rugby fans to know about the new sports range that they have partnered with incase that is something of relevance to them. At this point a quick push notification might be exactly what these fans need to get them interested enough to click through and find out more.
9. Relationship Status
Relationships signify stages of life that can be used to reach the right audience with the right message at the right time. For example, on Facebook, the minute a user changes their relationship status to "engaged," their timeline is flooded with wedding dresses and engagement rings. This knowledge can be a great asset to your marketing strategy.
Points to remember:
Using different demographics to segment users can be as simple as their gender or the language that they speak. You are basically gathering groups of users with the same characteristics together.


Segmenting users by their in-app behaviour allows you to personalise messaging based on the amount of interaction with the app or even their purchases.


Social segmentation allows you to group user profiles by things like groups that the user has liked or content that they engage with regularly i.e stuff that interests them.
As mentioned before there is more than one way to user segment; the main thing to remember is to work out what is best for your app.


For more information on user profiling check out our guide 'How to Profile Your App Users' or you can contact me directly via hannah@hurree.co.