If you have an app, the chances are, you want to send out push notifications to your users to keep them active and engaged. Provided they have opted-in, the world really is your oyster in terms of the content you can send them. However, although a push notification campaign has the ability to boost retention rates by up to 180%, it also has the potential to do exact opposite too.
Taking just 2 minutes to write a spammy message to send to your entire user base is not going to give you the engagement and conversion rates you are after. No high performing push campaign happens this simple. So let's take a look at 5 things that make up a great push notification campaign...

1. Great Content

The idea of a push notification is to capture the attention of the user and result in them taking the desired action within your app. If the content of your messaging isn't up to standard then it's unlikely that you will achieve any decent results. Your content should be short and simple but also effective. Anything lengthy or complex will be immediately dismissed so try to avoid writing too much. For some brands, humour can work quite well.
Creativity goes a long way too. Try out the use of images, GIFs and emojis. You could find that these perform much better for your audience than plain text.

2. Great Segmentation

Great content requires great segmentation. Without segmentation it's unlikely that your messaging is going to be of huge value and relevance to your users. 78% of users say they would immediately delete an app or disable its notifications if they weren't of value, so this is pretty important to get right.
You can start off by making use of the basic demographic information your user may have provided to you when they first downloaded your app. This includes the likes of their name, age, gender, location, likes and dislikes. As time progresses, and with the help of an analytics tools, you can pick up on various individual in-app behaviours that you may be able to use to take your segmentation to the next level. This example below from Netflix shows how an app can use in-app behaviour to learn exactly what sort of content their user would react well to. It is likely that this notification was sent out to all users who watched Season 1 of House of Cards.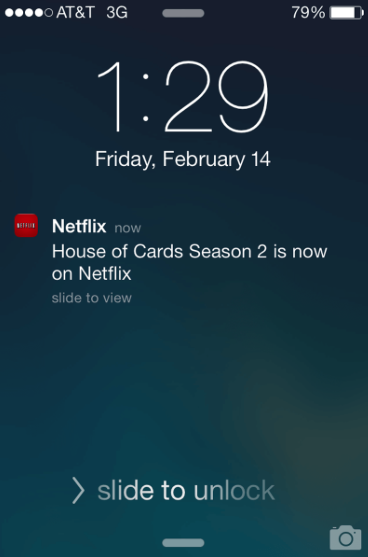 Segmentation based on your users current stage of the customer lifecycle is also pretty essential for your marketing efforts. Some of your users may be new and just getting to grips with the app, so you might send them something like this…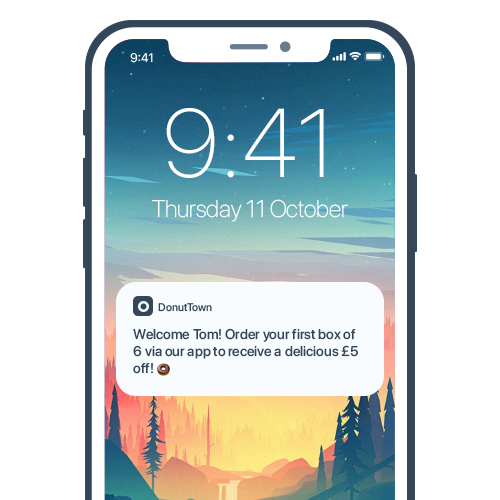 A fashion app with regular female users who frequently purchase heels could find this pretty effective...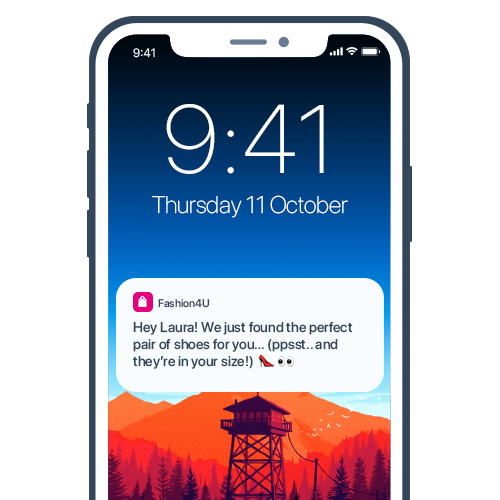 Then for the dormant users who you wish to re-engage, you might try something like this…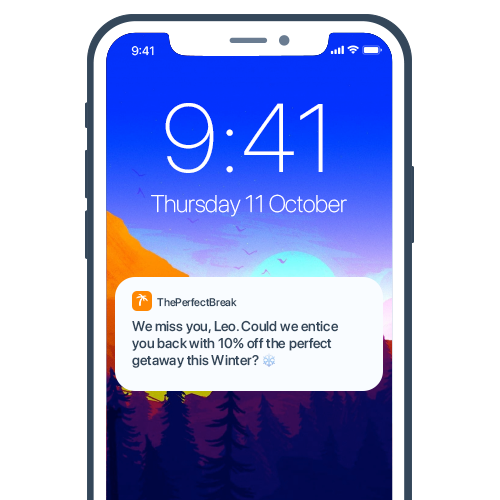 3. Great Timing



Timing works differently depending on the nature of your app. If you're a news app and your users have agreed to your push notifications on the basis that you will supply them with all the latest breaking news in there area, no matter what the time of day, then you better give that to them. For most other apps, it can generally wait until the morning so as not to disturb your user from their sleep. This is why it's necessary to take different time zones into consideration too.

Another thing, you can't just assume that everyone works Monday - Friday, 9 - 5, and base your messaging around this. Make use of your analytics tool to factor in the average times of the day and week each individual user has shown to be most active and engaged with your app. These are then your prime times to reach out to that user and have them take a specific action from that notification. In fact, customizing delivery time based on user behaviour has seen huge conversion uplifts of 384%.

4. Great Testing

With A/B testing you can figure out what works well for a particular segment of app users, and what doesn't. It gives you the opportunity to send two slightly different versions of the same notification to a smaller pool of users. It will then determine which of these versions performed the best and send this to the larger, remaining group of users. Often the most minor changes can have the most surprisingly results. Try out different tones of voice, the use of emojis and humour, one sentence or three, etc. This will help you discover the types of notifications that result in the best open and click-through rate for your audience.

Just don't test a hundred things all at once. Try to keep it limited to one variation per test. That way you can easily identify the indicator that caused the change in results.


5. Great Promotions

There is nothing most users like more than a bit of discount. And what better way to let someone who's not currently active in your app know about a promotion than with a push notification? Giving your users a flash 24 hour discount code on your products is an ideal way of boosting your profits during a lull period. Offering a discount or free trial to a new user is also a great way to encourage them to take the leap from browsing on your app to actually purchasing on it.
Did you know that 7 out of 10 carts are abandoned on mobile? With a promotion you can help reduce this abandonment in retail apps. Reach out to your users and let them know they still have some items left in their basket but that you want to give them 10% off to complete their order now. This could be exactly the sort of gentle nudge an undecided user needs to complete the transaction.

And don't forget about your loyal users either! Be sure to reward them for their loyalty with a special offer which will help you continue to hold onto them.


To learn more about the various other marketing techniques that you can use to grow your app user base and retain loyal app users, check out The Ultimate Guide to Mobile App Marketing. I'd love to hear from you so feel free to reach out to me directly via emma@hurree.co if you have any questions, or you can leave a comment below.