9 Tips When Choosing Your App Store Screenshots
5 min read
Dec 13, 2016
When it comes to convincing potential users whether to download or purchase your app, your app store screenshots may be your most powerful tool at this moment in time. In fact, according to the National Center for Biotechnology Information, the average attention span of a human dropped down to an embarrassing 8 seconds in 2013. This is made even worse when you remember that goldfish have an attention span of 9 seconds…that's one second more than you and me… 🙈



Right, but what does this have to do with app store screenshots?

Well, this gives app marketers and developers a time frame of 8 seconds to capture their audience's attention, and chances are, your app store description takes longer than that to read. So that's where your app store screenshots come in. This provides you with the opportunity to capture your audience in a split second, and communicate clearly what your app does by simply looking at a few well designed and thought out screenshots.
In addition to this, your screenshots take main stage when it comes to app search for both iOS and Android apps. This is what your potential user sees before any other details when they start their search for a particular app. First impressions count. So your screenshots need to be able to raise enough interest to get the viewer to click, scroll and ultimately download your app.



9 Tips When Selecting Your App Store Screenshots
1. Don't select randomly
Your app store screenshots should not be selected randomly. The most important thing your screenshots need to do is explain what your app does without overwhelming the user with too much information. You have a total of five images to do this, your first one being the most important, so choose carefully!


2. Be creative



Don't just take a screenshot of your app and upload it straight to your app store page. Give your image that something extra... use a nice colour scheme, add some text or graphics. There are hundreds, maybe even thousands of apps similar to yours so you need to make sure yours is going to get noticed. Just make sure not to go overboard and keep all text short, snappy and relevant. See how Paper app got creative with their screenshots below.





3. Zoom in on key elements of the screenshot
Sometimes, screenshots can be difficult to read, and most visitors won't take the time to open full-screen and zoom in on a specific section to figure out important app features. Do the hard work for them and show them what it is you want them to pay attention to (see example below).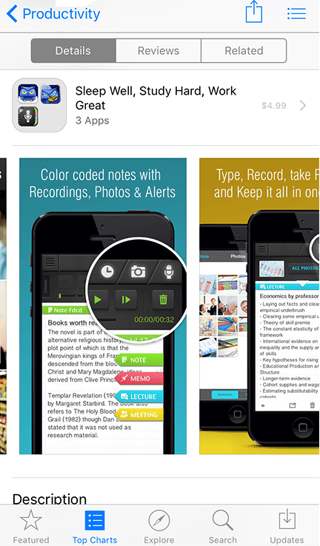 4. Connect your screenshots
This might not work for everyone but it could be something worth testing. Splitting one image over multiple screenshots can be pretty effective when it's done right. When the app store visitor sees just one piece of the 'puzzle' they may be more likely to scroll through the remaining screenshots to piece it all together giving you an additional few seconds of their time to get most of your features across. Foldify and Headspace both do this really well.




5. Include any media mentions or awards
Don't be afraid to blow your own trumpet. If you've had any well-known publications mention your app, or won any awards then you have every right to include these in your screenshots. People are influenced by other people, so seeing that you've been praised by an out-of-house body is likely to have a positive influence on their decision to download your app.


6. Keep design consistent
If you choose to include text on your screenshots, pick a font that works well with the ones already used in your app. When choosing colours, pick a colour scheme that goes well together and fits into your app's design. Your task here is to catch the eye of visitors to the app store so the last thing you want to do is taint their opinion of you due to your inconsistent and unappealing design. Stick to your current theme and style.

7. Choose one subject per screenshot
Each screenshot should only contain one focal point. Don't overwhelm the user by showing 5 different features in the one image. Spread these features out and keep it simple. Chances are you can't get all your features into the 5 screenshots so just choose the most important ones, the ones that will grab your audience's attention the most. Too much information will only put the user off and lose you the potential downloads


8. Demonstrate app use
Using your app store screenshots as a place to give a mini tutorial can be very smart. Nobody wants to download an app that is going to be complicated to use so highlighting just how easily it is to use will always go down well. This is especially important if the app uses the phone in a new or different way. For example, the game 'Heads Up!' does an excellent job of showing exactly how the game works before the user has even downloaded it.




9. App previews
Although this is the last point, I feel like it is perhaps the most important. And I'm actually quite surprised that not every app takes advantage of this. You can take your screenshots to the next level with a video preview! This is basically the closest thing a user can get to actually using your app without downloading it. Although you only get 30 seconds, those 30 seconds will allow you to show so much more than just 5 screenshots and, along with music and a voiceover, can help you further entice users to download your app. Videos are processed by the brain 60,000 times faster than text as it requires a lot less effort in comparison to reading an article. Us humans are lazy sods so are always going to pick the easier option, so including a video could be the deciding factor when a customer is choosing between your app and a close competitor's.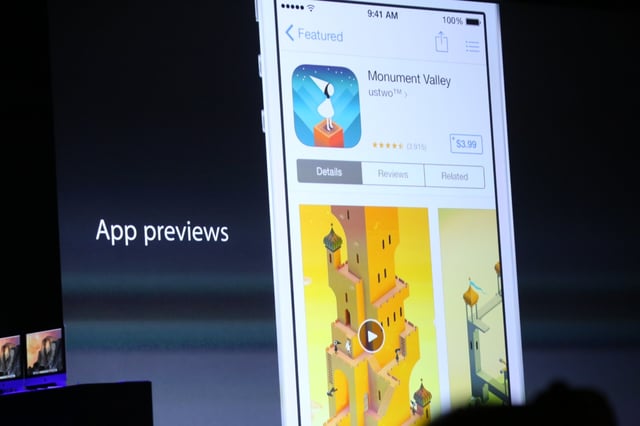 Of course at the end of the day, no matter how great your screenshots are, if you don't have the great, well-functioning app to match then you can't just rely on these tips for the entire success of your app. But it can be a real shame for apps that are great to remain undiscovered due to poor, unthoughtful screenshots so this is definitely not a part of your app launch that you should overlook.
If you have any other tips for the marketers and developers designing their app store screenshots that I may have missed then please leave a comment below.


For more information on the many other ways to successfully market your app feel free to download our latest guide, The App Marketing Guide for Dummies, or feel free to contact me directly via emma@hurree.co.