5 Ways to Avoid Becoming a Push Notification Pest
Picture the scene: you're on edge waiting on an important email and *buzz* goes your phone. You reach down, full of anticipation, to see… A push notification from the app you downloaded last week. They're pushing a random product with gimmicky sales-speak for the fifth time today! Sounds frustrating, right? It's no secret that sending push notifications can be the key to skyrocketing your app engagement by a whopping 88%. However, pestering your users with this tactic can bring you down to earth with a bang.

Localytics report that 52% of app users find push notifications to be an annoying distraction. From sending too many messages to sending irrelevant messages, it's easy to become a push notification pest. But are you aware that your actions could be driving users to disable push notifications, or worse, uninstall your app altogether?

Before we go any further, let's get back to basics.
What is a Push Notification?
A push notification is a message sent by app marketers to deliver offers or call-to-actions (CTAs) to users who have opted-in to the service. This can happen in-app or while using a device. Finding their home on the lock screen, push notifications prompt users to take action with the goal of building user-brand-relationships whilst increasing engagement.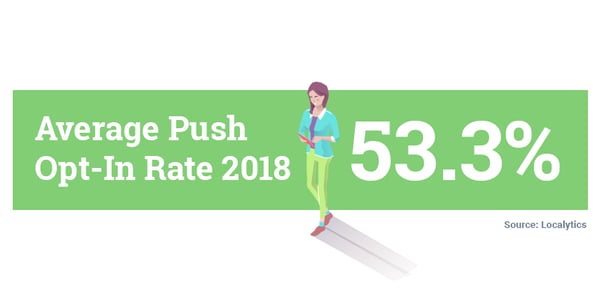 There are many different features of push notifications that allow you to get creative. The basic format is a text-based message. However, if you're feeling adventurous, you can add emojis, GIFs, images or videos. It all depends on what is right for your audience and your brand.


Case study: Duolingo
Many companies have got it wrong in the past, with top apps gaining less-than-desirable reputations as push notification pests.
Take Duolingo, the language app which allows its users to learn new skills in a fun and free environment. The platform has increasingly earned itself a spot on the pest-list for its aggressive push notification strategy that makes its users feel like failures. Audience reactions are so extreme that negative Duolingo memes have cropped up all over social media.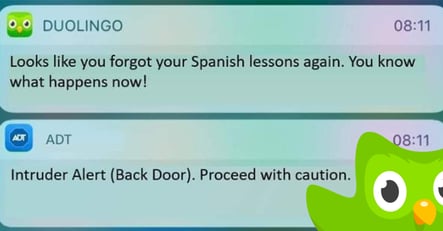 Duolingo's methods were satirised back in 2017 in this article, where the author tells Mashable, "we at Duolingo stand by our decision to make our push notifications passive-aggressive. Because if our passive-aggressive push notifications don't make you learn French, then I don't know what will".
Duolingo's social listening team have finally got the message from their numerous disgruntled users: On April Fool's day 2019, the brand launched Duolingo Push, a brand new 'product' that brings push notifications into real life. User fears were realised as Duo the owl menacingly loomed over them at the gym, at work and even in bed.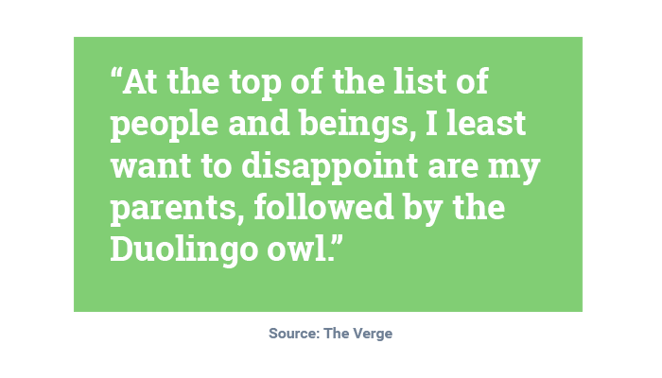 The humour-driven spoof is a smart tactic from a brand attempting to quash complaints by poking fun at itself. However, not all brands would survive the bashing that Duolingo has taken.
Let's look at 5 ways that you can avoid becoming a push notification pest.
1) Consent
Gaining permission to send push notifications on the first attempt is vital, otherwise, your user experience could be ruined.

For example, if the purpose of your app is to edit photos but your user denies access to their camera and photo library, then you may as well hit the self-destruct button. This app will uninstall in 5, 4, 3, 2…

TechCrunch suggests that 'User Triggered Dialogues' are the most successful method of gaining consent from users. As users navigate through the app, learning its functions, they trigger permission prompts that directly correlate to their desired action. This has been shown to increase opt-in rates to almost 100%.

Apple's iOS12 update allowed app developers to send notifications without explicit consent; a trial protocol they dubbed 'provisional authorisation'. Push notifications are 'quietly delivered' to users if they are set up via specific coding implemented by developers. This new function does not rule out the need for explicit consent, however, as users are likely to view pre-opt-in interactions as intrusive and uninvited.


2) Timing
Timing is everything when it comes to push notifications, but it also depends on your brand. A breaking news app, for example, will have a more flexible time structure than a footwear brand. You might love shoes, but do you love them enough to be woken up at 4 am? I didn't think so.
App usage tends to follow a similar daily pattern with peak times in the morning and again at around 8 pm in the evening. Depending on your industry, your users will tolerate different delivery levels. E-commerce and media, publishing & blogging are at the highest levels, and business, financial services and insurance are at the lowest.
Data is your friend when it comes to push notifications and A/B testing can be central to finding your timing sweet spots.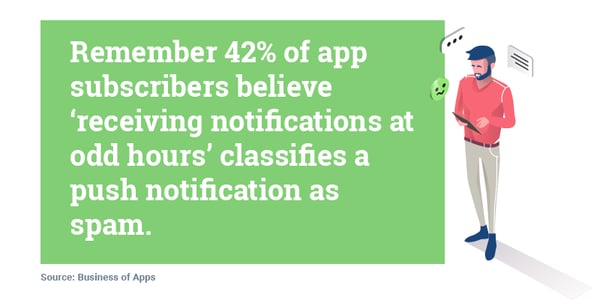 If you're a global brand, considering time zones is essential to avoid pushing out messages in a 'one-size-fits-all' strategy. One person's wake up call is another person's goodnight kiss, so make sure you're segmenting your audience geographically to avoid any mixups.
3) Efficiency
No one knows your audience better than you. Ask yourself, what do they really need? With the rise of screen-time anxiety, many people are trying to cut down on non-essential time with their devices.
Sending efficient push notifications that add real-time value for your users is a sure-fire way to become an essential part of their day.
The idea of efficiency comes from a place of customer-centricity and 'informational' push rather than hard-sell tactics. This idea has been around for a while, but experts say in 2019 it's taking centre stage. Informational push notifications which alert to an invoice clearing, or confirm shipping dates, remove the need for a user to open an email or letter.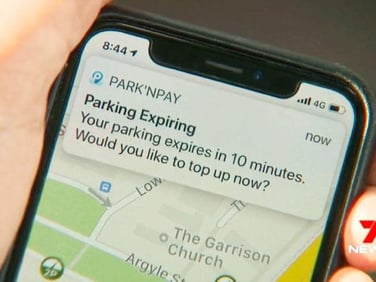 Depending on your app's function, information updates could be a life-saver for users. Have you ever received a parking fine because you forgot to top up your ticket? Imagine if you'd received a push notification to remind you that there were '15 minutes left'. Efficient push notifications have the potential to not only save a user time but save them money and stress as well.

4) Relevance
If you really want to be successful at app marketing you need to remember this golden rule: 'If you don't ask, you don't get'.
By that, I mean 'self-segmentation': asking users exactly what content they want to receive. Personalising content in this way can lead to a 49% increase in app use.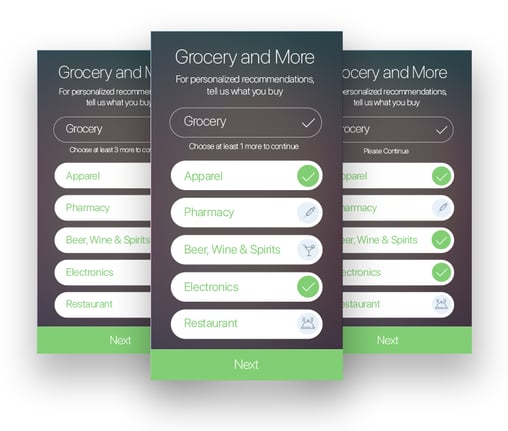 Source: Dribbble

Self-segmentation can be as simple as adding tick-boxes to the set-up stages of app installation. Giving users options allows them to choose a wide selection of topics or create an app experience focused around a niche interest. Based on this information, you can suggest content that you know is relevant and that your users will love.
Remember, over time your user's needs and interests will change. So make sure that you support customer override so that users can easily remove or amend their preferences at any stage of their customer journey.

5) Exclusivity
Recent controversies surrounding data-leakages have caused users to be more hesitant when it comes to downloading non-essential apps. This is an issue for apps that provide the same function as their website.
It is crucial that apps harness the power of the push notification to demonstrate the exclusive benefits of app use and drive customer loyalty.
When it comes to retaining customers, 38% of users agree that exclusive offers are the most important feature of any app. These offers can come in the form of product discounts, loyalty schemes, partner-business giveaways or free gifts.
In-app promotions can also help to drive sales completion via automated notifications triggered upon cart abandonment. Sending an offer such as 'Go on, you deserve it. Here's 10% off that top you wanted', encourages purchase at this pivotal stage.
Summing up

Keeping your customer's needs at the heart of your push notification strategy is key when it comes to avoiding being a pest.
Knowing when, how and who to send your messages to is individual for each brand. It may seem like a confusing minefield, but by following these steps you'll be on the right track to push notification success.


To learn more about the various other marketing techniques that you can use to grow your app user base and retain loyal app users, check out The Ultimate Guide to Mobile App Marketing. I'd love to hear from you so feel free to reach out to me directly via contact@hurree.co if you have any questions, or you can leave a comment below.